Mila Kunis: That '60s Girl
Never one to be pigeonholed, the actress slips into a new genre (sci-fi), a new look (bye-bye, bell-bottoms), and a new life (hello, baby).
---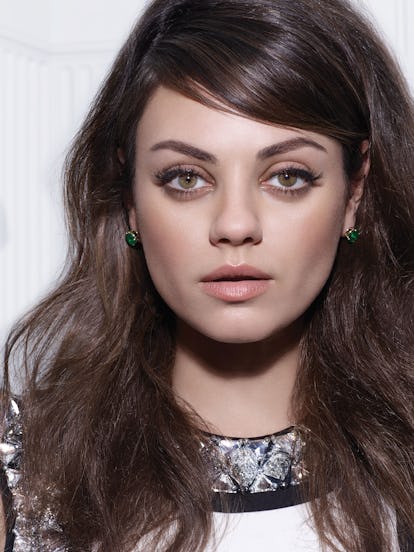 Photographer: Michael Thompson Stylist: Edward Enninful
"These are the best!" Mila Kunis exclaimed as her favorite waiter, Domingo, placed a plate of flannel cakes in front of her at the Musso & Frank Grill, the classic, clubby restaurant on Hollywood Boulevard. Kunis, 30, was pregnant with her first child with her fiancé, Ashton Kutcher, but this meal was not a sudden craving: The actress, who was dressed in a loose fisherman's sweater and faded jeans that were rolled up at the ankle, has been ordering those pancakes for practically her whole life. "I love them so much that, two years ago, I had the restaurant ship the batter to Boston, where I was shooting Ted," Kunis explained. "They remind me of home."
The Musso & Frank Grill is safe for Kunis—a paparazzi-free haven. Since she began dating Kutcher, 36, her former costar on the hit TV series That '70s Show, a couple of years ago, she's been hounded by the tabloids. Ashton and Mila is a sensational narrative: When their characters were romantically linked on the show, the actors were just friends in real life. And yet, in a story-book twist, they shared many important moments on camera: "My first real kiss ever was with him on the show," Kunis said. "And when That '70s Show had a prom, my date for the prom turned out to be my fiancé. We can honestly say that we went to prom together! Although I do think that in that episode I went home with someone else. We don't talk about that part."
Kunis rarely refers to Kutcher by name—a discipline that results from both a lifetime spent in the public eye and a wish to keep her private life guarded. Even so, the craziness persists. The morning of our breakfast, OK magazine proclaimed on its cover: Mila & Ashton: Twins! Kunis, who was not expecting twins, and who had not even confirmed publicly that she was pregnant, was incensed. "Every day and every night, the paparazzi are parked outside my house," she said. "Today, I had to drive through the Warner Bros. back lot on my way here, just to throw them off. They want a shot of my stomach because they need proof of my pregnancy. I don't know why they even bother—they've been saying I'm pregnant for years. Now they're right, so they won't leave me alone."
Kunis was born in Ukraine and came to America with her family when she was 7 years old. To improve her English, her parents enrolled her in a theater workshop. Mila's manager, Susan Curtis, first spotted her there, and she and her daughter, Cameron, signed her immediately; they have worked together ever since. Mila's first job was a Barbie commercial, after which she got to keep the doll. "It was fantastic," Kunis recalled. "I thought, You get toys in this job! I loved it, and I started working constantly." At 14, she was cast in That '70s Show, which ran for eight seasons. Despite developing a dislike for the period fashions ("You will never see me in bell-bottoms ever again," she insisted), Kunis has a deep affection for the Fox series. "Not only did it introduce me to my fiancé," she said between bites of flannel cake, "but I'm so grateful that all my mistakes are recorded for posterity. I went through puberty on television! I grew five inches while I was on that show, and I had so many different eyebrow shapes! I went through everything embarrassing that a girl can go through in front of my fiancé. There's no question that he's seen the worst. I find that comforting."
Unlike a lot of TV stars, Kunis was able to transition to film roles. She is very practical about her career, which she has strategically handled with a mix of confidence and hard work. After That '70s Show ended, she tried out for anything—horror movies, action films, romantic comedies—in order to demonstrate her versatility. "I auditioned to prove that I could do whatever they thought I couldn't do," she told me. "Often, if they offered me the part, I'd say no. I just wanted them to know I wasn't in a little TV-star box."
Perhaps her biggest breakthrough was Black Swan, in 2010, in which she played a ballerina with a dark side. Kunis had never danced and threw herself into training for four months straight. She lost 20 pounds on her already slim frame and grew to hate ballet. "The first time I put on a pointe shoe, I screamed," she said. "I will never dance again. It was the hardest thing I've done."
Her latest challenge is Jupiter Ascending, which is written and directed by Lana and Andy Wachowski and will be released early next year. Similar to their Matrix series, Jupiter Ascending is a meditation on the metaphysical state of the universe. Although Kunis was not allowed to talk about the plot, she did reveal that she plays a maid in Chicago who gets rescued by a genetically engineered humanoid (Channing Tatum). "I'm a bit of a nerd," Kunis said. "And I love science fiction." Shortly after wrapping up that film, she discovered she was pregnant. "I had already decided to take a year off," she said. "I have never wanted to be the person who only has business on her mind. To me, this job has always been a hobby that turned into a great profession, but I don't eat and breathe acting." She paused. "I'm sure Meryl Streep has a very different point of view. But I'm excited about being a full-time mom." She smiled. "Although, give me a year of not working and I'll see how I feel."
As thrilled as Kunis seemed to be about the baby, she was less interested in planning a wedding. "I never wanted to get married," she said. "From the age of 12, I prepared my parents for no marriage. Then things changed—I found the love of my life. Now my theory on weddings is: Don't invite anyone. Do it privately and secretly. My parents are okay with that. They're just excited that I said yes."
Kunis finished her meal and said goodbye to Domingo. She needed to pick up three of Kutcher's cousins, who were shopping nearby. "I promised to introduce the girls to Channing," she said as she paid the check. "They are so excited about meeting him." Kunis smiled knowingly. "We all get movie star crushes," she said. "I'm marrying mine."
Mila Kunis: That '60s Girl
Hair by Jimmy Paul for Bumble and bumble; makeup by Dick Page for Shiseido; manicure by Tracey Sutter for Dior at Cloutier Remix. Digital technician: Aika Uramoto. Photography assistants: Roy Beeson, Yumi Miki. Fashion assistants: Dena Giannini, Felicia Garcia-Rivera. Production: Simone Silverman at 3 Production Inc. Shot at the Culver Hotel, Culver City, California.