Miles Teller to Play Tom Cruise's Protégé in Top Gun 2
He'll be suiting up as Tom Cruise's protégé.
---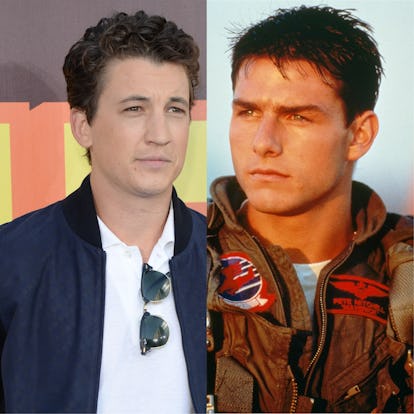 Jeff Kravitz/FilmMagic/Paramount Pictures/Archive Photos/Getty Images
Miles Teller has played a loyal student—see 2015's Oscar-nominated Whiplash—and, soon, he'll do so once again. Teller will be suiting up in another role where he's at the mercy of a drill sergeant, this time played by Tom Cruise in the much-anticipated Top Gun sequel. Teller confirmed his latest part today by quoting the film's iconic "I feel the need…[the need for speed]."
Teller will be Maverick's newest student, who also happens to be the son of Goose, played in the original by Anthony Edwards. (Why the production didn't choose a real-life Gosling—Ryan—for the role has yet to be addressed.) Teller beat out Glen Powell and Nicholas Hoult, though, for the role, as Variety notes.
In Top Gun: Maverick, Cruise will be running the flight academy. While he looks barely changed by time in the first promo photo that Cruise shared back in May, the film will reflect how much the world has changed since the original debuted in 1986. In the sequel, Cruise and company—including Val Kilmer's Iceman—will be working amid drone technology, "fifth-generation fighters, and the end of the era of dogfighting" as its director, Joseph Kosinski, revealed last fall.
This isn't the first film for Kosinski and Teller; the pair worked on last year's Only the Brave, which the director has since compared to Top Gun 2. "On Only the Brave I was able to make a movie with very little CGI to try to capture as much as I can in-camera as possible, and that will certainly be my method on Top Gun as well," he said.
Hopefully, Teller will adjust to the turbulent film setting better than Cruise did. A couple of years ago, Cruise opened up about his early filming days on Top Gun, recalling, "For our first flight in the morning, we were going really hard, moving around. We did 9.5 Gs, very hard on my body. I had a vomit bag right here, so in between takes I leaned down to quickly empty my guts in the bag. The second I did that, he pulls up. My head was literally on the ground from the pressure. I was pressed on the floor, holding my vomit." Considering how well he mastered that car crash scene in Whiplash, though, Teller is already halfway there.
Related: Tom Cruise Reportedly Shut Down a Topless Scene His Costar Lea Thompson Didn't Want to Do in All the Right Moves