Tom Cruise Is Back As Maverick in First Top Gun 2 Photo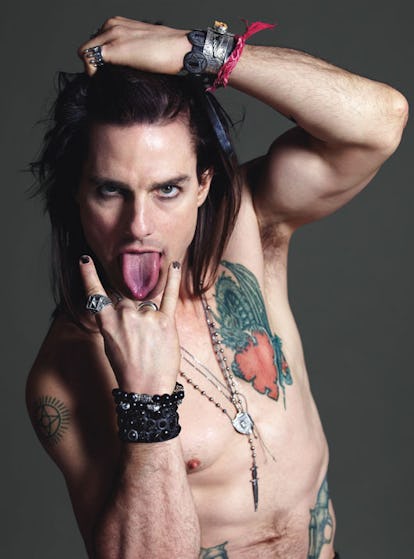 Photographer: Mario Sorrenti Stylist: Arianne Phillips
It's been 32 years since Tom Cruise last suited up to play Maverick in Top Gun, but you'd never tell that from the new promo photo of the actor taken on the set of the film's upcoming sequel. While Cruise himself has undergone quite an evolution, Maverick is still making the same old joke. In the first photo from Top Gun: Maverick, which Cruise shared on Twitter, the pilot can't escape his most famous line "Feel the need."
One thing that has changed within the Top Gun universe, however, is the stakes. The upcoming sequel is aiming to reflect the world we live in. While the plot has yet to be officially made public, sequel director Joseph Kosinski revealed last year to comingsoon.net, "The Navy is very different now than it was in 1986. It's just a different world now, so you can't remake the first movie. It has to adapt, [but] I certainly want to re-create the experience of that movie, which gives you a front seat into the world of naval aviation and what it's like to be in a fighter jet."
One other thing that will be different is the technology used in making Top Gun: Maverick. Kosinski has said that he will be taking full advantage of drone capabilities, adding, "On Only the Brave I was able to make a movie with very little CGI to try to capture as much as I can in-camera as possible, and that will certainly be my method on Top Gun as well."
The plot may also include fifth-generation fighters and "the end of the era of dog-fighting," as Variety notes.
Hopefully, this time around Cruise will have an easier time with the training. Back in October 2016, he shared with Jimmy Kimmel that he struggled so much with it during the original, he actually vomited while filming in a jet that was being piloted by someone nicknamed "Bozo." "For our first flight in the morning, we were going really hard, moving around. We did 9.5 Gs, very hard on my body," Cruise said. "I had a vomit bag right here, so in between takes I leaned down to quickly empty my guts in the bag. The second I did that, he pulls up. My head was literally on the ground from the pressure. I was pressed on the floor, holding my vomit. I kept going 'Bozo! Bozo!' I was choking, and he just kept pulling up and up. Finally he released, and we were going straight ahead. I was like, 'Bozo, what's the matter with you, man? Didn't you see my head was on the floor?' He was like, 'Well, I told you, they don't call me Bozo for nothing.'"
As for Iceman? He still has "the moves" and is ready for the sequel.
Related: Even Jennifer Lopez Is Confused by How Little She's Aging