Tom Cruise Is Maybe a Little Too Excited About Top Gun 2
How much does America want more Maverick right now?
---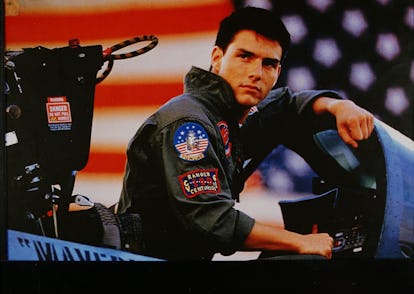 Getty Images
It's been just over 30 years since Tom Cruise last flew across our screens as Maverick, his super awesome pilot from Top Gun. Of course, in those past three decades, plenty has changed: Cruise, for one, is no longer the spry, fresh-faced, 23-year-old flyboy he once was. For two, we are definitely not fighting the, um, Soviets any longer. For three, on today's big screens, airplane pilots < spaceship pilots, as George Clooney, Matthew McConaughey, and Oscar Isaac all know. In fact, Cruise himself should know, having flown future spacecraft in 2013's Oblivion.
Not that any of that seems to have stemmed Cruise's enthusiasm for the film's newly announced sequel, which he gleefully confirmed was on its way on Tuesday during an interview on the Australian TV show Sunrise. "It's true," he said no less than four times. "It's definitely happening."
Now 54 and heavily torsoed, Cruise might not be able to squeeze into his leather aviator jacket of yore, though he has proven himself quite adept at midlife crisis roles as of late, most notably as Stacee Jaxx, a fading rock god from the eighties in long hair extensions and black nail polish in 2012's Rock of Ages. As for the rest of the cast, there's no doubt Hollywood will pair Cruise up with a new, younger love interest than the now 59-year-old Kelly McGillis, who played the flight instructor/astrophysicist Charlie Blackwood in the original.
Val Kilmer, for his part, whose Iceman was objectively a better pilot than Maverick, seems to be busy with art-making rather than acting these days, though he did respond with a "hell yes" when a Reddit user asked him during an AMA whether he'd take part in a sequel. (And in fact, he's listed with Cruise as the only two actors on the movie's very short IMDb page, which could of course be wrong.)
Meg Ryan, on the other hand, who played another love interest, hasn't appeared onscreen since 2015. In fact, all that's been definitively confirmed about the cast and crew besides Cruise going forward is that the director Tony Scott won't be returning: He killed himself in 2012.
Still, Cruise said he's going to start filming the sequel "probably in the next year." After all, having recently taken the 17-year-old actress Danika Yarosh under his wing and taught her how to fly on the set of Jack Reacher: Never Go Back, it looks like he's kept up on his flying lessons.
All cynicism aside, there is a chance the movie could be a success: Top Gun did, after all, receive several Oscar nominations, and was the highest grossing film of 1986. Still, we're now more than a few decades past the Cold War, '80s synth soundtracks, and, outside of Clint Eastwood movies, hopefully moving away from blind patriotism and unconditional glorification of the U.S. military. Maybe this Top Gun will consider the implications of drone warfare? Still, all signs point to this: if Tom Cruise isn't atop a motorcycle in a movie, he's in the cockpit of a plane.
Related: Danika Yarosh Learned How to Fly a Plane From Tom Cruise
Cruise wears Rita Ryack leather pants. Accessories and jewelry styled by costume designer Rita Ryack.

Photographer: Mario Sorrenti Stylist: Arianne Phillips
Cruise wears Rita Ryack leather pants. Accessories and jewelry styled by costume designer Rita Ryack.

Photographer: Mario Sorrenti Stylist: Arianne Phillips
Photographer: Mario Sorrenti Stylist: Arianne Phillips
Models, from left: True Religion black leather shorts. Michael Spirito cuff; Alexis Bittar rings; Burberry belt; models own nipple ring. Emilio Pucci black and white Lycra swimsuit. Eddie Borgo cone bracelet, Tom Ford cuff (from left); Sequin ring. Cruise wears Rita Ryack snakeskin pants. Accessories and jewelry styled by costume designer Rita Ryack.

Beauty note: Pump up any hairstyle with a flash of Borghese Milan Volumizing Mousse.

Photographer: Mario Sorrenti Stylist: Arianne Phillips
Photographer: Mario Sorrenti Stylist: Arianne Phillips
Photographer: Mario Sorrenti Stylist: Arianne Phillips
Photographer: Mario Sorrenti Stylist: Arianne Phillips
Models, from left: 3.1 Phillip Lim silk blazer. Hervé Léger by Max Azria polyester bathing suit. Sequin ring. Eddie Borgo black rings; Assad Mounser dangling earring; LaCrasia Gloves gloves; model's own cross and stud earrings. Cruise wears Rita Ryack leather pants. Accessories and jewelry all styled by costume designer Rita Ryack.

Photographer: Mario Sorrenti Stylist: Arianne Phillips
Photographer: Mario Sorrenti Stylist: Arianne Phillips
Cruise: Hair by Michael White; makeup and tattoo design: Michele Burke. Models: Hair by Recine; makeup by Aaron de Mey at Art Partner; manicures by Champagne Satayakul. Models: Abbey Lee Kershaw at Next; Edita Vilkeviciute at DNA New York.

Fashion on models, from left: Versace cotton raffia top. Hervé Léger by Max Azria polyester-blend swimwear bottoms. Eddie Borgo earrings and choker; Michael Schmidt Swarovski Elements spiked cuff, Chrome Hearts 22k gold and diamond bracelet (from left); Chanel gloves; Double Happiness Jewelry 14k gold and tourmaline ring. 3.1 Phillip Lim silk-blend bralette. Salvatore Ferragamo beaded silk jacket. Barbara Bui cotton shorts. Venus by Maria Tash nose ring; Assad Mounser earring; Michael Schmidt mesh bracelet; Solange Azagury-Partridge 18k blackened-white-gold and diamond ring; her own earrings. Cruise wears Rita Ryack leather pants. Accessories and jewelry styled by costume designer Rita Ryack.

Beauty: On Cruise: Smashbox Limitless Eye Liner in Smoke. On models, from left: Smashbox High Definition foundation in Light L3; Photo Op Eye Shadow Trio in Screenshot; Lash DNA mascara in Jet Black; Blush Rush in Gingersnap; Limitless Lip Stain in Guava. Studio Skin foundation in 2.3; Smokebox Palette; Hyperlash Mascara in Blackout; Blush Rush in Paradise; Lip Enhancing Gloss in Tease.

Photographer: Mario Sorrenti Stylist: Arianne Phillips
Tom Cruise on How He Learned How to Dance Watching Soul Train: