Val Kilmer Spent the Weekend Obsessing About Cate Blanchett on Twitter
Val Kilmer spent a weekend obsessed with Cate Blanchett, as we all have at some point or another. At least he confirmed she's just as wonderful in person.
---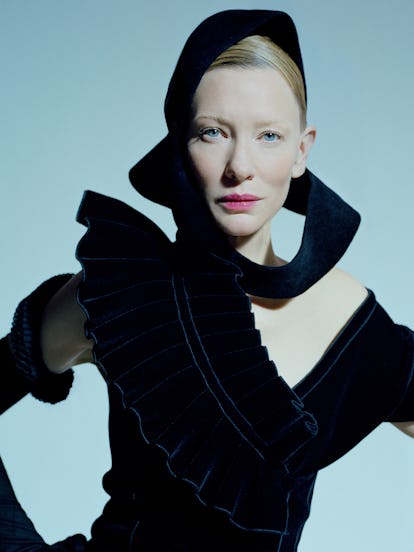 Val Kilmer spent his entire weekend with the glory that is Cate Blanchett consuming his every thought, and, honestly, who amongst us has not done this at one point or another? It starts with an innocent viewing of Carol, and then, 48 hours later, you find yourself, with little sleep and in cold sweat, trying to track down the 1994 Blanchett-starring Australian mini-series Heartland while fighting an odd urge to create a GeoCities fan site for the actress. Look, it's happened to all of us and it was bound to happen to Val Kilmer.
Since Friday, Kilmer's Twitter feed has been a steady stream of praise for the Australian actress, and unlike most of us who can only tweet about our adoration of Blanchett from a far, Kilmer has met and worked with Blanchett before. The pair most recently both appeared in Terrence Malick's Song To Song (although they don't share any scenes) and co-starred together in 2003's The Missing.
The Tweet storm began with Kilmer's revelation that he once flew all the way to Australia just to meet Blanchett. For some reason, the Tweet was adorned with a Kilmer selfie.
However, Kilmer seemed to have some second thoughts after he realized his Tweet storm was getting attention and deleted a few on the messages, including one in which he admitted, "And recently I've had 2 dreams with #CateBlanchett in them. Her husband wasn't in either of them."
"I've never done said or written a single idea that wasn't of the highest respect and admiration for #cateblanchett or any other great talent."
"She's a friend of mine and I've met her husband thru the years and we've all gotten along just fine. Anyone who thinks I need to curb my …Enthusiasm for a great rare artist doesn't understand how difficult the job is and how we artist count on the respect of our peers. She will …Back up every word I say n love that I say I love her. I would love an actor I didn't even enjoy if he flew the world to talk about a role."
Kilmer also directly engaged a fan who though maybe he was going a bit overboard with his praise for Blanchett.
Though, in case you're wondering, this mode of Tweeting just seems to be Val Kilmer's "thing" and he's more than self-aware of it. In fact, just before the Blanchett saga began, he retweeted a link to an article proclaiming his Twitter feed to be "a hidden gem of bizarre, star-studded stories."
Previous tales include this dream-like morning with Carly Simon:
And this tale of a gift from 50 Cent:
He wept.
So, this is just his thing: ethereal and perhaps not quite truthful tales about his encounters with other celebrities.
Related: Cate Blanchett Lip Synced With Some Drag Queens Last Night at Stonewall
While, Val Kilmer is Obsessing Over Cate Blanchett, At Least Brie Larson Has Admitted to Obsessing Over Val Kilmer: