Actor Alex Neustaedter's Big Break Involved Apple Pie With Meg Ryan
The 18-year old emerging star came of age on the set of Ryan's directorial debut, Ithaca.
---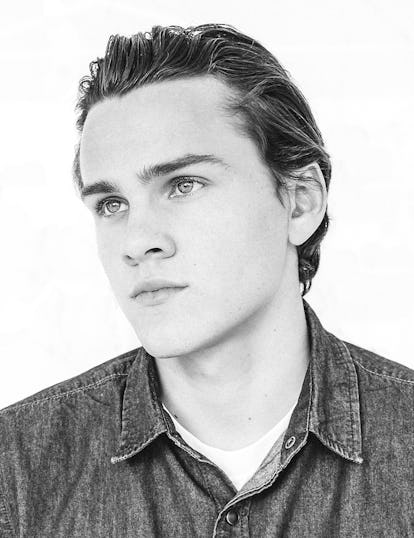 Biel Parklee
Imagine you are a young actor with a slew of short film credits under your belt, waiting for a big break. And then Meg Ryan handpicks you to star as her son in her directorial debut. That's exactly what happened to 18-year old Alex Neustaedter. The Kansas City native, who was recently a lead on the futuristic USA series "Colony," stars in Ithaca, Ryan's new film based on a novel by William Saroyan's 1943 novel The Human Comedy. The movie, which opened this weekend, is set in 1942 and follows a family in the fictional town of Ithaca as they deal with the repercussions of World War II. Ryan is the matriarch of the Macauley family (which recently lost its father, played by Tom Hanks): the soldier Marcus (Jack Quaid, Ryan's real life son), Ulysses (Spencer Howell), and most prominently Homer (Neustaedter). In the film, Homer is 14, and takes on a job as a telegram messenger to help support his family. Through the news contained in his deliveries and the sadness of the world they contain, Homer breaks free from his sheltered existence. Here, Neustaedter talks about his big break.
How did the audition process come about? At what point did you audition for Meg Ryan? Originally, they were casting in New York, and I was in L.A. and had to send a tape. About two weeks later, I got a call from my manager saying [Meg Ryan] wanted to meet me in person, so I flew out and had an audition in front of her and Janet Berliner, one of the producers. And it was kind of a surreal experience because it was the first time I was in New York since I was very, very little. And then about an hour and a half later, as I was finishing my lunch, I got the call that I got the part. It was kind of insane how quick it happened and how few auditions it took.
When you and Meg and Janet sat down, what was the audition like? There were four or five scenes they wanted me to do, and a lot of them were to see if I could take direction. So we would do a scene like four or five times and Meg would give me something completely different to change or try something new. I think we only did two or three of the scenes. And then when I got the call, she also said that she wanted to have pie with me the next day. So that was when we had a real conversation about the character and the story and the film and what she wanted me to do with the part. And we were kind of picking each others' brains. She gave me a lot of reference points to study from, with other actors and other films, such as James Dean, Marlon Brando and Jimmy Stewart and a lot of older films. Because I think Ithaca kind of carries that vibe of an older style film.
You met for pie? Yeah, we did. How funny is that?
Do you remember where you guys met? I don't remember what it was called. It was like really cool because it was a restaurant we went to and we just straight up ordered pie. And I don't know, it was, like, a perfect situation.
What kind of pie? I got apple pie. That's always my move. I feel like she got blueberry for some reason, but I'm not a hundred percent sure.
Was that because your character in Ithaca eats coconut cream pie early on in the movie? Yeah, that was the whole significance of it. I probably should have gotten coconut cream now that I think about it. But I'm just a big apple pie fan. But that was really the only significance to it. But I thought it was cute.
Tell me about Homer. How would you describe him to someone who hasn't seen the film? Homer starts out at 14, and he's a kid in high school who has this crush, and he has his idea of what he wants as a first job to help support the family. He's a very passionate and loving and supporting kid. And I think that stays true throughout. But what he doesn't know is that he was a very naïve 14-year old. And at the time, being a telegraph messenger was one of the best jobs to be had in the 40's. And he got that job, but he didn't really understand what it was about. And he finds out after the first delivery that in no way is his job easy. There's a lot of consequence to what he's doing. It takes an emotional toll on him. Throughout the film, you see there's a lot of change going on. And as he's delivering these telegrams, he's being enlightened about the outside world more so than he ever has. So it's a really big coming of age story for Homer, but his morals stay true throughout. It was really interesting to play because of the different kind of sections of Homer's point in understanding the outside world — and then when it comes to the end of the film, how he ultimately becomes a man.
You were 16 when you were filming this. Were there parts of you, despite the historical specificity, that could identify with Homer as you worked through him? I think there were a lot of specific things, actually, that were oddly very similar. Like when Homer's injured and he's also fighting for the girl. In my life I've had injuries and it's really hindered me from what I want to do in terms of sports and everything like that, and the same thing happened to Homer. And the other thing was in school Homer is off delivering messages often and it really took away from his social life and a lot of other relationships and situations he had with people his own age. And the same thing kind of happened to me when I had to move out to L.A. for my own reasons. But I think overall, in terms of the coming of age, when I finished shooting it I felt like a different person. Because I really felt that this whole experience of being part of this film from the start of production to the end kind of changed me in the sense that I knew this was ultimately what I wanted to do for the rest of my life. And there was nothing that will stop that. When I was auditioning all the time and wasn't really booking anything, there was always a "what if" or other aspirations you might have. And this film really opened my eyes that there's really nothing else I want to do more than this. So I really think that Homer's coming of age translated into my own coming of age.
How was Meg as a director? She is a terrific director. She is so great with actors because she's a fantastic actress herself. But just the way she knows how to manipulate performances and how she can achieve little subtle things and it will make the biggest impact on how she wants the film to come out and how she wants the character to evolve over time, that's really what I noticed a lot. She wasn't going to make any sacrifices and that's something I really respect artistically. A lot of directors, sometimes they can be hyper because a lot of directors are rushed for time, sspecially since I was 16 and I [couldn't work] full days. But she never relayed any of that and she was really composed. She's also a really good photographer and there are some really poetic shots in the film — the stills have a lot of value.
How did you get into acting? You've been working since a pretty young age. Originally, my mom was told I was photogenic when I was 5 by her colleagues. That's where it all started. Being the mom that she is, she pursued that and my family is very into giving opportunities. I had tried every sport and everything else. So I tried it and I liked it. I actually came out to L.A. when I was 6, and I did some auditions and commercials. Then when I was 10, I did two very independent features locally in the Kansas City area. And it kind of kept progressing. There's, like, one casting director in Kansas City, so there's just not that much work there, so it was a kind of an off and on thing from the time when I was 6. And it took a couple of years of doing a ton of auditions and going through that process to really find the passion for it and wanting to keep coming back and wanting to succeed. Then when I did this movie, it all came together. And it was very evident that this was what I wanted to do.
Were you living and going to school in Kansas this whole time? I moved out to L.A. the second semester of 7th grade. And I was auditioning for, like, three years and I didn't get anything. Because I was in the tween stage and the characters I gravitated towards were not the characters that most 14-year olds were doing or that they were casting for.
What kind of characters were you into? I'm more into dramatic and darker styles and not so much Disney or a lot of auditions I was going into. So it was kind of a weird situation. But I think it was good because I'm glad I didn't get anything when I was first starting out. It really made me work for it and appreciate it when I finally did get it. I think it was all for the best.
Was moving to L.A. a culture shock compared to Kansas City? Yeah, it was a culture shock. It was just like a whole other world and it was so big and I didn't know anybody and I didn't know where anything was. And I was really uncomfortable for a little bit. And then I think when I got into a school and stayed in that school for a while that really helped out. Because I developed friends and had a sense of what it was. But when I first came out, I didn't know what I was getting myself into, really. Now I love it. It's gotten a lot smaller, in a good way.