The Miley Cyrus Blue Eyes Meme Is Either Hilarious or Deeply Unsettling
Have you seen this in your feed? Yeah, it needs to stop.
---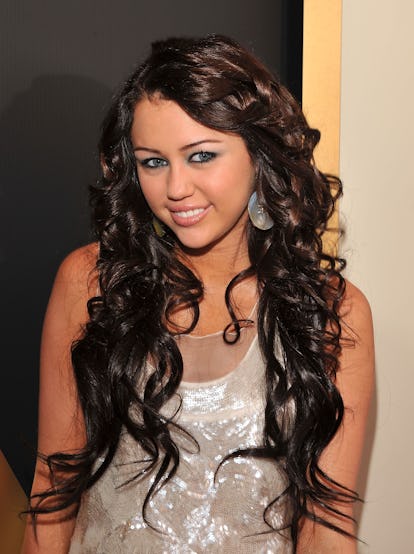 Lester Cohen
If you've scrolled through Twitter this week, you may have stopped for a moment to gaze into the eyes of Miley Cyrus, in all their uncomfortably blue, overly eye-shadowed wonder. While the singer herself is deep in the midst of a self-imposed social media freeze that began on July 4, she's still managed to go viral—or at least a 10-year-old photo of her has. A straight-on portrait of the singer taken from the 2008 Grammy Awards has suddenly captivated both Twitter and amateur Photoshop users, and Cyrus's face is being edited onto the visages of other icons as varied as Marina Abramovi´c and Lady Gaga's Ally from A Star Is Born. While some do find it funny, it's not a strictly-for-the-LOLs meme. Reactions have ranged from annoyance to discomfort to, well, confusion, because…why?
Indeed, Cyrus's face has been transposed onto so many different things that the version that gets you to stop scrolling and consider it probably says a lot about your own interests and the people you've chosen to follow. For me, it was the image edited into each and every one of Björk's nine album covers, followed quickly by one of Abramovi´c ("The Cyrus Is Present," if you will), because, well, sometimes your assumptions about the type of people who work at W are true.
There's no associated hashtag or even any text attached to most of these memes, so they're a bit hard to track down, but dig a little and you'll find Cyrus's gaze on the heads of any number of iconic figures, ranging from Twitter's favorite not-quite-mainstream musicians like Sophie and Marina & the Diamonds to downright geeky things like Star Wars figures. There's truly a version out there for just about everyone. Well, almost everyone. She's not on the bodies of NASCAR drivers or Food Network hosts, that we could find, at least.
So, why exactly is this a thing? Well, looking at the original photo might help.
The photo is very clearly of Miley Cyrus, the cultural firebrand we all know and Tweet about, and yet this particular version doesn't quite jibe with how we imagine she looks. Looking at this image is akin to looking at a wax statue at Madame Tussauds. There's something very uncanny valley about it. It's Miley, but it's not quite Miley.
Of course, some context might explain why. At the time this photo was taken, Cyrus was just 15. Hannah Montana hadn't even been on for a full two years yet, and she'd only just begun to make her crossover from Disney Channel sensation to the kind cultural force that even adults who don't have cable know about. In fact, that year's Grammy Awards was one of her first mainstream event appearances. She'd been at the Teen Choice Awards, but not on a red carpet that draws such established icons (indeed, Cyrus presented an award with Cindy Lauper that night, and then met Cher backstage).
Cyrus's face hadn't completely shed all traces of childhood, and her makeup artist clearly struggled when trying to split the difference between teen-appropriate makeup and full-on red-carpet glam, opting for a dramatic smoky eye paired with sweet-16 lipgloss. There's her smile, which is more smiley than usual. And there's also her hair, which is darker than it was just a few months before, and a few weeks later.
Indeed, at the moment this photo was taken, Cyrus was fresh off her breakup with Nick Jonas. Remember when teen magazines used to ask children oddly specific questions about their "romances" instead of asking them about feminism and LGBT rights, as is the current vogue among teen media? Well, after the event, Cyrus told Seventeen magazine that Jonas had encouraged her to get highlights, and that after the breakup she decided to dye her hair black. Cyrus's hairstylist seems to have really played into the singer's newly dark hair by teasing it for volume or perhaps adding some extensions. It's hard to tell, but either way, she doesn't look like the frosted-brunette Miley Cyrus that we remember from the time.
Some people are referring to it as the "Miley Cyrus Blue Eyes" meme, but Cyrus has always had blue eyes. Whatever the case, the photo is strangely confrontational, and is now a memory of a not-quite-iconic stage of a current icon. So maybe that's why people were moved to photoshop the face onto other icons for strange results.
Still don't quite get it? That's fine. It's a meme. It'll be dead by this weekend.
Really: Miley Cyrus Deleted All Her Instagram Posts, Including Those With Liam Hemsworth