Miley Cyrus and Liam Hemsworth Have Reportedly Broken Up
Is this why she deleted all of her Instagram posts?
---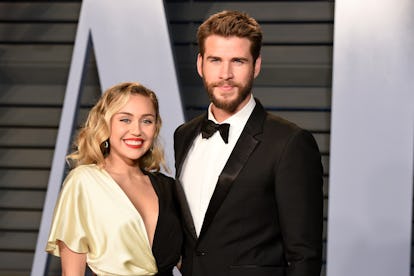 Presley Ann/Getty Images
Prepare for imminent heartbreak: Miley Cyrus and Liam Hemsworth may have broken up. On Thursday, an anonymous source told OK! Australia that the duo had called off their engagement for the second time after disagreeing on when they would start a family together, per the Daily Mail. "He wants kids and doesn't want to keep putting it off, but it's not quite the timeline Miley had in mind," the source said. "He is left heartbroken."
The insider — again, completely anonymous, so take this all with a huge grain of salt — went on to claim that, in fact, Cyrus doesn't really even want to get married right now. "Miley put off plans for the wedding and Liam was growing tired of it. They haven't been getting along in recent months," they said. "[She] didn't really want to get married. It's something that everyone else seemed to get but Liam. [His] family had been begging him to see the light for a long time, but he had faith in Miley. Now he feels like an idiot."
This sad report comes just a few days after Cyrus mysteriously wiped her Instagram account. Fans noticed last Thursday that the "Wrecking Ball" singer had deleted every single one of her posts, including her profile picture. As of Thursday morning, her IG feed remains bare. Neither Cyrus nor Hemsworth has commented on the breakup rumors.
The pair first announced their engagement in June 2012, a little over two years after they met and fell in love on the set of The Last Song. Though they briefly called it quits in September 2013, in January 2016, Cyrus was spotted hanging out with Hemsworth's friends and family, and wearing that sparkly Neil Lane diamond ring on her left hand once again. It was then rumored earlier this year that the pair were planning a secret, low-key wedding.
Though Cyrus gushed about her stronger, revitalized relationship with Hemsworth in recent months, she did tell The Sun in September 2017 that she wasn't planning on tying the knot with Liam (or anyone else) anytime soon. "I don't envision marriage. I'm 24," she said at the time. "I hope I get to live a little bit more. I have too much living to do [before I get married]."
Related: Miley Cyrus Deleted All Her Instagram Posts, Including Those With Liam Hemsworth