How Millicent Simmonds, a 14-Year-Old Deaf Actress, Helped Transform Todd Haynes' Wonderstruck Into an Oscar Contender
An interview with the newcomer child actress and her director, who says she had a profound effect on his new film.
---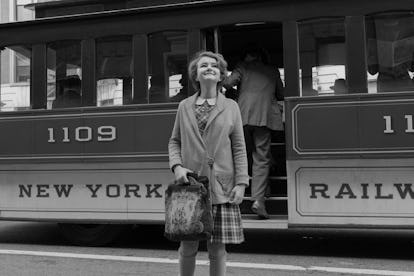 Myles Aronowitz
When Millicent Simmonds first arrived on the set of director Todd Haynes' new film Wonderstruck, she was nervous. "I thought, 'What if they look at me and think I'm weird or I'm so different or [are] afraid to communicate with me?'" she recalled on a recent October afternoon following the movie's New York Film Festival premiere, speaking through American Sign Language and an interpreter, Lynette Taylor. But those fears went away when she discovered that members of the cast and crew were learning to sign.
The 14-year-old Simmonds, who is deaf, is passionate about ASL, but she doesn't use it in the film—her character doesn't have that tool yet. Instead, Rose's story is told as if it were a piece of silent cinema in Haynes's time-hopping tale. Based on a novel by Brian Selznick, who also wrote the screenplay, Wonderstruck, which is in theaters Friday, charts the parallel journeys of two children who head to New York searching for fulfillment. Rose's journey is rendered in black and white and takes place in 1927, which is when she sets out out to find a famous actress (played by Julianne Moore) in the big city. Then, 50 years later, Ben (Oakes Fegley) leaves his Minnesota hometown after an accident results in hearing loss to look for the father he never knew.
The parallels in their adventures become obvious when they both end up at the American Museum of Natural History, and so does the virtuosity of Haynes's filmmaking. Haynes is not what you'd consider a family-friendly director—Simmonds's mom, in fact, deemed her too young to see his earlier oeuvre. As Wonderstruck reveals itself to be a cabinet of curiosities like those that enthrall its young heroes, Haynes's sensibility and his strong feel for historical periods begins to make perfect sense.
In fact, after his longtime costume designer Sandy Powell suggested he take a stab at the material, Haynes saw its potential. "I loved the energy and the inspiration that drove it and that was infectious," he recalled. Meanwhile, tackling a project that dealt with deafness impacted the way Haynes approached sound. "I think all of it has to do with a kind of challenging of a sort of hierarchy of the senses," he explained. "That we just start to think differently about how our sensory experience and perceptions and way of reading the world can shift, and that when you limit one sense other senses are ignited and brightened and sharpened."
While Haynes explains that he didn't completely rule out the possibility of hiring a hearing actor to play Rose, he decided that would only be a last resort. So his casting team solicited homemade audition tapes from deaf performers, asking them to act out three scenes. "Sometimes it would be a hearing mom and you'd hear her talking," he said. "Sometimes it was a deaf mom and you would just hear breathing, and involuntary sounds in the camera. It was an entry into also the little bits of domestic life in these kids' worlds from all over the country."
Simmonds had already been acting by the time a drama teacher told her about the opportunity; her first role was Puck in a production of A Midsummer Night's Dream. Her mom recorded her tryout on a phone.
That video convinced Haynes. "Her signing, her communicating, her language—because it uses the whole body, the face, the hands, the gesture—it just revealed her to me, or so I thought, like there was the self-possession of this kid," he said. "She talked about how much she loved ASL and how much seeing the world as a deaf kid who had access to this language meant everything to her. There was this exuberance and this intense, just, beauty in her." Eventually Simmonds got the call asking her to come into New York. At that point, she and her mother hadn't even told the rest of their family that she was up for the part.
Onscreen, Simmonds' performance is detailed and defiant, and, while Rose may not have dialogue in any traditional sense, she is far from a quiet character. When she finally encounters Moore's glamorous actress—who, spoiler, turns out to be her mother—the woman is cruel and ignorant. Playing that was a challenge for Simmonds, who grew up with a supportive family, but she called on her memories of studying at a deaf school. "I hadn't encountered that attitude and I never felt offended as a deaf person," she said. "I had to really think about, How would Rose feel about her mother with her attitude about signing? And what helped me understand Rose was I have other friends at the deaf school who can't communicate with their parents. I remember their stories and their experience was, at the end of the day when school is out, they didn't want to go home. They felt more like school was their home; that their family was really at the school because they could communicate there."
Those scenes also gave Simmonds the opportunity to work opposite Moore, a longtime collaborator of Haynes's on films like Safe and Far From Heaven. "I learned so much from her," Simmonds said. "She's so generous." But Simmonds in turn was an influence on Wonderstruck, according to Haynes. "I think it was this person that made it as profound an experience as it was, and what went along with it was the specificity of her life and her deafness," he said.
More acting is already in Simmonds's future. She's booked her next job, a thriller with Emily Blunt and John Krasinski that the latter is directing. But on top of that, she's already a powerful advocate for her community, hosting a YouTube channel dedicated to teaching phrases. In that sense, Wonderstruck is not only an opportunity for her to launch her career but a platform to share a message. "I'm so lucky that I can communicate with my family and other people who know signs, and I'm grateful for that," she said. "And I want hearing people who see this to find a way to communicate with deaf people so we can all become a family. We can all support each other."
Pink gets interviewed by a cute little kid: