Millie Bobby Brown Faces Her Most Terrifying Monster Yet in New Godzilla: King of the Monsters Clip
Have you heard? This film is about monsters.
---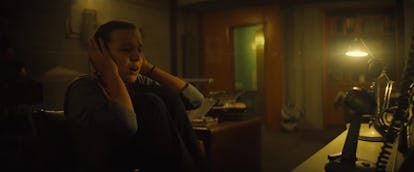 Movieclips Trailers/YouTube
How does fighting your way through the Upside Down measure up to fighting off, literally, a 10,000-pound lizard monster—who also breathes fire? Just ask Millie Bobby Brown.
The Stranger Things actor has the daunting task of doing just that in Godzilla: King of the Monsters, but she has to undergo some absurd amounts of trauma first. In the film's first teaser, we find her in some sort of underground bunker (most definitely not in Hawkins, Indiana) trying to communicate with anyone in the outside world. And while her radio goes through after repeated "is there anyone there?" inquiries, the sound she receives is not one of help on the way, but of Godzilla terrorizing her surroundings and crunching on the bones of citizens.
King of the Monsters has been shrouded in surprising amounts of secrecy—we guess it won't follow the "monster comes to town, monster kills people, someone sacrifices themselves to kill the monster" playbook—but we know Brown will be playing Madison, the daughter of Vera Farmiga's doctor character who gets kidnapped by an unknown organization for her knowledge. (Knowledge about lizards?) This presumably sets up two storylines for her character—tracking down her mom, and tracking down and killing Godzilla.
"I'm going to do my first ever movie, which is Godzilla. So it's really exciting," Brown told W about the film last year, adding that she watched a bunch of previous Godzilla content to prepare. "Not the originals, though. The originals like you have to get on a special website, so I watched the last one with Bryan Cranston it was so good."
King of the Monsters will be released May 31 of next year. Now, someone give Brown a role in a nice, safe rom-com! She deserves it at this point.