Miranda Kerr Is a Certified Life Coach, Loves Organic Products
The model and KORA Organics founder shares her beauty secrets.
---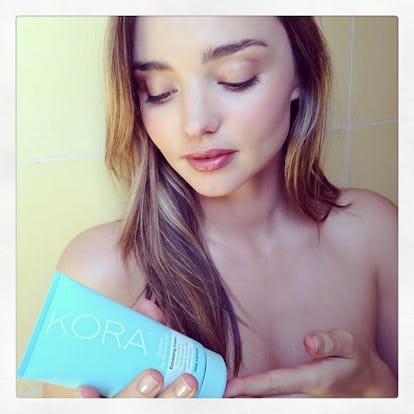 Supermodel Miranda Kerr launched KORA, an organic skincare line, after failing to find appealing products on the existing market. Here, the Australian beauty talks beauty as part of a holistic and healthy lifestyle.
Describe your look: Classic, but free-spirited.
Five-minute routine: Cleanse, mist, and moisturize
Never leave the house without: KORA Organics Vitamin Enhanced Lip Balm—if you lick your lips you get a daily dose of Vitamin C. Also, KORA Organics Citrus Mist, tweezers, cell phone, RMS Beauty "Un" Cover-Up and Lip2Cheek.
10 Models Share their Beauty Secrets
Beauty from the inside out: Mediation. Nurturing the mind, body, and soul connection. Exercise often. Keep moving. From the outside, using my certified organic skincare. I also feed my body with foods that are high in nutrients like lots of fresh greens and noni juice.
Exercise regime: I like exercises that I enjoy like ballet, Pilates, swimming yoga, even jumping on the trampoline with my son.
Cleanse or not: Because I'm a certified life coach I'll just do my own cleanse and have cold-pressed organic green juices. A three-day green juice cleanse helps reboot my system. The body can really heal when you're detoxifying it, and provide it with the right nutrients.
Beauty essentials: The KORA Organics Age Defying Phytox Oil. I love the results I've been getting over the past six months. Also, the body lotion and citrus mist. I'm obsessed with tweezers. I feel like I need to pluck one of two hairs from my brows every day. And an eyelash curler.
Skincare secret: A dry body brush. I'm obsessed with dry brushing in the morning and at night. It's very good for circulation.
Hair remedy: A coconut oil treatment overnight. I put a towel down while I sleep.
In-tub must-read: The Optimized Woman by Miranda Gray.
Spa-cation at: Qualia in Queensland. It's an ecofriendly spa that's private and has incredible views.
Fragrance of choice: KORA Organics new Heart Chakra Essence, an essential oil fragrance rollerball fragrance. It's my personal brand of supercharged oils that really heals and nourishes your heart. It uses aromatherapy to inspire kindness and compassion. It has a very high vibration.
Best advice from mom: Let your heart shine.
Best advice from the pros: Don't take anything personally.
Beauty icons: Audrey Hepburn. Jane Birkin. Bridgette Bardot.
Anything else: I'm very passionate about the whole mind-body connection. It's not just about nutrition on the inside, or nutrition on the outside. Rose quartz is infused in all of my products to give the vibration of love so you feel nurtured and appreciated.