Meet Miss Golden Globe: Corinne Foxx
She has no idea how she got the job. Dad Jamie might know better.
---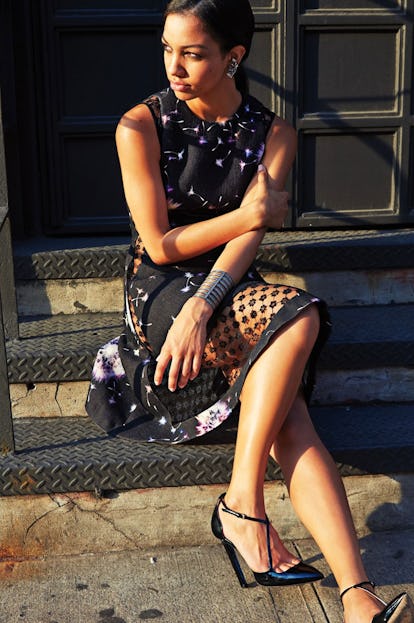 Before the 2016 Golden Globe nominations were announced today, there was only a handful of certainties about the January 10th ceremony: Ricky Gervais would almost certainly offend someone as host, and Corinne Foxx would be handing out trophies as the designated Miss Golden Globe. The 21-year-old college senior and daughter of actor Jamie Foxx is following a grand tradition, assuming a role previously incarnated by the likes of Dakota Johnson, Rumer Willis and, looking further back, Melanie Griffith, Johnson's own mother, who held the title in 1978 when she was just 18.
Congratulations! Is being Miss Golden Globe something you have wanted to do for a while? For the last couple of years, family and friends have come up to me and asked me, 'Why haven't you gone out for this, you'd be perfect for this!' And I was like, 'Oh yeah, I mean, I guess.' But I had no idea how to go about it and I still don't really know the process through which they chose me. I was kind of hit out of the blue that they wanted me to be Miss Golden Globe.
So did you submit any kind of application or do any kind of interview? No. I think traditionally that's how it's been done, that there's an application and some type of interview. This year they just kind of reached out to me and asked me if I wanted to do it and of course I said yes. So I'm happy they chose me. I have no idea how they even thought of me but I'm glad that they did.
When did you find out? I knew for about a month [before the official announcement]. It was a long time especially because for the announcement I had fittings and I had a couple of meetings and my friends were like, 'Where are you going? What are you doing?' I had to come up with all these reasons and I'm a horrible secret keeper, I'm so bad at it. So I would just try to avoid my friends as much as I could.
You've attended the Golden Globes before with your dad. I went once in 2013. And that was an amazing experience. I got to sit next to Leonardo DiCaprio, which I think is probably the best person to sit next to at the Golden Globes. I went with my dad in 2013 when he was there for Django [Unchained]. It's just a really, really special awards show because it does combine TV and film so you've got the best of everything there. And the style they do it is a room with tables and it's very conversational, it kind of feels like a party as opposed to you're sitting in a chair and staring at the stage.
What was it like sitting next to Leo? It was great. I know Leo because my dad's worked with him in the past. But I was still super starstruck. And if you look back at my Instagram, I Instagrammed our place settings next to each other because I was so excited about it.
Do you know what kind of specific preparations you'll have to do for the ceremony? I know I have rehearsals the day before and I'll have rehearsals the morning of. I don't really know the extent of what I'll be rehearsing. Coming out and where to stand and how to direct people where to go. I talked to last year's Miss Golden Globe, Greer Grammer, and she told me that's one of the most difficult parts, getting the talent to go the right way because they always want to go left when they have to go right. So I guess I'll be practicing that.
Have you gotten any other advice? I go to [the University of Southern California] and Greer went to USC last year, so I kind of knew her. We had a lot of mutual friends. And she was at the announcement party. And she said don't drink a lot of water because you have one bathroom break and you don't want to have to go. So that was her major advice. I'm more concerned about my shoes and that aspect of standing for three hours than drinking a lot of water.
Speaking of shoes and wardrobe, do you get free rein in terms of what you get to wear or are there parameters you have to follow? There are no parameters that I've heard of. So right now I'm working with my stylist Kelly Johnson and working with some designers on creating a dress, but I haven't heard anything from the Hollywood Foreign Press [Association] about them wanting me to choose a certain designer or have a certain look or anything like that. I want it to be very classic and clean because I don't want to look back and regret anything I chose!
You've never been on a stage of that size in front of that kind of audience. Has your dad given you any advice on that? My dad doesn't really live in the real world in the sense that he is so used to being on stage, he's so used to performing, his advice is, 'It's easy, don't think about it, it's fun.' And I'm like Dad, you say that because you're on the stage all the time. For someone who's never on the stage, it's scary. So he's not helpful with giving that advice. But he gives me advice about the night of and to not get small in the room and to stay big and not be nervous about the actors or the musicians and kind of hold my own.
Is there anything you're specifically most nervous about? I think dropping the award is probably something that's a big concern for me. But besides that I've been to a lot of awards shows so I do feel comfortable with how they work and red carpet is not a big deal to me so really what I'm most nervous about is tripping or dropping the award.
Ricky Gervais is the host—he can be a pretty polarizing comic. Are you worried about keeping your poker face on stage while he goes through his antics? I keep getting so many warnings about him! Every interview someone has brought up Ricky, like are you prepared? So now I'm really nervous. I've grown up with a comedian as a father so I'm pretty good about keeping my poker face, but yeah I've been getting so many warnings, so I'm excited to see what he does.
The racial diversity of roles is an ongoing dialogue in the entertainment industry. And it's been six years since there was an African American Miss Golden Globe [Mavis Spencer in 2010]. What are your thoughts on that? Obviously, it's an incredible honor and what's been going on recently in the media with Black Lives Matter and a lot of the racial tension in the media, I think it is very important that I represent this demographic. And I'm honored. It has been six years, but it's here now and I think it just shows progress in media.
This is your senior year of college. Do you have big plans for after graduation? While I've been in school I've really focused on modeling because it's been easier to fit with my schedule. These last three, four years I've really prioritized school so I haven't been able to really pursue acting. So when I graduate I do plan to go into acting more intensely. So that's hopefully where my future is going.
Photos: Meet Miss Golden Globe: Corinne Foxx
Corinne Foxx photographed by Matthew Kristall, styled by Lindsey Frugier; W Magazine October 2013.
Corinne Foxx and Jamie Foxx. Courtesy of Image Group on Behalf of the HFPA.