Missy Elliott Could Become the First Female Rapper in the Songwriters Hall of Fame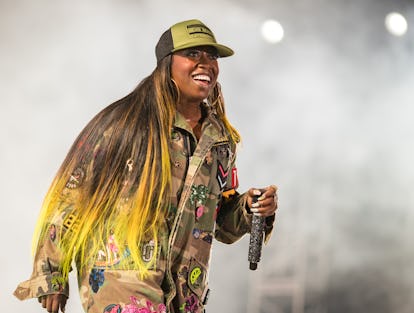 Christopher Polk/Getty Images for FYF
Missy Elliott has forever changed the landscape of hip-hop, and now she's being officially recognized for it. The artist and producer has just become the first female rapper nominated for inclusion in the Songwriters Hall of Fame, for the 2019 class.
Naturally, she celebrated the news on Twitter, where she tweeted, "I am Humbly Grateful to be nominated with so many other AMAZING writers?? Congratulations to all of them also??." The other writers Elliott is referring to range from Mariah Carey, Chrissie Hynde, and the Beach Boys' Mike Love to Cat Stevens. Others up for the honor: Jimmy Cliff, Jeff Lynne, John Prine, Lloyd Price, Tommy James, the Eurythmics (Annie Lennox and Dave Stewart), Jack Tempchin, Dean Dillon, Jerry Fuller, Tom T. Hall, Roger Nichols, and Dallas Austin.
Elliott isn't just nominated for having gifted the world with "Work It," "Lose Control," and "Get Ur Freak On." She also made the ballot for her contributions as a songwriter for other artists, namely her dear friend Aaliyah, whose second studio album, One in a Million, was co-written and co-produced by Elliott alongside Timbaland. Elliott has also produced for fellow nominee Mariah Carey, as well as Ciara, Janet Jackson, and Whitney Houston.
If she earns enough votes, Elliott would make history as the first female rapper inducted to the Songwriters Hall of Fame, and the third rapper ever, following in the footsteps of Jay-Z and Jermaine Dupri. We won't know for sure, though, until June 13, 2019, when the ceremony takes place.
Either way, we will be seeing more of Elliott next year. She has some new music on the way: her first new album in 13 years, a follow-up to 2005's The Cookbook, and she's already talked it up. "I got some heaters," she said of her new songs to Billboard. "I most definitely got some heaters. I'm not going to say when they're coming because, you know, I always think that's the setup when you say it's coming and you give a date and you don't drop on that date—oh, man! It's like those fans out there will stone you. I'm not saying the date, but I got some heaters." Consider her latest track, "I'm Better," to be the warmup.
[#youtube: https://www.youtube.com/embed/TwyPsUd9LAk]
Related: Until Missy Elliott Wins the Video Vanguard Award, the VMAs Mean Nothing