Model Coco Rocha's Post-Trump Travel Guide to Canada
At Canada Goose's flagship opening in New York, the native Canadian shared her insider tips for those scheming to move up north.
---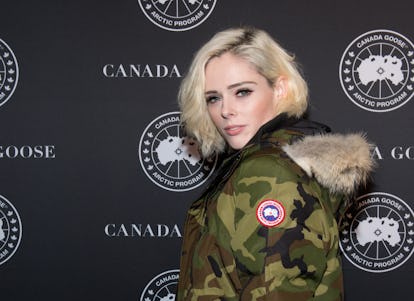 Noam Galai/WireImage/Getty Images
The Canadian model Coco Rocha grew up near Vancouver, works in Toronto, and hangs in Montreal, which makes her a bona fide expert on the neighbors on every American's minds — from Snoop Dogg to Amy Schumer to Grimes — since Donald Trump won the election last week. Here, Rocha shares her tips for those headed up north on the occasion of the opening of Canada Goose's first Stateside flagship store, which may be in New York's Soho but had Rocha's mind drifting back home to Tim Horton's and poutine.
Describe your hometown: I grew up in a city called Richmond, outside of Vancouver in British Columbia, and in a fisherman's village called Steveston, which has the best fish and chips in all of B.C. You can go skiing, swimming, and shopping all in the same day there, and there's pretty amazing scenery with the ocean and the mountains in the backdrop.
Favorite nature getaway: Stanley Park in Vancouver is like our Central Park — amazing because you're in the city, and then all of the sudden you can just go ride your bike. And of course there are beautiful national parks if you go up into B.C.
Favorite place to ski: Whistler [in British Columbia] is the go-to place, and the greatest weekend experience.
Canadian food of choice: Believe it or not, it's Chinese food. There's a huge Asian population, in Vancouver especially.
Favorite restaurant: The most amazing restaurant I've ever eaten at in all of Canada is Fring's in Toronto, which is Asian fusion. Drake named it after what people say is his name for Rihanna.
Favorite place to shop: I find myself in the Yorkdale mall a lot, as silly as it sounds, because my family lives in the suburbs. But it's a very Canadian thing to find yourself in malls rather than streets since it's colder in the winter. Montreal even has theirs underground.
Favorite place to see art: There are a ton of great graffiti artists like Stikki Peaches, who I love to death, that you'll find all over Montreal. Montreal definitely has the most impact in terms of music, art, and festivals. The French really engross themselves in that — they're very passionate people and take a lot of pride in their culture and its art and festivals, which are a lot of fun, too.
Best city for going out: Go to Montreal for the festivals, and Toronto for the new, up-and-coming performers.
Go-to spot for a date night: Granville Island in Vancouver is pretty epic. It's like a Chelsea Market but on steroids and outside with beautiful scenery.
Favorite place to stay: My dad's basement in Toronto. But the Shangri-La Hotel is also pretty nice and central.
Don't forget: To have a Tim Horton's coffee, and definitely to have your poutine. Make sure you go to some real nitty gritty place and get the basic one, not some fancy truffle kind at a fancy restaurant. You need to have it with cheese, gravy, and fries.