Model Leila Goldkuhl is a Beauty Chef
The platinum blonde, who stars in Dolce & Gabbana's fall campaign, tells us what it takes to get good hair.
---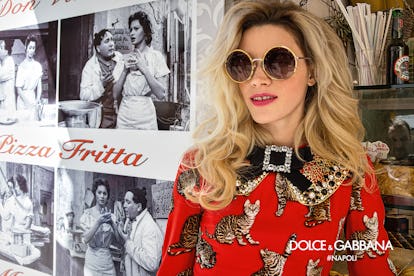 Courtesy Dolce & Gabbana
American model Leila Goldkuhl may be drop dead gorgeous, but she also brings new meaning to the term beauty from the inside out. How? The 24-year-old takes products from her kitchen, and maxes out their complexion-boosting potential. Here, the "Cult Classics" gal (and Dolce & Gabbana Fall 2016 campaign star) gets down to business on what keeps her bleached locks from going lackluster, her homemade drink of choice, and more.
Your look in three words: Boyish-feminine balance.
Medicine cabinet snapshot: I mostly use natural products that you'd find in your kitchen. Apple cider vinegar, coconut oil, and baking soda. In addition to topical treatments, I try to use my LED light photon therapy mask regularly.
A good hair day starts with: Air dried, Olaplex-treated hair.
Makeup miracles: Origins Plantscription Concealer, Benefit High Beam Highlighter, Nars Satin Lip Crayon in Rikugien and my ultimate lip savior is Nuxe Paris Rêve de Miel (it's crucial).
Nails must be: Clean! But if I'm feeling festive, Essie Sparkle On.
Sheet mask or mud mask: Origins Clear Improvement Activated Charcoal Mask.
Bronze or blush: Blush! I use a little bit of Nars Lip Pencil on my cheeks.
Beauty from the inside out: I always put some apple cider vinegar, honey and a mix of spices in a big bottle of water. I try to drink a couple of those a day. When I'm traveling, and forget to do that for a few days, it really shows in my skin and overall appearance. Bonus: If you're hypersensitive to water's taste, this will totally mask the taste of tap water.
Exercise obsession: When I'm in Los Angeles, I love to train with Jason Wimberly. In New York, I go to Model Fit classes with Sam Garcia.
Drink of choice: Ginger kombucha. I'm obsessed.
Product that you borrow from the boys: I always steal sunnies and vintage shirts from my man.
Product that you picked up from the pros: Aphogee Protein Hair Treatment.
A woman should smell like: I never want to smell overpowering to anyone's nose. When I wear a fragrance, I want it to be subtle and unique. Escentric Molecules is great because it plays off of your natural scent.
Appointment you'd love to nab: A Deep Cleansing Facial by Ildi Pekar in New York City.
Your most searing beauty question: What is the secret to always having small, clean pores? Someone, please, tell me!
Definite doppelgänger: My dog Ziggy. We're practically twins.
Behind the scenes of the "Cult Classics" shoot with Leila Goldkuhl and more: