Model-Turned-Artist Tali Lennox Transforms Her Grief Into Paintings
In her first new work since a personal tragedy, the 23-year-old artist's one-day show at the Chelsea Hotel is all about "the inaccessibility of the past."
---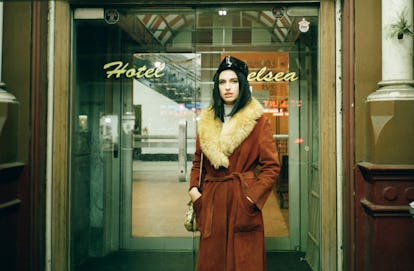 Kristin Gallegos
The 23-year-old model-turned-painter Tali Lennox has been living an interesting existence lately. Over the past year, and especially in recent weeks, she's been at once constantly surrounded by people and entirely alone. She's picked up a habit of rifling through piles of old photographs at antique and junk stores — which to her are more like treasure shops — until she's found a portrait of a stranger that resonates with her enough to take home to her collection of vintage ephemera. Eventually, she incorporates this family of found souls into her artwork.
"My friend came to see the work. He was like, 'I hope you're feeling sane. I'm a bit worried about you having all these people around you all the time,'" Lennox recalled with a laugh yesterday. "I was like, 'Eh, I'm used to talking to myself, and all my friends.'"
In fact, she'd brought them along with her this afternoon for what's become a rare trip outside of her Chinatown studio-slash-apartment, where she'd been steadily holed up for the past month producing most of the series of paintings she exhibited on Thursday in a one-day show in Chelsea. The public viewing in the cozy backroom of the infamous El Quijote restaurant, in Manhattan's Chelsea Hotel, was a breath of fresh air, Lennox felt, for both herself and her new "friends."
"It kind of stands as a skeleton now," Lennox said of the storied venue, which is currently being renovated. It's precisely why she felt it was the perfect fit. "The work I was doing with this painting series is based off of trying to grasp the inaccessibility of the past. It came from a curiosity of trying to understand things that are gone, and translating that through painting. The people, the energy are trying to come through, but they're inaccessible."
"Ashes & Confetti" by Tali Lennox
"Young Couple" by Tali Lennox.
"Drinking Together" by Tali Lennox.
"Smiling Man" and "Nude on Couch" by Tali Lennox.
"The Memory Box" by Tali Lennox.

David X Prutting/BFA.com
From "Pin-Up Triptych" by Tali Lennox.
"Family Portrait" by Tali Lennox.
That sounds a bit more macabre than nostalgic, but it's no surprise that these have been Lennox's preoccupations of late. She took up painting two years ago — walking the runway for Burberry and Prada was getting a bit old — and soon landed a month-long residency at New York's Catherine Ahnell Gallery, where she opened her first-ever solo show in March of last year, displaying a series of bright, slightly garish self-portraits that examined narcissism and social media.
A few months later, though, Lennox's boyfriend of two years, the artist and model Ian Jones, drowned when the pair were kayaking on the Hudson River, a tragedy that Lennox later described as leaving her "shattered."
"There was something very healing, in a way, about trying to get to know or feel energies that were gone in old photographs," Lennox said of the new artistic direction she's taken since. Working mostly from black-and-white photos, her latest paintings are largely devoid of color; rather than self-portraits, her unknown subjects now appear as blurred, almost ghost-like figures. "They don't have eyes," she said, gesturing to the canvases that ranged from a solitary topless woman to a grouping of uniformed school girls. "There's no connection anymore, but their energy is trying to push through." Lennox likened it to seeing someone through steamy glass. "It's supposed to be about the window between life and death."
Despite the subject matter, Lennox was not downcast. Rather, she argued, "sometimes the things that we relate to being happy can make us feel quite melancholic."
Plus, Lennox's sculptures — also a new direction for her — are present, lending their colorful cheer through the use of plastic beads, Buzz Lightyear and dinosaur figurines, jewelry boxes, miniature perfume bottles, and fake flowers she's picked up in various delis, flea markets, and even off the pavement. All are topped off with confetti and housed in what she calls a "confined memory box" — essentially, a kitschy plastic wunderkammer. "I wanted the objects to be scattered and random, so that the viewer can go down a tunnel of memory," she said.
It's also full of Lennox's personal items, which all possess their own stories. But a girl must keep some secrets, of course. "Some of them are from a late night at a hotel, or I took some sweets from —" she started explaining, and then stopped. She smiled. "No, I don't want to say."