Molly Guy Loves Beat-Up Black Boots, Hates Small Talk
The woman behind New York's cultish, anti-bridal salon, Stone Fox Bride, shares her style notes.
---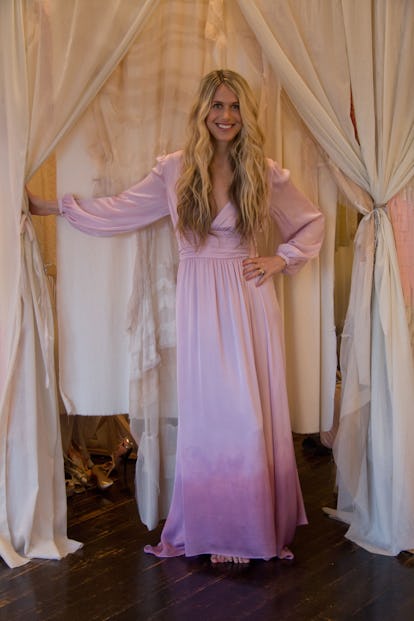 Molly Guy, the founder and creative director of Stone Fox Bride, is making waves in the bridal industry thanks to her eclectic eye and her refusal to conform to clichéd traditions. She encourages her clients to pursue weddings that are reflective of their personalities, whether that means swapping out flowers for a bouquet of balloons, serving beer instead of champagne, or dipping an heirloom gown in fuchsia dye. Supported by an ever-growing fan base, she has continuously expanded the salon's offerings to include everything from custom couture dresses to consulting services that help track down the perfect vintage setting for heirloom stones and vice versa. The salon's laid-back bohemian aesthetic is informed by Guy's own covetable style. Here, she breaks it down to specifics, from her obsession with Indian gauze dresses to her fantasy about sharing pants with Katharine Hepburn.
Define your style in three words: Dazed and confused.
Daily Uniform: Current Elliot jeans that I've cut at the hem, Indian gauze Stone Fox Bride "second life" peasant blouse, Ryan Roche cable-knit boyfriend sweater, BLK Denim leather jacket layered with Stella McCartney poncho. And black Isabel Marant boots, of course! I also never forget my emerald engagement ring and a slouchy, vintage, maroon Chanel bag.
Greatest hits: My collection of dresses created in Jaipur in the early 1970s for rock groupies. My wide-leg silk 1930s trousers with heavily jeweled front patch pockets. I have a fantasy that they once belonged to Katharine Hepburn. And finally, my late 19th-century tambour lace dress. I wore it to my friend May's birthday party last spring and she went into labor a few hours later—we think the utter gorgeousness of the dress stunned her into contractions!
Preferred footwear: Black boots, black converse, black Lanvin flats.
Finishing touches: My engagement ring (made from my Nana's old emerald) and a side braid—I have really long unruly hair that takes me about eight days to comb out so I usually just twist it up into a loose, fat side braid and call it a day.
Nighttime look: Pajamas, eye cream, baby on my boob.
Best recent discoveries: A matching flannel pajama set from the 1940s that I bought for my husband and I at a vintage show.
Favorite stores: Ryan Roche in New York for knitwear, Ikram in Chicago (my hometown), Merci in Paris, and Lifethyme on Sixth Avenue in New York for coconut shampoo, rose oil, and sandalwood soap.
Style pet peeve: My only style pet peeve is having a style pet peeve—let people wear what they want. Who cares?
Style Icons: The three graces: Grace Slick, Grace Kelly, and Grace Jones.
Last purchase: A red Indian cotton gauze peasant blouse purchased at the Fort Greene Flea Market last Saturday.
Lusting after: A vintage Mongolian shaggy white sheepskin coat; pointy, vintage black YSL boots; a shaggy, multi-patchwork boucherouite rug; and a turquoise and diamond ring from Caitlin Mociun.
Favorite haunts: Varanasi, India: Nedasar Palace, which is just ten minutes off the Ganges river. Mexico City: The Condesa Hotel, which has the best decor and guacamole. Brooklyn: The Greenpoint Farmers Market, Five Leaves in Williamsburg for the cheeseburgers and fries, Ali + Cass Bird's house in Lefferts Garden for Saturday night dinner. Manhattan: Cafe Gitane for watermelon juice, coffee, and long illicit lunches during the workday with my best friend Caroline; and Shala Yoga Center in Union Square for my one-hour Ashtanga lunchtime fix.
Photos: Molly Guy Loves Beat-Up Black Boots, Hates Small Talk