What to Expect From MoMA's First Fashion Exhibition In 73 Years
The modern history of fashion in one show.
---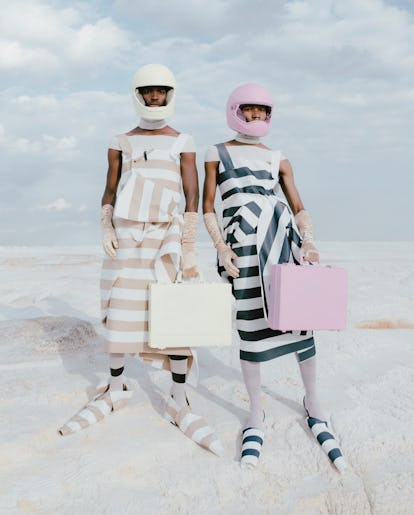 Kristin-Lee Moolman and IB Kamara, courtesy of the Museum of Modern Art, New York.
It's taken nearly three-quarters of a century, but on Sunday, October 1, the Museum of Modern Art, in New York, will begin to wrap its figurative head around the world of style when it unveils "Items: Is Fashion Modern?," its first fashion exhibition since 1944. (Tellingly, MoMA didn't make its first proper clothing acquisition—a 1907 Fortuny dress—until 1987.)
Paola Antonelli, MoMA's senior curator of architecture and design and director of R&D, uses garments to tell a story of modern design, an idea she developed back in 2004 while working on "Humble Masterpieces," a show that featured mundane yet revolutionary inventions like Post-it notes, Band-Aids, and the simple white T-shirt. From there, Antonelli began compiling a list of what she calls "garments that changed the world," such as Levi's 501 jeans, the little black dress, Prada nylon backpacks, and the coveted Hermès Birkin bag.
While the exhibition focuses mostly on staples of Western dress, it also brings into the fold iconic non-Western staples, such as the sari and the dashiki. Antonelli says the show addresses questions of sustainability, gender, and the means (and problems) of industrial production in a globalized world. Perhaps not surprisingly, her favorite item on display is the turtleneck, as worn by Angela Davis, Steve Jobs, and Orthodox Jewish women—exemplifying cultural rebellion, innovation, and tradition, all in one.
23 Chic Backpacks To Get You In the Mood For Back-To-School