Nature & Nurture
Risk-taking art dealers Mónica Manzutto and José Kuri helped plant the seeds of Mexico city's thriving art scene. Their home and gallery are no less daring.
---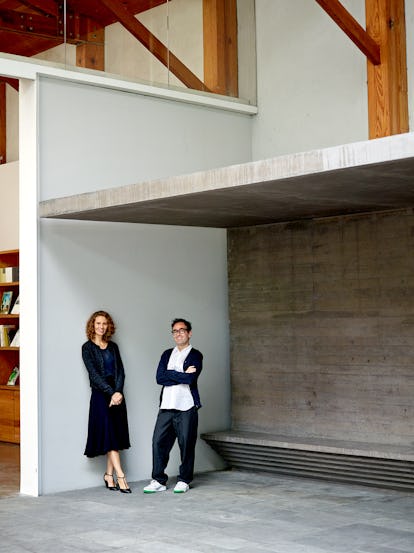 Photographer: Martyn Thompson
The strange and beautiful house recently renovated bythe Mexico City art dealers Mónica Manzutto and José Kuri not far from the trendy Condesa neighborhood began its life in 1899 as a nunnery for the nearby church of San Miguel Arcángel. But Manzutto and Kuri have subverted that particular history, with its theological and colonial connotations, and have named their new home Platanera—Banana Tree House—after a grove of plants in the garden that bloom only once in their seven-year life cycle, then die. "Time is an important issue with the house," says Manzutto, 41, a lithe former model who speaks five languages. Platanera, she explains, ages before your eyes, the wear and tear of previous years gloriously apparent on its bare-wood and raw-stone surfaces.
That wear and tear has been considerable. At some point in the mid–20th century, the nunnery became tenements, and, eventually, parts of the ceiling collapsed. Manzutto and Kuri have restored some of the original nuns' quarters for themselves, their two young children, and their collection of contemporary art but have kept others as they found them: ruined rooms that are now reimagined as enclosed gardens. This old/new–indoor/outdoor house, which incorporates a freshly built second-story master bedroom suite and a detached office pavilion designed by the Mexican architect Alberto Kalach, is hidden from the street by a plain facade. Right behind it, in a small garden forecourt with damp gravel underfoot and a leafy canopy overhead, is arguably Platanera's most striking feature: a native tepozán tree as thick as an arm growing out of the house's adobe-brick wall like a supernatural oddity from a magical-realism novel. "We wanted the entropy to be present," says Kuri, 45, of the decision not to remove it. "There is a certain dignity to the things that were already here."
That Manzutto and Kuri chose to keep the tree speaks not just to their domestic aesthetic but also, in some subtle way, to their vision of Mexico's vibrant art scene and, in particular, to the group of artists that their gallery, Kurimanzutto, has represented since it opened 15 years ago. Gabriel Orozco, Damián Ortega, Gabriel Kuri (José's brother), Abraham Cruzvillegas, and Dr Lakra, who are all in their 40s and 50s, have careers that are international in scope yet deeply connected to Mexico's history and culture. Like the tepozán, they embody an indigenous vigor that has sprouted, adamant and unruly, in the cracks of an older cultural edifice, which they're not pulling down but rooting into as a living buttress. Their work isn't always glamorous in a conventionally collectible sense, but it is formed with ambitious intent. The centerpiece of Manzutto and Kuri's personal collection at Platanera, for example, is Orozco's Mexican flag painted on a flattened cardboard box—the detritus of consumer culture recycled into a 21st-century artistic identity.
Like the galleries started by Manzutto and Kuri's professional heroes, Leo Castelli and Marian Goodman, Kurimanzutto was present at the birth of an artistic generation and has grown with its artists' commercial successes; as Mexican contemporary art has matured, so has Kurimanzutto's prestige as an international powerhouse. What Platanera represents, then, is both a status symbol in keeping with the couple's position in the upper ranks of the global art hierarchy and, in its idiosyncratic form, a notion that they have shared with their artists from the outset. "It is the idea of the local, of Mexico, of our roots in a broader context," Kuri says. "It's not popularizing or exoticizing Mexico, but really understanding where we come from."
The morning before our visit to Platanera, Manzutto and Kuri meet me in their upstairs office at Kurimanzutto. Manzutto has just returned from a 10-day trip to Korea and professes to have had just three hours' sleep. Still, her eyes are bright behind a pair of librarian glasses, and she smiles often to reveal a Lauren Hutton–esque gap in her front teeth.
The office's decor runs to tropical modernism—all sleek lines and burnished hardwood surfaces—and it gives a sense of what Platanera will look like once the furniture and art are installed in the weeks ahead. Both the house and the gallery were designed by Kalach—a perfectionist whose inspirations range from the Mexican modernist Luis Barragán to traditional Japanese carpentry—and the two spaces clearly share the same DNA. The gallery was originally a lumberyard, which Kalach has sculpted into a compound of flexible spaces, some under roofs and others open to the sky. Bursts of greenery and curtains of hanging vines overrun the courtyard beneath the gallery offices, which are reached by climbing a wide concrete staircase that suggests the monumental ruins at Teotihuacán. The building materials, like those of the house, include bare steel oxidized to a velvety patina and native lava rock. In the back courtyard, which boasts a full kitchen, dining tables, and conversation nooks, an outdoor sink was carved on-site from a massive block of lava—its hand-hewn geometry appears half-Aztec, half-Bauhaus.
Multiple exhibition spaces purposefully challenge perception, with some walls carefully misaligned to leave gaps flooded with light and colonized by creeping philodendron. As at Platanera, Kalach used glass walls and skylights to diffuse Mexico City's high-altitude light; you begin to lose track of what's indoors and what's out. Kurimanzutto is the opposite of an anal-retentive white cube—it's more like a community center for Mexico City's art scene. "We wanted a space that had to do with our weather, our economics, our politics," recalls Kuri, who is wearing a color-block cardigan and Buddy Holly glasses. "Not to replicate a gallery from London or New York City."
Kurimanzutto has been in its present location since 2008. Before then, it was a gallery with no fixed address. The inaugural show opened on August 21, 1999—by chance, the same day that Castelli died—in a stall at a local produce market. For the next nine years, Manzutto and Kuri mounted exhibitions in venues that included an old movie theater, a carpet showroom, and an airport terminal. Their reasons were both practical and ideological. On the one hand, they started with "zero money," Kuri recalls, and they preferred to invest in traveling abroad to meet curators and collectors rather than tending shop at home. At the same time, they were skeptical about the very idea of a gallery as a showroom for selling objects. Their ambition, like that of their artists, was more elusive. They believed that the role of the artist is largely conceptual and includes catalyzing human relationships in a social context. "Not having a space was very important," Manzutto says. "The gallery was about all these friends, together."
Manzutto's early life plan was to be a diplomat or a civil servant. She was born in Colombia to a Colombian mother and an Italian father, who died young. Her Argentine stepfather was an engineer, and the family moved around the world before settling in Mexico City when she was 12. As a teenager, Manzutto started modeling, a job that provided financial freedom and a sense of independence. Still, she never doubted that she would finish her studies in international relations at the Universidad de las Américas in Mexico City. She met Kuri when she was 19 and he was 23, and the two have since been partners "in every sense," as she says.
Kuri's father is of Lebanese descent; his Mexican mother took her sons to museums when they were growing up. As a teenager, Kuri loved art and even won a national drawing contest, but the social expectation for a smart kid was to strive for financial success, so he studied economics at the prestigious Instituto Tecnológico Autónomo de México. "I didn't think you could make a living out of art," Kuri says. "Now, art has become an industry. At that time, you were basically choosing to be a bohemian. I thought I could work in business, and then later I could be involved in art in some way."
His eventual entrée into the nascent Mexico City art scene came via his younger brother, Gabriel, who never wanted to be anything but an artist. Gabriel Kuri got to know Orozco, nearly 10 years his senior, when Orozco invited the artist to join a weekly group along with Ortega, Cruz-villegas, and others of that generation. Soon dubbed the Friday Workshops, these meetings combined high-minded talk with late-night drinking in local cantinas. It was the world before NAFTA, the dot-com boom, the requisite annual art-fair migrations, and the arrival of art-hungry billionaires from emerging-market economies. The narrative of mainstream Mexican art at that time was straightforward: Following the Mexican Revolution of 1910, Diego Rivera, Frida Kahlo, and the muralists painted a new national identity. In the 1950s, an opposing current of abstract painting arrived from abroad to inspire a movement called La Ruptura. A return to figurative painting, Neomexicanismo, followed in the 1980s. A decade later, the generation of the Friday Workshops threw out their paintbrushes to create conceptual works that were often critical of the mainstream art establishment. The outcome was predictable: a cold shoulder from local galleries and the need for young artists to support themselves with day jobs.
Meanwhile, in 1997, Kuri and Manzutto moved to New York to pursue master's degrees in public policy and cultural studies, respectively. "And then everything changed," Manzutto recalls. Orozco, who was also living in New York, suggested more or less out of the blue that Kuri and Manzutto open a gallery in Mexico. His logic was simple: He wanted to go home, and there was no gallery to represent him there. While Kuri -finished his degree, Manzutto got an internship at Marian Goodman, Orozco's gallery, and learned the back-office functions. The couple returned to Mexico in 1999 and mounted Kurimanzutto's first exhibition in the market stalls, where works were sold at the prices of the market—an Orozco could be had for the equivalent of $15. Rirkrit Tiravanija, who was a close friend of Orozco's in New York and had joined the gallery at the outset, cooked lunch. They called the show "Market Economics."
Whenever its artists had produced enough work, Kurimanzutto would pop up with a new exhibition. Its second, "Permanencia Voluntaria," ran over a weekend at an old movie theater with a lineup that included local artists' re-creations of important video pieces by Paul McCarthy and Bruce Nauman—which they'd read about in books but never actually seen—as well as Exodus, Steve McQueen's Mexico City premiere. The 2002 show "Travelling Without Moving" was held at Mexico City International Airport; every work sold, netting Kurimanzutto a slim profit of about $1,000. All of those early exhibitions were group shows, Kuri explains, to emphasize the "generational energy" represented by the artists who emerged from the Friday Workshops. "In the beginning we were very famous for doing great parties," Kuri says with a laugh. "We were living on $300 a month, $400 a month, but we felt happy. We were so lucky to have made the decision to open the gallery. We always thought that we were doing the right thing."
But Manzutto also makes it clear that their strategy, which, in retrospect, seems idealistic to the point of utopian, did not amount to idleness. "We didn't just wait for it to happen," she says. Starting in 2000, Kurimanzutto began participating in international fairs. Its artists gained further momentum after the 2003 Venice Biennale, where an Orozco-curated show, "The Everyday Altered," displayed works by the Friday Workshop artists, including Ortega's iconic Cosmic Thing, an exploded Volkswagen Beetle that was to the group what Damien Hirst's shark in formaldehyde was to the 1992 London exhibition "Young British Artists." Early supporters of the gallery included the Mexican collectors Eugenio López and Patrick Charpenel; as well as Howard and Cindy Rachofsky and Deedie Rose, all from Dallas. Today, Kuri estimates that 70 percent of their sales are made abroad, and the gallery's roster of 26 artists is likewise increasingly international, with Monika Sosnowska from Poland, Akram Zaatari from Lebanon, Roman Ondák from Slovakia, American expat Jimmie Durham, and Thailand's Apichatpong Weerasethakul. If Mexico City seems distant from those artists' native grounds and, indeed, far from the international commercial art centers of London and New York, that's exactly the point. "One of the greatest things about being at the periphery and not the center was the freedom," Manzutto says. "It still is."
Platanera is just a five-minute walk from Kurimanzutto.As Kuri shows me around the neighborhood, he nods a courtly "Buenos días" to everyone he meets, pointing out the sights as we go. There's the fruit stand, where he wants to rent a shelf to sell books; a dry cleaner; a simple cantina. He says that he and Manzutto were drawn to the area because it is in transition. The facade of Platanera was recently tagged with graffiti. "We'll leave that," he says, adding that they want to blend into the neighborhood, not occupy it. I ask Kuri if he feels ambivalent about their success. "Certainly," he says, as if answering a question he and Manzutto have discussed many times. "Success isolates you; that's inevitable."
He tells a story from the early years of the gallery, when he and Manzutto worked from home. It was a very hot day, and he had on nothing more than a pair of shorts and flip-flops. "This is my idea of success," he told her. If they could continue to work that way, he would consider them "completely successful." As for the financial gains, jet-set lifestyle, and media profile that followed, Kuri says that they must remain "very, very skeptical." He mentions an artist friend who lives with his family and dogs in an isolated village, in a house he built with his own hands. "I would see it as a very successful life to be that free," Kuri says, acknowledging all the same that he and Manzutto have committed themselves irrevocably to a profession of ever-increasing social and financial obligations.
Kurimanzutto's recent exhibitions have grown far more complex—and expensive—than "Market Economics," as artists create larger-scale works with heightened production values. And the couple continues to look for opportunities to present them in non-gallery situations. Sarah Lucas's first show in Mexico City was an installation of pantyhose sculptures at Diego Rivera's Anahuacalli Museum, which now houses his pre-Columbian art collection. Manzutto and Kuri, who once operated without a program, are now preoccupied with how to place their artists' works in major public collections—and how to perpetuate them in the history books.
Later that night, some 200 guests arrive at the gallery for the opening of a show of Tiravanija's new work. He's spent the day cooking, and the installation includes a buffet of tacos and endless Mexican beers. Even after the party officially ends, a large crowd hangs on, fueled by mezcal and cigarettes. Damián Ortega laughs when he thinks back to the young Kuri who set out for New York to study public policy—back then, "he was just our friend," Ortega says. As for changes at the gallery itself, he shrugs: "Oh, it has been fluid, natural change." Nearby, a boisterous game of ping-pong is under way at tables Tiravanija painted with the phrase mañana es la cuestión ("Tomorrow is the question"). Kuri remembers that back in the early days, when Kurimanzutto events got really wild, guests would slip off to the bathrooms for drugs and sex. That doesn't happen tonight; even so, the opening is not a prissy reception but a real party. Manzutto and Kuri have maintained a sense of the unruly, even while surrounded by the high-stakes business of international art.
Above the din, they explain the story behind a hammock, large enough to hold 10 people, that is suspended from the gallery's beams. Tiravanija commissioned it from a group of prisoners in the Yucatán who run a small workshop, and he had them weave a message into its warp and weft. Over the course of the night, as the noise level climbs with every round of mezcal, Kuri and Manzutto take turns swinging in the hammock with their guests. Its woven text, which becomes visible only when the hammock is stretched open by occupants, readstodos juntos—"all together."
Mónica Manzutto and José Kuri, in the courtyard of the gallery, Mexico City. Photograph by Martyn Thompson.

Photographer: Martyn Thompson
In Kurimanzutto's main space, Roman Ondák's recent show "Signature."

Photographer: Martyn Thompson
The house's graffitied facade.

Photographer: Martyn Thompson
A view of Platanera, Kuri and Manzutto's newly renovated house in Mexico City.

Photographer: Martyn Thompson
Photographer: Martyn Thompson
The sitting room, with green crumbling walls that Manzutto and Kuri intentionally left exposed.

Photographer: Martyn Thompson
A view into the house's living room from the courtyard.

Photographer: Martyn Thompson
The tepozán tree piercing one of the walls.

Photographer: Martyn Thompson
Photographer: Martyn Thompson
An exterior view of the bedroom.

Photographer: Martyn Thompson
The banana grove, seen from the bedroom.

Photographer: Martyn Thompson
Photography assistant: Evan Strang.