Monique Pean's Maternal Instincts
The jewelry designer talks about balancing career and motherhood.
---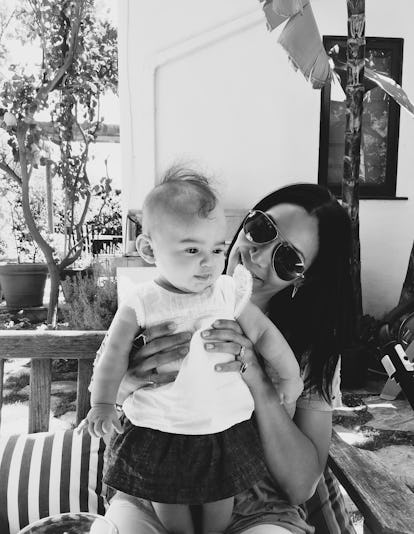 I've always been a fan of Monique Pean's thoughtful and beautiful aesthetic, along with her socially responsible approach to jewelry design. Here, the new mother of six-month-old daughter Seine, talks about how she became a jeweler and the best advice she has gotten about balancing career and motherhood.
How did you begin designing jewelry? While I was working in finance in New York City, my younger sister Vanessa Péan unexpectedly passed away in a car accident at the age of 16. At that moment, I had to reevaluate what I wanted to do with my life and I decided that I wanted to find a career that allowed me to combine my passions for design, art, travel and philanthropy.
What jewelry is part of your daily uniform? I always have at least five rings on my hands and at least two bracelets on my wrist. I wear my signature fossilized walrus ivory pinky ring daily, so much so that I have a pinky ring tan from over the past year!
Do you have a favorite piece you designed and why is it so special? I designed an 18-karat recycled white gold bracelet with an antique hexagonal diamond set in white diamond pave while I was pregnant. The hexagonal diamond is so unique and I designed the piece in honor of Seine. I have worn it everyday since she was born.
Speaking of babies, what is the best advice you received about balancing motherhood and work? To take the time to enjoy all of the little things and to go with the flow as it's an ever-changing world of parenting!
What has been your biggest surprise as a mother? The profound amount of love and happiness that comes from spending time with your child. People told me it would be life changing, but I didn't understand just how special it would be. When she smiles it changes everything!
Has being a mother changed your approach to designing? I love to travel for inspiration and now I bring her along on my adventures.
Have you designed a piece for your daughter Seine yet? I am going to wait until she's older and can appreciate the meaning and craftsmanship of her first piece. Perhaps we will design it together!