The Secrets of DIY Monochrome: A Guide From Instagram's Favorite Interior Designer Harry Nuriev
The key to going all in on one color is in the details, according to the Russian architect.
---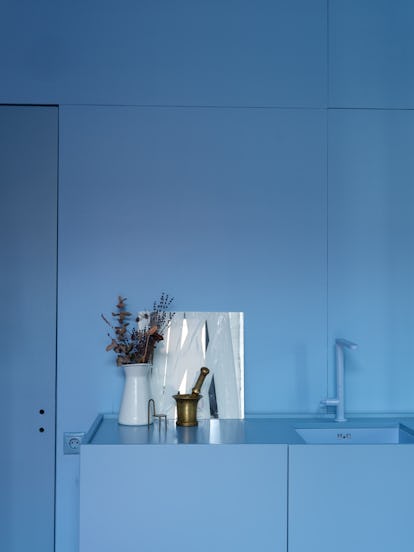 MLOSKUTOV.COM
"Purple is a very selfish color," the Russian architect and interior designer Harry Nuriev explained recently. "Just look at it and you'll feel it." Nuriev has built a career over his feel for color. His monochromatic schemes have caught the eye of major art honchos like Dasha Zhukova and stolen the hearts of the Instagram generation. And while he is best known for his very Instagrammable monochromatic rooms, Nuriev is also forging a new path into fine art; he recently opened a new exhibition featuring robot choreography at the Dallas Contemporary museum to kick off the Dallas Art Fair. And this month, his firm Crosby Studios will unveil the redesign of its Moscow office. "I was so eager to redesign it that it only took me a month to build!" Nuriev said. Here, the design maven offers a first look at the revamped Moscow space, and answers our most pressing questions, from the keys to DIY monochrome to how he finds the perfect colors.
At Art Basel last year, you began expanding your practice from architecture and design to fine art. Tell me a bit about your current exhibition at Dallas Contemporary and what prompted this career move? I'm trying to blur the boundaries between art design and architecture, but everything I do is very functional. Even my current exhibition—it's an installation featuring mini robots. We're always staring at the screens of our iPhones. I made the robots to criticize the technology of the moment. I want to show people the other side of technology. Last week, my friend and I were texting about going to see Hamilton. The very next day, I had a Hamilton ad on my Instagram, and that scared me. For this installation I wanted to criticize robots, [to] show people that robots are scary.
Being from Russia, is your work at all Soviet-inspired? I grew up in Stavropol, a rural region in the Russian Caucasus. I embraced my Russian heritage during my presentation at Design Miami. The installation and furniture collection was stimulated by the izba, a traditional loghouse of Russian farmsteads. I also created a sculpture called Carousel, which is inspired by Russian playgrounds of my youth, and is now on view in my exhibition at Dallas Contemporary. For that, I also created a series of swans comprised of rubber tires—a common, kitschy lawn ornament found in Russia.
What initially sparked your interest in monochrome? It's interesting. Normally in a space we have different surfaces or textiles, like wood or plastic. All of these surfaces have different messages. When these materials are all in the same color you actually get the message, and understand the shape and scale of the space.
What kind of colors are you normally drawn to? You tend to go for bright and happy colors.… My relationships with color change every month, year, or in two days. Right now I'm in my blue phase—specifically light or baby blue. Before it was electric blue, which is a very aggressive color. It was right when I moved to New York. I was very focused on my future, on my success. In the very beginning I was in my pink period, which is very naïve, and it was the period when I launched my business. It was the perfect match for this period.
Do you create the colors yourself or do they already exist? Most of the colors exist. It's very hard to create a new color, and I don't think there is any reason to do that. I use Pantone. There are too many beautiful colors to discover, I want to learn about existing ones rather than create a new one.
What is your color research process like? I find colors. I found my pink, for example, in Lyon, France. The color was amazing. I don't know if you're familiar with my light green; I call it jade. It was the façade of the Mariinsky Theatre in St. Petersburg.
What inspires you to choose the colors? Is it mostly just the feeling of a place? Geography doesn't really affect the color. I think it's a feeling. When I'm in the right place at the right time, it could be anything from a book to a new collection by Raf Simons.
Do you consider Raf Simons a main source of inspiration? Yes, him and Nicholas Ghesquierre. A lot of things have come from them.
Have you ever wanted to work in fashion? I would love to have my own collection in three years. I'm releasing a collaboration with Opening Ceremony in a few months!
What is your wackiest inspiration? My wackiest inspiration would be raw food on my dining table, and ugly street advertising. I also have a passion for creating ornate objects out something mundane, such as a lamp comprised of Bic pens.
Why do you think your work resonates so much on Instagram and with the Instagram generation? Does it? Well, I would say it's my passion for color. Colors are like people to me—we have an ongoing, dynamic relationship.
Why do you think millennials are so obsessed with monochrome? Because it's a quick and easy method to create a wow interior, wow outfit, or wow object. But you can only win if you know how to play with form, shape, and texture. Monochromatic spaces really force the viewer to zero in on these elements—it's all about the details!
What is the DIY key to doing a monochrome room correctly? A monochromatic room can be truly magical, but only when done correctly. The key is in being very specific in color-matching—if your color swatches are inconsistent, then you're creating visual clutter. One trick is to pick an object as your centerpiece, and then match the other surfaces accordingly. Another place to begin is with an object or surface that you can't manufacture yourself, such as a rug. Pick the textiles first, and then work your way to the details.
What tends to be the most complicated item to dye? Textiles are very difficult. You have to make them from scratch; it's difficult and expensive to color them.
When did you start feeling colors? I think my first project in which I used a pink floor for the office of a recruiting firm in Moscow. Before that I had my black period when I was at architect school in Russia. They thought all architecture has to be snobbish, black and white, and minimalist. In order to exist in this environment and be part of this community I had to use black and white. I had to be careful with lines and parallels, and use grays. Once I touched the color for the first time, I didn't know if I really wanted to be part of that environment. I wanted to create my own. It was very difficult to break the rules that I learned in my school for 10 years. I want to play with color, like purple, which is a very selfish color. One day it's nice, and the other day it can destroy your day.
What makes purple a selfish color? I don't know; just look at it and you'll feel it.
So what color is next? I'm not sure. I think I'll play with an unmentioned color that's hard to put in one room.