Mortdecai: Behind the Scenes
Director David Koepp takes us on a hunt for lost treasure with Johnny Depp and Gwyneth Paltrow.
---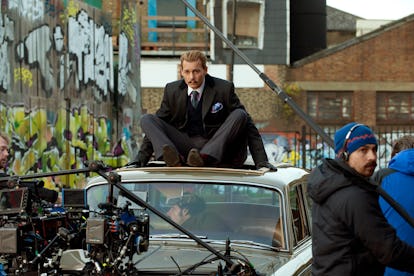 Whether he's a fey pirate or a demon barber, Ichabod Crane or Ed Wood, Johnny Depp has over the years become that rare movie star who holds the middle of the big screen by consistently aiming off-center. "He's made a wonderful career playing the side of the fence that most men do not," says David Koepp, who directed Depp in his latest oddball turn. He portrays the reprobate art dealer Charlie Mortdecai, a foppish English aristocrat fast going broke—unless he can track down a stolen painting rumored to contain the code to a bank vault filled with Nazi gold. "There's no situation his character cannot run from," Koepp adds. "Johnny's not afraid to be cowardly."
In the film, which is based on Kyril Bonfiglioli's series of cult comedic novels first published in the '70s, the bumbling Mortdecai faces off against the supremely competent head of MI5 (Ewan McGregor), who has long been in love with Mortdecai's poised wife, Johanna (Gwyneth Paltrow)—and who cannot believe he lost her to such a silly dilettante. But, of course, the straight man tends to finish second to the goofy rogue in any screwball caper, a once-hale genre that Koepp is attempting to revive. "When the major conflict in your movie is a mustache that Mortdecai grows, and that Joanna does not like, you know you're in screwball territory," Koepp admits. "He makes her laugh, and that goes a long way.
Photos: Mortdecai: Behind the Scenes
"The idea behind the single-car, three-person chase you see was that, at some point, each character is stuck on top of the car. This is Johnny's turn. Not sure how much he loved it up there." Photograph by David Appleby.
Paltrow and Depp talk with Koepp. Photograph by David Appleby.
Depp with Koepp. Photograph by David Appleby.
"[This] is the soon-to-be-infamous gagging scene. The idea was that any time Johnny's and Gwyneth's characters tried to kiss, his mustache made her gag, which in turn made him gag. The real challenge was getting through a take without laughing. Outstanding outtakes on this one." Photograph by David Appleby.
"I am with Johnny and Paul Bettany [center], who absolutely steals the show as Jock Strapp, Mortdecai's manservant and thug." Photograph by David Appleby.
"On the table is the classic Hitchcockian MacGuffin— the thing all the characters want, including Jonny Pasvolsky's and Olivia Munn's." Photograph by David Appleby.