Move Over Pink: Why Yellow Is Everyone's New Favorite Color
The color took over the fall and spring runways, and is popping up in popular culture as well, from Pikachu to Beyoncé's "Lemonade."
---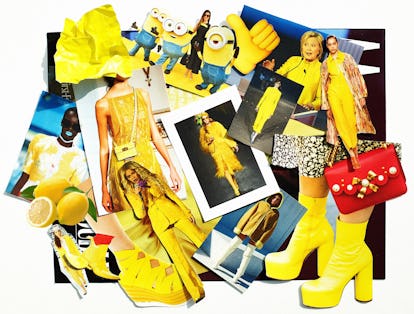 In Beyoncé's music video for "Hold Up," one of the singles on her "Lemonade" visual album that dropped in April of this year, she struts, slo-mo, down the street in a ruffled yellow dress from Roberto Cavalli's Fall 2016 collection. With each powerful step, the dress undulates like a jellyfish and her curly golden hair flounces in the wake of her own wind. Even as Beyoncé twirls a baseball bat, smashing the windows of cars as flames erupt behind her, she is the picture of self-fulfilled contentment. "Jealous and crazy," maybe. But this is a woman who knows how to take lemons and make lemonade.
This image of Beyoncé looking joyous, powerful, and confident in a yellow dress is the perfect summation of what the color has come to symbolize in the year 2016. Previously, pink was the color of the moment, as the shade of a movement to reclaim and redefine femininity. It was proliferated by artists like Petra Collins and brands like Glossier, and could still be found all over the Spring 2017 runways this past September. But now, yellow is popping up as everyone's new favorite color, perhaps as a follow-up to the statement made by pink. We're past leaning on color to say something about who we are and what we stand for; instead, we want color to support us. Yellow does this in two ways: One, it lets us shine, and two, it makes us feel good. On the most basic level, the color yellow is happy — and these are particularly dark times in the world.
Yellow was everywhere this year. On the runway, brands like Gucci, Sies Marjan, and Proenza Schouler showed full, head-to-toe yellow looks. The Sies Marjan designer Sander Lak told Vogue that he was inspired by the Post-It notes covering his mood board, and described it to The New York Times as being "like a slap in the face." And yellow's presence on the runway certainly jolted the fashion world awake, and the street style peacocks are flocking to it in order to stand out even more in the crowd.
In popular culture, beyond Beyoncé, we saw the electric yellow Pikachu everywhere with the explosion of Pokémon Go, and the Minions continued their world domination. Meanwhile, Donald Trump's yellowish visage bored through every television screen and newspaper. In such a polarized political climate, yellow also symbolizes neutrality. It rests in the middle of 'stop' and 'go' and is neither pink nor blue nor red.
While Beyoncé's yellow dress is most obviously a reflection of the album's title, it's been speculated that it's also a reference to the African goddess Oshun, who is often depicted wearing a bright yellow garment. The color yellow has a duplicitous symbolism, however, when it comes to its roots in religion. Because of its likeness to gold, it's associated with holiness and earthly splendors like flowers and the sun. But it's also the marker of an outsider, and was most notably used by Nazis to label Jews. While one symbol is positive and the other obviously negative, yellow at its core is a color that stands out from the rest.
Yellow is also nostalgia. I have a distinct memory of the warm yellow of my parents' bedroom, especially in the morning when the paint mixed with the actual sun. And I used to tell people that my favorite color was yellow "because it was the same color as smiley faces," which is a borderline sociopathic thing to say in hindsight, but as a child dealing with personal loss, the color was something I latched on to. I had a yellow hat, a yellow backpack, yellow notebooks — the same head-to-toe look we see in fashion today.
It is this combination of nostalgia, joy, and individualism that perhaps explains yellow's resurgence in both fashion and culture as of late. Whether you're a Gucci Big Bird, a Beyoncé fan, or Pokémon Go-obsessed, it's subconsciously seeped into our everyday lives at a scale we can no longer consider mellow. Today, the color is a distraction from politics, a bright light in a crowd of pastels and logos, and, if nothing else, something that simply makes us smile.