Creature Comfort
The mule has clicked and clomped its way through sartorial history. Caroline Weber ponders the latest revival of the strangest of shoes.
---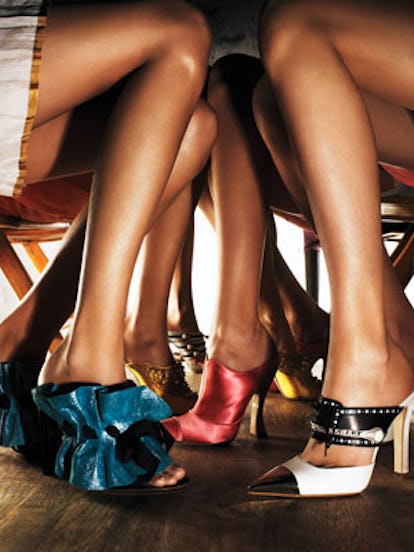 Like the animal whose name it shares, the shoe known as the mule is a hybrid creature. Just as the beast combines the characteristics of the donkey and the horse, the mule fuses elements of two disparate forebears: the pump, with its high heel and partially or entirely closed front; and the slipper, with its open back.
While the farmyard mule is generally incapable of bearing offspring, however, the footwear has a seemingly ­endless capacity for self-regeneration—having appeared on the feet of popes and courtiers, concubines and cavaliers, and leading ladies from Hollywood (Marilyn ­Monroe), history (the Marquise de Pompadour), and art (in Manet's Olympia) alike. In its latest incarnation, the mule has emerged as a must-have accessory for spring at shows like Miu Miu, Louis Vuitton, and Rochas—as well as on the tiny feet of Mary-Kate and Ashley Olsen, who favor Manolo Blahnik's delicate variations on the theme. The mule, in short, simply won't go away; apparently, it is as stubborn as its animal counterpart.
Just as the mule has been adopted by the high-stepping crowd, it has also always had legions of fans in the flash-trash demographic: Witness Britney Spears's ad campaign for Kohl's rerelease of that quintessentially eighties backless stiletto sandal by Candie's; and as Daisy Duke in The Dukes of Hazzard, Catherine Bach remains the ultimate poster girl for the trailer-park version of this look. Perhaps this is the reason why Carine Roitfeld, the former Paris Vogue editor, has branded the mule a categorical fashion faux pas. "Mules, I'm sure, I will never wear," she told The New York Times last fall. "I hate mules. I hate the noise when someone walks with mules. Clomp, clomp, clomp. I think it's very not chic."
Manolo Blahnik begs to differ. The designer, who recalls that "in the eighties I did nothing but mules," has updated his classic slip-on silhouette with "Brancusi-ish" stacked metal balls for heels this season. "When you walk in mules," he observes, "you walk a bit differently. It's very sexy to me; you have to get your balance. Egyptian queens would be walking around in these kind of mules of gold and ivory—can you imagine?—click click click…And Madame de ­Pompadour in her mules, walking around Versailles, click click click…Can you think of anything more exquisite?"
In this respect, the sound a mule makes can be construed as an audible reminder of the wearer's studied, ultra­feminine grace. That sound also suggests that the shoe could slip off at any moment, promising a sort of intimacy with which no covered foot could compete. Blahnik cites Jean-Honoré Fragonard's 18th-century painting The Swing as an example. Here, the damsel's silk mule goes flying off as she propels herself forward into the air with a tad too much gusto, baring her foot to the ecstatic gaze of her suitor below. Her striptease is even more tantalizing, as her legs are slightly spread, swathed in a froth of petticoats that hides from the viewer's gaze—but not from that of her strategically positioned beau—another part of her anatomy. (Unlike mules, panties were not a part of the ancien régime lady's wardrobe.) The mule is thus an accessory—a veritable accomplice—to a highly personal form of physical display.
But as much as the mule is about sex, it's also about ­social status. After all, like its cousin the chopine—a ­teetering, often backless platform shoe popular among Renaissance ­Italy's wealthiest women—the mule is decidedly non­utilitarian, ill suited (as Fragonard's saucy swinger makes ­evident) to even the gentlest forms of locomotion. In its resolute impracticality, the mule requires its wearer's exemption from the transportation hassles that beset the hoi polloi. And this has been true throughout its history. Rome's emperors traveled by litter and its pontiffs by popemobile, Egyptian queens by luxury barge, and Madame de Pompadour in a gilded carriage. Even Daisy Duke didn't have to hoof it, preferring instead to be chauffeured around Hazzard County in the General Lee, a 1969 Dodge Charger.
Set design by Jesse Nemeth at The Wall Group; grooming by Cynthia Rose for Lancome at Next; models courtesy of Parts Models; photo Assistants: Edward Mulvihill, Daeja Fallas. Special thanks to Roebling Tea Room.