Kenneth Branagh's Ridiculous Mustache Will Almost Certainly Return in Murder on the Orient Express Sequel
20th Century Fox will adapt Agatha Christie's Death on the Nile, the sequel to Murder on the Orient Express.
---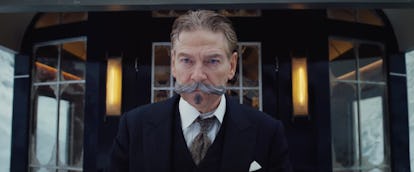 20th Century Fox/YouTube
20th Century Fox has announced that Agatha Christie's Murder on the Orient Express will get a follow-up film. Despite what you may be thinking, the sequel to Murder on the Orient Express will not cover the case of the promotional materials that look suspiciously like the advertisements for The CW's teen murder mystery drama, Riverdale. Death on the Nile actually centers on a crime of passion and takes place mostly on the Nile River in Egypt. Michael Green—who wrote the recent adaptation of Murder on the Orient Express—has reportedly been tapped by 20th Century Fox to write the sequel.
Death on the Nile picks up with Hercule Poirot, the Belgian detective tasked with solving a murder on a train to London, from the moment Murder on the Orient Express ends—he learns of a "death on the Nile" and agrees to take the case in Egypt. While Murder on the Orient Express received some less than favorable reviews, the film held its own at the box office, with Variety reporting it raked in a domestic $50 million, and $100 million internationally. The sequel will likely bring in more of those big bucks and garner even more international appeal if it also brings on another stellar cast.
Agatha Christie adapted Death on the Nile herself into a stage play titled Hidden Horizon, and was then brought to the West End in 1946 as Murder on the Nile. Three decades years later, it was adapted for film. The cast for the 1978 film adaptation of Agatha Christie's 1937 novel Death on the Nile included the legendary Bette Davis, Mia Farrow, Maggie Smith, Angela Lansbury and Jane Birkin. Death on the Nile was a box office failure in the late 70s, but the film did win an Oscar for Best Costume.
In the upcoming sequel, Kenneth Branagh will reportedly reprise his role (and his incredible mustache) as Hercule Poirot, and will likely direct Death on the Nile. If anyone knows how to spin something old into something new, it's Sir Kenneth Branagh, who has directed or starred in six successful revitalizations of Shakespeare classics in the past.
Related: Meet Lucy Boynton, the Love of Rami Malek's Life In the Freddie Mercury Biopic Bohemian Rhapsody
See W's most popular videos: