Meet Lucy Boynton, the Love of Rami Malek's Life In the Freddie Mercury Biopic Bohemian Rhapsody
The 23-year-old actress has already proved a standout among star-studded casts.
---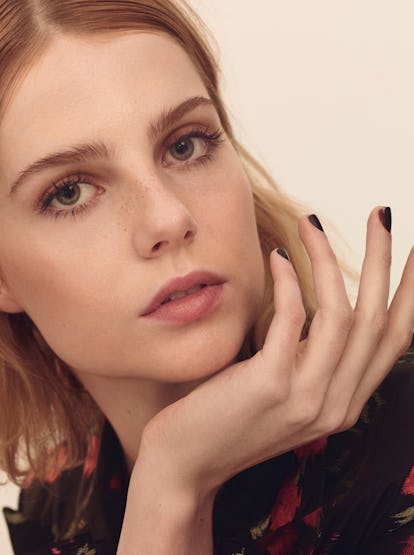 Photograph by Simon Eeles, Styled by Natalie Brewster; Hair by Alfie Sackett; Makeup by Ninni Nummela for chanel; fashion assistant: Lulu Cooper
When the British actress Lucy Boynton was cast as the young Beatrix, opposite Renée Zellweger in Chris Noonan's 2006 biopic Miss Potter, at just 12 years old, her classmates scarcely took notice. That is, until her mother, a journalist, published an op-ed entitled "My Lucy, the Film Star" in The Telegraph, to Boynton's dismay. "At the time, it was like, 'God, Mum, leave me alone,' " she recalled recently with a groan.
Boynton still has no plans on ever reading mum's essay, but these days, it's obvious that the 23-year-old no longer needs help getting recognition. She was speaking from Wales on a break from one of her recent, buzzy roles: that of a cult leader's daughter in Gareth Evans's upcoming film Apostle, which she stars in with Dan Stevens. He's among a growing contingent of heartthrobs Boynton will soon be sharing the screen with—including Rami Malek as Freddie Mercury in the upcoming biopic Bohemian Rhapsody.
The role of Mary Austin, Mercury's longtime partner and muse from his pre-Queen youth to the band's heyday, might not seem like one for an up-and-comer, but Boynton's modesty in the face of stardom makes her an ideal candidate to portray someone who inspired Mercury's hit songs like "Love of My Life," yet who preferred to stay out of the spotlight. Over the past couple of years, Boynton has starred opposite Kiernan Shipka and Emma Roberts in The Blackcoat's Daughter; as Nicholas Hoult's wife in the J.D. Salinger biopic Rebel in the Rye; and on Naomi Watts's therapist couch as a worn-down drug addict in the Netflix series Gypsy.
The speed at which Boynton has been hurdling through projects has called for some adjustments along the way. "I went straight from all my costumes being wooly hair and tracksuits to being draped in these incredible vintage materials and veils and capes," Boynton recalled of going from Gypsy to the Agatha Christie adaptation Murder on the Orient Express. The latter, which is in theaters Thursday, kicked off with quite a bang: the film's director and star Kenneth Branagh was so committed to recreating the story's claustrophobic atmosphere that on the very first day of filming, Boynton found herself cramped into a single train car with "all these faces that I'd grown up watching and admiring"—Johnny Depp, Michelle Pfeiffer, Willem Dafoe, Penélope Cruz, Leslie Odom Jr., Daisy Ridley, and Dame Judi Dench among them.
Somehow, Boynton manages to stand out from the star-studded ensemble cast—once again by keeping things under wraps. Her character, the Countess Andrenyi, who was played by Jacqueline Bisset in the original 1974 version, only emerges towards the film's end—understandable, given that the "oceans" of the sedative Barbital consumed by her and her husband, a Hungarian count played by Sergei Polunin, have made her nocturnal, as she explains when she finally emerges from behind the tightly drawn curtains in their dim, off-limits cabin.
The dark, Boynton is increasingly learning, is to her liking. "As I get older, the roles get more exciting because I get to be trusted with more adult ones—more of the murder mysteries and the darker material," she said. "I want to play as many different types of types of people as I can, but at the moment, it's definitely the darker stuff that appeals to me more." She paused, then added with a laugh: "There's definitely a pattern emerging."
Related: Rami Malek Is Still Not Sure About This Acting Thing
Watch W's most popular videos here: