Sergei Polunin, Ballet's Superstar Gone Rogue, Is Ready to Seize the Stage Again
The onetime superstar of London's Royal Ballet has shed his bad boy image as he prepares to dance his way to the big screen—and back to the stage.
---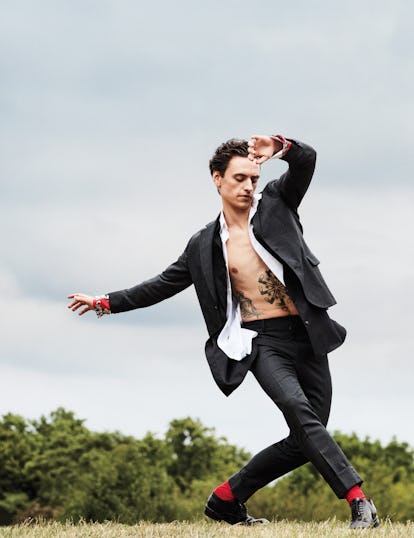 Photographs by Paul Wetherell;Styled by Hannes Hetta
Rare is the dancer capable of whipping up delirium and intrigue both onstage and off. Nijinsky was one; Nureyev and Baryshnikov were others. The Ukrainian-born phenom Sergei Polunin has likewise held audiences and critics in thrall to his explosive talent and seductive hauteur. Appointed at 19 as the youngest-ever principal dancer at London's Royal Ballet, he'd been fast-tracked through the ranks after arriving at its academy at age 13, speaking no English. He was championed for his soaring jumps and effortless command, and landed role after coveted role. But the constraints of the hothouse world in which he'd been raised began to rankle. He'd been living out his mother's dream, he would say later, not his own. Soon he was staying out late clubbing, missing rehearsals, inking his torso with tattoos.
Then, in January 2012, the 22-year-old star abruptly quit, with no game plan. Overnight, he became that rarest of ballet prodigies: one without any drive to dance, locked in battle with his art form while at the apex of his career. "It's true that I got a bit lost," says Polunin. "But that was because I had grown up in a system where I never made my own decisions."
Polunin is now 27 and determined to make all of his own decisions—even if they make him a controversial figure in the dance world. Since leaving the Royal, he's taken acting lessons, appeared on a Russian talent show, modeled for a Marc Jacobs campaign, and danced leading classical roles as a guest with various European companies. This past July, he appeared before a crowd of nearly 17,000 at the Hollywood Bowl, in an evening of ballet excerpts with music led by the Los Angeles Philharmonic's director, Gustavo Dudamel.
Ironically, however, it was his farewell to ballet that brought him back to it. During the making of Dancer, the widely acclaimed 2016 documentary about Polunin's difficult journey, the film's producer invited David LaChapelle to direct a video that was intended to be Polunin's swan song. Featuring a bare-chested Polunin dancing alone to Hozier's "Take Me to Church," the raw four-minute solo went viral on YouTube after LaChapelle posted it ahead of the documentary's release, bringing Polunin worldwide renown. Chances are you've seen the video: Thus far, it's scored more than 20 million views.
At the moment, Polunin is set to make his debut as a movie actor. First up, in November, is Kenneth Branagh's remake of the classic Agatha Christie whodunit Murder on the Orient Express. Polunin plays Count Andrenyi, a Hungarian former dancer prone to violence, and he is the only Hollywood newcomer in a cast that includes Dame Judi Dench, Johnny Depp, Michelle Pfeiffer, and Sir Derek Jacobi. In the spy thriller Red Sparrow, out in March, he plays the dance partner of costar Jennifer Lawrence; this fall, he is slated to begin shooting The White Crow, a film directed by Ralph Fiennes about Nureyev's sensational 1961 defection from the Soviet Union during a Kirov Ballet tour to Paris. Polunin appears as Yuri Soloviev, the Kirov star known for his airborne athleticism, who was Nureyev's equal onstage and his roommate on that tour. (After Nureyev's defection, Soloviev was hounded by the KGB—and his own perfectionism—and ultimately committed suicide at age 36.)
"Sergei has a magnetic quality onscreen," says Branagh, who, in addition to directing Orient Express, plays Hercule Poirot in the film and cast Polunin after seeing Dancer and hearing Jacobi, a balletomane, and others extol his acting skills on the ballet stage. "He's happy being out of his comfort zone. He's also a gutsy individual who has a tenacity that is an interesting thing to watch, when it goes hand in hand with a gentlemanly, contained quality that carries this air of danger." Branagh recalls how "the cast were in awe of what Sergei could do as a dancer," even though he doesn't dance in the film. "I witnessed many a crush going on, and not just in the acting company."
Given Polunin's independent streak, it's not surprising to learn that his screen idols are Marlon Brando, James Dean, and Mickey Rourke, whose name is tattooed on Polunin's forearm. The actor, Polunin tells me, gave him a pair of "the blood-stained trousers" he wore in The Wrestler as a gift after the two met when Rourke called him out of the blue on his birthday. They've stayed in touch, and Rourke, he says, helped him prepare for the "Take Me to Church" video. "Mickey told me that he empties himself emotionally before a performance. So that's what I did. I cried for the nine hours we spent shooting it." Though he's applied himself to acting lessons, he's now "doing the Rocky thing," he says, referring to the Sylvester Stallone classic, "coming back in the best shape possible." He's begun wall climbing and does a daily ballet class listening to recordings of Brando talking about his life. "I started watching his films and then found this amazing documentary, Listen to Me Marlon. It's just his voice. It makes me feel positive."
Tall and sinewy, Polunin comes across as warm, if cautious. His eyes, by turns gray and green, give off an unusually inviting intensity, and his face readily shifts from tough to boyish. Sitting in London's Quo Vadis, a restaurant popular with the artistic set, he is dressed in a fitted black T-shirt and jeans by the L.A. designer Julia "Lady J" Gerard, and talks excitedly about his first trip to Las Vegas (where he "visited Venice" and saw the Cirque du Soleil) and about the assorted photographers, actors, and choreographers with whom he hopes to collaborate for his independent initiative, Project Polunin. His close friend LaChapelle, who has photographed him regularly, calls the dancer his most inspiring subject due to the "superdetailed" way he holds his body and the incredible intensity with which he works. "But when he's offstage, he's off; he doesn't need to be the center of attention, unlike most celebrities," he says. "Sergei is just one of the group, and we get really silly."
I ask Polunin how he views being a ballet star right now. "A few months ago, I was sure that I was going to stop dancing to become a good actor," he replies. "But then when I was by myself for a week, I asked myself, What are you doing? You have that talent. Use it to the fullest. And if I can use that talent as well as acting, that's magical to do both. Would I be happy just to be an actor? I don't think I would." Still, he says, dancing onstage is less a release than a struggle. "It's always a huge fight onstage. It's like, 'I'm enjoying it, I'm hating it. Why am I doing this? Oh, it's great'—and that's sometimes in one performance. It's important to find for myself the joy that I'm doing it."
That joy is evident in early home videos that Polunin's parents took of him as a child gymnast and then as a ballet student in Kherson, the depressed town in Ukraine where he was born. To pay for his studies at Kiev's best ballet school, his father went to Portugal to be a gardener and his grandmother to Greece to work as a caregiver. The separation of his family left Polunin under the constant watch of his exacting mother, who saw his talent as a way out of a dead-end life. When he won admission to the Royal Ballet school, she had to leave him on his own in London, returning to Kiev because she lacked a visa to stay. Since he couldn't understand what the other boys were saying, Polunin recalls, "Nothing was affecting me. Nothing gets personal." He practiced relentlessly. He felt that only by getting to the top of the dance world could he reunite his family and make enough to sustain them.
When his parents divorced, however, his raison d'être was thrown into question. Though he was the star of his graduation performance, he refused to invite them; they didn't see him dance for many years. (One of the most moving scenes in Dancer is when Polunin's parents and grandmother travel abroad together for the first time to watch him dance, in 2015.) His performances in the classics were the talk of London, but his subsequent partying, alleged cocaine use, and ill-advised tweets led the British press to dub Polunin ballet's bad boy, a moniker that stuck. He reached out to American Ballet Theatre after decamping from the Royal Ballet, but was not offered a contract. "I could see that he was very intelligent and very misunderstood," says Gabrielle Tana, the producer of Dancer and The White Crow, who met him during that time. "He didn't really know how to be part of the world. He needed mentors."
After moving to Moscow, he performed on a top-rated Russian TV talent show, costumed garishly, and was graded by its judges, a sight that made his longtime fans wince. Polunin, however, defends that choice: "I was unknown in Russia, and it was a good opportunity for people to get to know me. I got the same recognition in Russia in one week that I got in London after five years." He joined the Stanislavsky Ballet as a guest, where he was closely mentored by its director, Igor Zelensky, a former principal artist of the Kirov and New York City Ballet, who became a father figure to him. For a time, he seemed invigorated, even returning as a guest artist to the Royal Ballet in 2013 for a showstopping appearance in the Nureyev vehicle Marguerite and Armand. But he grew lonely in Moscow, and then restless.
Until recently, Polunin had been living in London with the Russian ballerina Natalia Osipova, a Bolshoi Ballet star who became a guest artist with American Ballet Theatre and then a principal at the Royal ­Ballet. The two fell in love after she invited him to be her partner in a 2015 performance of Giselle at La Scala. Polunin was in yet another period of wanting to quit when she spurred him to try contemporary dance. "Natasha opened up the dance world for me, because I didn't really know anything but ballet," he says. "I was all over the place and had to have some kind of stability. And that's what she gave me, apart from everything else, like love." Even though they are no longer a couple, Osipova and Polunin continue to dance together.
During a break in the shoot for this story, as he strode across Battersea Park in a white bathrobe, I asked ­Polunin when he had felt the happiest. Without hesitating, he recalled the cast's nightly parlor games while shooting Orient Express, and the close-knit ambience that Branagh created. "We were all together, and it brought me back to my childhood, when you're a kid just starting to play games with your friends. One reason I started to not like dance was that everyone was by themselves."
As a result of his frustrations with the ballet establishment, Polunin wants to be an activist for other dancers seeking opportunities to work independently from a home company, as actors and singers do. He talks of a dancer's management agency he's setting up, along with a proposed residency for artists in a former sugar factory in Belgrade, Serbia. His freelance approach to his own career, however, has had its setbacks. This past March, he presented and performed in a sold-out triple bill of modern and classical dance works at Sadler's Wells in London. The program, which included his own and Osipova's choreography for a work about Narcissus, was lambasted by critics who called it under-rehearsed and camp. Once he got over the shock of his first bad reviews, ­Polunin agreed with them. He had tried to put the production together too quickly and was inexperienced in managing other artists. "I had never in my life thought about anybody else but me," he acknowledges. He's revising the entire program for a redo at London's Coliseum in December with assorted guests, likely to include Osipova. He has also committed to a number of guest stints with the Bavarian State Ballet, now directed by Zelensky, who worries that Polunin is "going to waste his huge talent" by spreading himself too thin.
"He's emotional and impulsive, and everyone is pulling at him," Zelensky notes. "He's an artist who could make it on the level of Nureyev and Baryshnikov. If he stays focused on dancing." Baryshnikov gave him similar advice when Polunin sought him out. "Misha said to me it's all about taking time for your work because life is so fast and you want to do this and that and nothing becomes meaningful and proper."
Polunin appears to be listening to his mentors. Initially, when he landed in a foreign country, he would write on the immigration card that his profession was simply "ballet"; then, "actor"; most recently, "film artist." Now, he says, "I put ballet dancer. And I'm good with that."
Related: For Two Nights, the Guggenheim Will be Transformed by a Groundbreaking Dance Performance
Watch: A to Z with Fabrice Calmels, Model and World's Tallest Ballet Dancer