MCNY's Annual Winter Ball
From left: Jamie Tisch, Heather MnuchinIt seems the weather gods hate a black tie gala—every time I see such an event approaching on my calendar the skies invariably open up, dropping some lovely form of...
---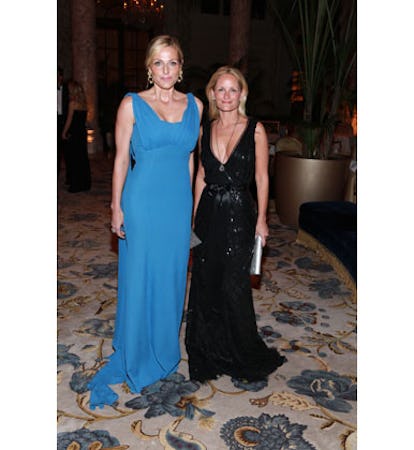 It seems the weather gods hate a black tie gala—every time I see such an event approaching on my calendar the skies invariably open up, dropping some lovely form of water all over the city and its ballgown and tuxedo-clad inhabitants (I would bet money it snows on March 10th, the date of the upcoming Frick Collection Young Fellows Ball). So naturally it was pouring Thursday night when I headed to the Museum of the City of New York's 25th annual Winter Ball at the Plaza hotel, this year sponsored by Oscar de la Renta and 1stdibs.
After spending the car ride cursing my luck, praying my sheer dress didn't become downright pornographic thanks to a few stray drops and wondering why exactly I go to these things in the first place, I entered the Plaza's Palm Court and had my answer: once again, this annual party, the unofficial kick-off to the spring benefit season, had coaxed every social in town out of their comfy apartments to sip champagne and dine on filet mignon. Joanne de Guardiola, Celerie Kemble, Shafi Roepers, Allison Aston, Hilary Dick, Coralie Charriol and Dennis Paul, Gillian Miniter, Helen Schifter and Alexandra Lebenthal tried to navigate the jam-packed space to catch up with acquaintances. The LA-based Heather Mnuchin, one of the event's chairman, had flown in from the West Coast that morning for the event and was leaving the next day.
"I grew up with [co-chairman] Mark [Gilbertson], so I have to come," she explained between trading Oscar weekend tips with Jamie Tisch ("Bryan's is the best" said Tisch, referring to Bryan Lourd's annual party). "It's a nice little trip. It's nice to be flying without my kids."
Some who had traveled blocks instead of miles seemed less certain of their reasons for attending.
"This is the point in the evening when we all wonder what we're doing here," remarked one lady as she surveyed the crush.
The answer? Mark Gilbertson, the museum's unrelenting charitable champion, known for both his dedication to the cause and his intolerance for no-show's.
"You can show a plane ticket, a doctor's note, it doesn't matter," quipped Debbie Bancroft, while nearby a lady introduced herself to Prince Dimitri of Yugoslavia.
"We haven't met, but I see you at the gym all the time," she said as the Prince smiled politely.
Soon, men walking around clanging chimes were announcing dinner, as guests reluctantly left their posts at the bar to head up two flights of stairs to a room full of long tables decorated with tulips.
"I'm first at my table, my hostess hasn't even seated it yet," said a slightly lost-looking Douglas Hannant. "I'm very obedient. I always go when they ring the bell. I like to keep things moving."
So, apparently, does Gilbertson, who gave a speech early on, Caesar-style from a balcony perch overlooking the dinner tables.
"It's not like I'm power hungry. I'm the aging chairman. This is the most money we ever raised. We raised almost half a million dollars," he said, "I think the great strength of this party is it's not a celebrity party, it's a social party, but it's a lot of friends. It's a party where you see a lot of friends." His fellow chairman helped choose the evening's prizewinners with the help of a computer—lots included a trip to the One & Only Ocean Club on Paradise Island and tickets to Oscar de la Renta's next fashion show—before Gilbertson ended his remarks with a stern decree. "Please dance so we can justify this big dance floor. Because otherwise, we could have sold more tickets."
After the meal, most obliged to the sound of Lady Gaga and Ke$ha reverberating through the room.
"It's all the 50 year-olds on the dance floor," said one younger girl as she headed out well before midnight and back into the rain.
Photos ©Patrick McMullan