Music Video Premiere: See Imelda May Perform Her Stark New Heartbreak Song, "Call Me"
With a new sound and a new look, the Irish singer-songwriter starts over with a wrenching new song and video.
---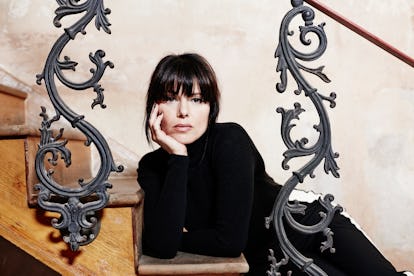 Imelda May was sitting at her kitchen table, waiting for the phone to ring, when Patrick Davis, a friend and fellow musician, arrived at her door.
"He came around to my house as I was in the middle of heartbreak," May said. "He said, 'Write it.'" Teary-eyed, she wrote it right there, as Davis played a delicate guitar riff over and over. The result is the sweet, spare lament, "Call Me" — the equally stark music video, featuring an acoustic performance of the song, premieres on W, below.
It was a rare foray into co-writing for May, who has written and produced the majority of her own material throughout her career because, as she put it, "I've always known what I wanted to hear." In addition to co-writing, she also relinquished production to the able hands of T-Bone Burnett, who masterminded the sound of her upcoming album, currently slated for 2017 release.
"Some of my favorite songs, they reveal a lot but they don't say so much," she added. "So I wanted to do that with this song."
The single debuted November 18, May's first new track since her rockabilly-inspired 2014 album Tribal, and it marks something of a new sound (and a new look) for the Irish singer-songwriter. In the stripped-down video, May sits on a stool, accompanied by two guitars (one acoustic, one electric). Gone is the bass, the gentle drum line, and her iconic '50s-inspired coif; instead, her hair curls loose around her shoulders, her face framed by bangs. Gone, too, is any sense of hurry — this new "Call Me" is slowed even from the already leisurely recorded version.
"Call Me" was the last track that emerged from a period of intense writing that followed May's personal and professional split from her husband of 14 years, guitarist Darrel Higham, in July 2015. She put the song on paper just before she went into the studio to record it for her upcoming Burnett-produced album — but this live version is even rawer. (Though she assured me the session didn't only produce breakup songs, and the album isn't a breakup album.) And even after she recorded "Call Me" — the last song she wrote before recording her new album, and the first one to surface as a single ahead of its release — she kept writing.
"If I'm not creative," she said. "I implode — or explode."