There Are Too Many Musical TV Series in Development
The format doesn't work, and yet Hollywood keeps trying.
---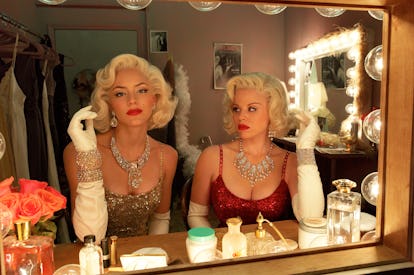 NBC
The highpoint of musicals as a bonafied television series genre came when Meghan Hilty and Katherine McPhee belted out the high note of "Let Me Be Your Star" in the pilot episode of Smash and, occasional exceptions aside, it's basically been a rapid decline ever since. Yet, nine years after the debut of Glee and approximately eight years after the total implosion of the quality of Glee, networks, streamers and cable networks have doubled down on trying to perfect the musical television idea like never before with multiple series currently in development. Never mind the fact that the corpse Rise, which was supposed to be the genre's high school theater department-themed answer to Friday Night Lights, is still lying fresh on the floor of NBC's c-suite after being cancelled after just 10 episodes in May. Hollywood is determined to give us a musical TV hit, much in the same way Don Quixote was determined to slay those windmills.
Seriously, lets take a quick rundown on all the various musical TV series in stages of development across the television landscape.
Mixtape (Netflix)
As just announced today, Netflix has ordered this musical drama to series after Fox passed on the pilot. Created by Smash show runner Josh Safran, Deadline describes the series as "a romantic musical drama that looks at a disparate group of interconnected people in contemporary Los Angeles through the lens of the music that defines who they are." Which, yes, does sound vaguely La La Land-ian. Jenna Dewan, Callie Hernandez, and Madeline Stowe are attached to star, with more roles expected ot be filled soon.
The Eddy (Netflix)
Speaking of La La Land, this series in development from the film's director Damien Chazelle. Glen Ballard, best known for co-writing Jagged Little Pill with Alanis Morisette twenty-two years ago, will write original musical for it. Even though the project was announced last September, little is known about it other than that it will be set in Paris (where Emma Stone's Aunt used to live) and be presented in multiple languages.
The Politician (Netflix)
It's unclear exactly how musical this series will be, but it's created by Ryan Murphy and set to star Dear Evan Hansen's Evan Platt with Gwyneth Paltrow and none other than Barbra Streisand reportedly in negotiations (no deals have been confirmed in the press since the show was announced). It's an anthology series in which each season will focus on Platt's politician character's bid to win an election, and the word is that Platt will have musical numbers. Though, it's unclear if that element will be featured in every episode.
Westside (Netflix)
Gee, someone at Netflix sure is a theater kid, aren't they? This one is by far the oddest …because it's a reality television program (and not a competition). "It tells the story of nine aspiring musicians living in Los Angeles, working together, hanging out together. There's character development and plotlines you find in some of our best scripted series. But it's all done in a really raw and authentic way," Netflix exec Jenn Levy told Vulture. "The hook is, they also break into son …Think The Hills meets La La Land or Glee with a whole lot more edge." Must we?
High School Musical (Disney's Untitled Streaming Service)
Pretty much what you'd expect: an adaptation of the Disney Channel movie hit into a serial format. This one should come with a caveat considering that the idea of musical television series for children is a whole different ballgame, but undoubtedly they must be banking on a little bit of Millennial nostalgia-induced intrigue to goose interest.
The Kingkiller Chronicles (Showtime)
It's debateable whether this should be on this list, considering it's better summed up as "Showtime's epic fantasy answer to HBO's Game of Thrones," still it's worth including considering that none other than Hamilton creator Lin-Manuel Miranda is involved as creative producer, a job that will include writing original music. Indeed, the series will be based on a series of fantasy novels about a notorious musician. Whether this should be considered an actual musical, or just a fantasy show that will occasionally feature music because its lead character happens to be a musician remains to be seen.
Little Voice (Apple)
Apple hasn't even launched it's streaming service yet, but it's getting into the game with a series produced by the surprising duo of king of the geeks J.J. Abram and musician and songwriter for Broadway smash Waitress Sarah Bareilles. It's described as "a love letter to the diverse musicality of New York" and about "the universal journey of finding your authentic voice in your early 20s." Bareilles will contribute original songs to the series which shares its name with her breakout album.
They (CBS)
Mentioned by Deadline in January with no word since, but the project is from director Marc Webb and Spring Awakening's Steven Sater and described as a "college-themed musical."
Central Park (Apple)
The lone animated series on the list is from the creator of Bob's Burgers (promising!) and the guy who voiced Olaf in Frozen. It already has a two season commitment and is about a family who, well, lives in and takes care of Central Park.
All that, and we're not even counting a handful of series whose status remains unclear (Hollywood loves to announce when a hot property is in development, but its less quick to let the world know when one has died).
That's an almost baffling amount of musical series considering the idea of musical television series has been notoriously hard to perfect. Glee lasted six seasons, but even the most devoted fans lamented its tumble in quality. Smash is basically just a gay Twitter meme by now. Galavant? Ha. The Get Down was Netflix's first true flub. Viva Laughlin? Let's not even talk about it. When trailblazing TV producer Steven Bochco died earlier this year, even the most reverent obituaries had trouble letting the fact that he also created Cop Rock (a show where cops sang) go by without a sly smile.
Sure, shows like Empire and Nashville have found success, but those were shows about the music industry where the musical nature was also secondary (Empire sister show Star, which centers its musical inclinations more, lags on, but without the success of its predecessor). Even then, there's a limit to how many television series about the innerworking of various facets of the music industry we can stomach.
Yes, there's always Crazy Ex-Girlfriend, but that's not exactly a ratings smash and is set to end after a fourth and final season, all without out ever apparently being on the radar of even Neil Patrick Harris.
So why does Hollywood keep trying? The idea of bringing the musical format to serialized television doesn't even make sense on the face of it.
What we want out of music and musical is almost diametrically opposite to what we want out of a good television show.
No one leaves a Broadway show and thinks "Wow, can't wait for the sequel!" They leave it humming the 11 o'clock number thinking, "Wow, can't wait to see it again!" before downloading the cast recording. With almost anything musical, we like to live with the songs in our brains for a while, playing them on repeat over and over again until they've settled into the folds of our brains forever. Even music videos and standout live performances demand repeat viewing (and listening).
Modern television meanwhile aims to keep us hungry enough to watch the next episode, not to rewatch the same one again and again. There's no time to let the individual numbers sink into our heads and hearts in the age of binge watching.
Never mind the creative burnout that surely comes with trying to stage an entire season's worth of standout musical moments in a few months of development and filming. It's just not sustainable.
Non-musical television series can be adapt at staging a worthwhile musical moment from time-to-time. As just one example, look at the work of Tina Fey. With the Tony-winning talent of Jane Krakowski on one hand and her musical director husband Jeff Richard on the other, she's packed more than a few memorable original songs into both 30 Rock and The Unbreakable Kimmy Schmidt. But even with that team she's not attempting a fullout musical series. Trying to capture that magic in a bottle again-and-again-and-again every single episode would surely lead to diminishing returns.
Yet, Hollywood seems content at trying to force musical serialized TV series again-and-again-and-again without any signs the format actually works.
Related: Aquaria Explains the Secrets of Her Lip Sync Reveals and Promises More Melania