With Her New EP, Musician Charlotte Day Wilson Gets to Work
She's already "Halifax-famous," but soon the rising star will be known all over.
---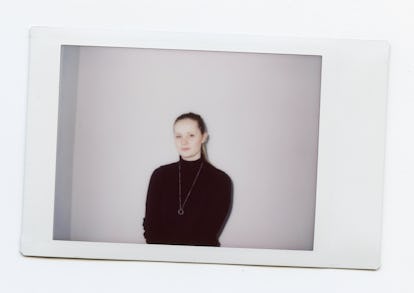 Devon Little
Charlotte Day Wilson was at university in Halifax, Nova Scotia, nearly 2,000 miles from her hometown of Toronto, Ontario, when the musician realized she wasn't cut out for college life. She came home to visit her family, visibly miserable, and her mom asked her, "Are you having a good time out there at all?"
"I just kind of broke down and was like, 'No, I hate it.'" Wilson, now 23, recalled on the phone from Toronto, almost a week ahead of the release of her debut EP CDW, out Friday. She was putting coffee on as we spoke, the pot clanging in the background, our conversation punctuated by her occasional yawns. The previous night had been a late one. "My girlfriend has her five old best friends visiting this weekend, so we've just been having a time," she explained.
Back in Halifax almost two years ago, she was deep into a degree studying women's studies and music, while playing in a band called the Wayo and at various open mics around campus. But after her mom suggested she take a break, Wilson moved to Montreal and began writing her own music.
After six months in Montreal, and still unconvinced that she could make a go of life as a musician, she nabbed an internship at the legendary Toronto-based record label Arts & Crafts, whose signees include Broken Social Scene, Feist, and BadBadNotGood. A manager at the label saw her at an open mic one night, and once her internship came to an end, he told her not to look another job. Instead, she should focus all her time on writing and recording new material, and he would manage her.
The material she wrote during that time has now become the crux of CDW. Over the EP's six tracks, Wilson establishes herself as a force both in the recording studio and production booth. She produces her own work, placing her in a small minority of female musicians — various estimates over the past five years have put the proportion of women in music production at around 5 percent.
"The female artists that we know and love, all of their music has been passed through the hands of a male mixing engineer, a male producer, probably a male mastering engineer," Wilson said. "It's almost like we haven't heard the female perspective in recorded music." She added that she prefers to have total control over her work, usually passing it on to mixing and mastering after she has "made it sound as good as I possibly can."
Her sound is R&B- and soul-inflected, possessed of a chill, laid-back confidence — these are songs for bleary-eyed mornings. Wilson was raised on a steady diet of Motown and bluegrass (and her favorite song, at age three, was Petula Clark's "Downtown"), but the EP also bears traces of her roots in folk and classical repertoire. From a young age, Wilson's parents enrolled her in piano lessons.
"My parents kind of were like, 'You can't quit until you move out of the house,'" she said. That sowed the seeds of her earliest compositions. Bored with the 18th century's stuffy sonatas, she decided to write for herself.
"I was an angsty teen," she said. "I had some shit to sing about."
Lately, she's suffered a bout of writer's block. When we spoke, she was about to leave for a writing trip to Los Angeles. She had been attempting to write a song each day, pushing through the block, with little satisfaction. "Work," one of the EP's early breakout tracks, has been heralded as a paean to putting in the hours. "It's gonna take a little time / But with you by my side / I won't let go / Till I got what's mine," she sings.
"Work" also portrays Wilson as someone who's never in off-mode, even when she's in a creative slump. She brought an old, out-of-tune keyboard on vacation to a cabin owned by her girlfriend's grandparents in Ottawa, but had a hard time getting started. So she asked her girlfriend to plop her fingers down on any three notes on the keyboard — three notes that made up the first chord of "Work."
"I knew exactly where it should go from there," she recalled, adding that she had de-tuned her bass and vocals to match the keyboard's pitch. The resulting demo was a quarter-tone out of tune. She brought it in to her label when she returned to Toronto, intending to re-record it, but she was talked out of it.
"We should definitely just do it all a quarter-tone out of tune," she recalled being told. "That's so badass."
Watch W's most popular videos here: