Nancy Meyers and Daughter Hallie Meyers-Shyer on Home Again, Their Reese Witherspoon Romantic Comedy
Talking with a 30-year-old first-time director and her producer, who happens to be her legendary mom.
---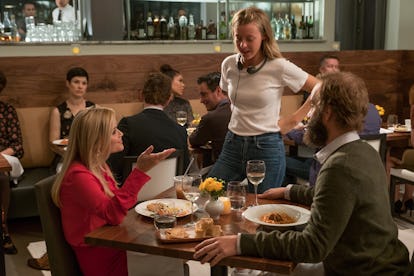 Karen Ballard
The night before Hallie Meyers-Shyer started rolling cameras on her rom-com Home Again, starring Reese Witherspoon, she watched Private Benjamin. It wasn't just the 30-year-old first-time director brushing up on her comedy history, it was also an excavation of Meyers-Shyer's own family lore. After all, the 1980 Goldie Hawn vehicle was co-written by her parents, Nancy Meyers and Charles Shyer, and marked the beginning of a collaboration that would also yield Baby Boom and Father Of the Bride.
With Home Again, which is in theaters Friday, Meyers-Shyer is adding her own entry to the family canon. But the writer-director didn't completely strike out on her own. She tapped her mom—who, of course, made films like Something's Gotta Give and The Holiday on her own after divorcing Shyers—to produce. Meyers signed on, doling out sage advice and serving as a de facto on-set Instagrammer.
The glossy, Los Angeles-set rom-com features Witherspoon—who, despite having been once attached to star in The Intern, somehow has never worked with Meyers—as the heroine Alice, also a descendant of a Hollywood clan. We first encounter her in a state of emotional crisis, but, after a drunken night out and some encouragement from her mother (Candice Bergen), she ends up letting three young men trying to break into the industry crash in her gorgeous home. It's a messy situation, one where romance brews and lessons are learned.
The real life mother-daughter pair recently got on the phone for a conversation about their similar tastes, and their legacy in show business.
Nancy, it's the 30th anniversary of Baby Boom. Does it feel at all poetic or symbolic to you that your daughter's first film is coming out on that anniversary?
Nancy Meyers: I was pregnant with her on Baby Boom. I even remember going to the hospital from the editing room. What's amazing is two things: One, that she's doing it now, and, two, that I'm still doing it. That's the crazy part. Hallie made her first movie at 29 and I made my first movie at 29. I didn't direct until I was 48 so she's about 20 years ahead of me in the directing department. But yeah, no, it's great. What's that song from Lion King? The "Cycle of—?"
Hallie Meyers-Shyer: The "Circle of Life."
Nancy: "Circle of Life."
You were going to make a movie called The Chelsea together. You were going to direct, Nancy, and you had written the script, Hallie. That didn't work out. What was the path from that to this project?
Nancy: What happened on The Chelsea was she was pretty young at the time she was writing it, and I absolutely loved it. But we had trouble landing a male lead, which happens sometimes when you write a male lead. Women, I think, have more intuition about scripts… We had started to put a good cast together, but the male lead was a little bit of a problem. So I think Hallie just moved on from it. She took a job writing something for Universal and I went off and made The Intern and then she wrote this movie. She can tell you how I got involved in this one.
Hallie: The Chelsea was really a lot of fun to write, and I had wanted to collaborate with my mom on that one. So it seemed natural when I felt I was ready on this one to direct that she would come along for the ride. I did a couple of drafts and then I sent it to her; she gave me some really great notes and we had gone back and forth on it. I kept sending her drafts. Eventually, I said, "Would you be interested in producing it?" And she said yes.
Nancy: Because I loved it. Honestly, I loved it. I could see it. I read other people's scripts sometimes and I don't see it. I saw this movie. I saw the scenes in my head, and how she had written them so well. It all played out so beautifully. I thought it was emotional, I thought it was funny. I thought it was modern. I thought it had the best of traditional romantic comedies. Yeah, I wanted to be associated with it and I also wanted to be there for her. She hadn't directed before. I took a lot of pleasure in explaining what I knew about filmmaking—to fill in the holes of the parts she didn't know about yet. It was actually a great parental experience for me.
Hallie: I think when you're directing your first movie there are so many question marks and so many ways you can go wrong. I think having somebody there who has been through it and has succeeded so much in the genre, I felt really protected. The movie I think feels very complete because of all of the advice and help and partnership from my mom on it.
The movie fits within the Meyers-Shyer oeuvre. Hallie, did you know you wanted to follow in your parents'—and especially your mom's—footsteps in this genre?
Hallie: It was a really natural genre for me to be in. Not only because obviously my parents have made a lot of romantic comedies, but they also love the genre. We watched a lot of comedies in my house growing up. So it's the genre that I just felt most comfortable in. I think they wrote romantic comedies because they loved them. So then I loved them and now it made sense for me to make them as well. I think families have similar senses of humor. They have similar sensibilities sometimes. You all have the movies that you love as a family unit and we stuck with that. And I think the movies that we watched growing up and the movies that my parents make and now Home Again—I think all kind of are under the same umbrella.
Even aesthetically, Home Again does match some of the work that you've done, Nancy. Do you feel like you have similar tastes visually?
Nancy: Definitely.
Hallie: She has such a great eye and such a good sense of design, and design is a big part of making a film especially when so much of it takes place in one location. And something I really learned from my mom [was that] in your personal life sometimes you like things to look minimal or clean and white, and in a movie something I didn't really realize until I was there is more is more, so you want to really decorate and have a lot of color. It's all part of the shot. So it's more than just set design; it's a color palette, it's a feeling, it's the lighting, it's all part of the experience. That was really fun for us to collaborate on.
Nancy: It also constantly acknowledges the character. What kind of art would she have? You have to pick something that she would like, not necessarily you would like. Well, often it is things you'll also like. But you have to think like her or him, whoever's home it is. It's a way of constantly defining what you're doing.
You're part of this filmmaking dynasty, and in the film Reese's character Alice is part of one as well. Hallie, did you include that to a nod to your own position?
Hallie: Alice's father is part of sort of a '70s Los Angeles filmmaking scene. That was something I wanted to infuse in this story because I think those movies, like Shampoo, portrayed L.A. in such a cool, interesting way. I wanted her father to be one of these Bogdanovich, Mazursky, Cassavetes types, because I just think it's a really interesting cinematic figure. I wanted to come up with a character that I thought the boys would really admire and love. And then in doing that it ended up really connecting me to the character of Alice. I think in the scene where the boys show her one of her father's films and they screen it outside for her and her kids, it's an interesting thing that Reese and I spoke about—how you can sort of connect with your parents through their art form. It's a whole other way of connecting because it's not face-to-face, it's just something they've created. It's a special thing and I'm happy that my character had that as well because it connected me to her.
Have you had that experience in real life?
Hallie: Absolutely, the night before I started my first day of shooting I watched Private Benjamin, which was my parents' first movie. It's interesting to see their sense of humor in their 30s, and what was happening with feminism during that time, and what the gender roles were, and what the sense of comedy [was].
Nancy: How was it?
Hallie: It's really good. It's very funny. It puts you in the mindset of where your parents were in a certain point in time. My mom has made a lot of films on her own as well, and if you look at her female heroines you can kind of track her.
Nancy, did you just butt in there and ask, "How was it?"
Nancy: Yeah, I didn't know she watched Private Benjamin the night before. I just heard that when you heard it.
What does hearing that that mean to you?
Nancy: Hallie does a lot of research that's really helpful and smart. She's always sending me things on Instagram and emailing me photos and linking me to her Pinterest. So I'm not surprised that she did that, but I think that's kind of a cool thing: Hey, this is what my parents did. And I was the same age as she is now. So I think it's good. I think she did it to prepare herself and also to get in the mindset of her leading lady.
Hallie: Well, I think there are a lot of similarities between Goldie and Reese, comedically. It set the bar high. It was their first film and I hope my first film is as good and as remembered.
Nancy, when you were speaking earlier about The Chelsea did you say it was more difficult to get a male lead to sign on?
Nancy: Yeah, Hallie wrote a romantic comedy with a male lead. It was more of the husband's story than the wife's story. I think having made this kind of movie with men, they are a little squirmy about it. They will do it, and I've had tremendous luck in working with some really tremendously brilliant actors, but I know that it's not the genre of choice for them. And just when she was finishing that script and we were getting it out was sort of when everybody really wanted the big paydays in a superhero movie. It was just bad timing that's all.
Obviously, the days of people looking for a superhero movie are still here, but do you think that's changing at all right now?
Nancy: Do I think it's changing for men? I don't know. I really, I don't know. I don't know how they feel about being in these movies. But as an audience member I would love to see them be able to really act again, and have dialogue and be in like normal clothes. And be in a room that's like a normal space, like a home.
How did you guys together balance your dynamic on set?
Nancy: You know, I produced and she was the director. So it was clearly drawn from the beginning. And you know what? Everybody on a movie set is there to serve the movie. And if I had an idea, she was open to it. If someone else on the set said, "Hey, what if we listened to—" Honestly, that's how I see moviemaking. Obviously, the director's the director and the producer's the producer, and there are things I did that she never did and there are things she did that I never did, but the actual editing of the movie or shooting the movie, it's all about what makes this better, what's the best version of this… In this case it was different because we are mother and daughter.
Hallie: I think we were able to talk to each other in a way that we communicate so easily. That was actually really helpful when you can just look at somebody and talk to them and really quickly just say what you mean. There's not a lot of time on a film set, so for us to have that relationship is just so nice because she was able to just tell me super quickly, super honestly, and it was so helpful.
Nancy: Or she could just look at me and I'd shake my head no, we need to go again. Or I'm laughing and it's like, Oh yeah she liked it, too.
Hallie: That's the best when other people are laughing around you at the monitor. That's just the surefire hit of that was a good take.
Photos: Mother Dearest: When Famous Moms Become The Subject
Gloria Vanderbilt Cooper with her family in her NYC apartment in "Nothing Left Unsaid." Photo courtesy of HBO.
Gloria Vanderbilt in "Everything is Copy." Photo courtesy of HBO.
Nora Ephron with Jacob and Max Bernstein in "Everything is Copy. Photo courtesy of HBO.
Delia Ephron and Jacob Bernstein in "Everything is Copy." Photo courtesy of HBO.
Anderson Cooper and Gloria Vanderbilt. Photo courtesy of HBO.
Carl Bernstein, Jacob Bernstein and Nora Ephron in "Everything is Copy." Photo courtesy of HBO.
Anderson Cooper and Gloria Vanderbilt in "Nothing Left Unsaid." Photo courtesy of HBO.
Nora Ephron in "Everything is Copy." Photo courtesy of HBO.
Anderson Cooper in "Nothing Left Unsaid." Photo courtesy of HBO.
Reese Witherspoon loves Miles Teller back: