Reese Witherspoon's Home Again Trailer Seems Like Big Little Lies Up to the Moment It Doesn't
Reese Witherspoon returns to the big screen with 'Home Again', a film that isn't 'Big Little Lies'. Or has anything to do with 'Sweet Home Alabama'.
---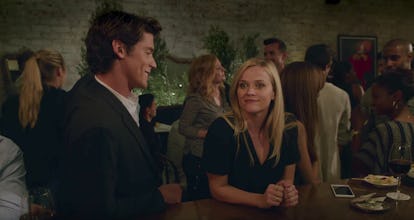 The trailer for Home Again introduces Reese Witherspoon's character in the same way that Big Little Lies introduced Reese Witherspoon's character: behind the wheel of her car with offspring in two. But while these kids certainly seem precocious, they're not quite Chloe Mackenzie. After, neither of them is whipping up some fire playlist on Spotify. And Witherspoon is also in a Volvo crossover, not Madeline's Buick crossover. Spiritual successor to Big Little Lies this is not.
Though, when we first came across news of the existence of the film months ago on Witherspoon's IMDb page we assumed, based on little more than the fact it had "Home" and co-starred Candice Bergen, that it might be a sequel to 2002's Sweet Home Alabama.
What Home Again is is actually something completely different, which we're clued into as soon as Witherspoon's character starts hooking up with a character played by 26-year-old Brooklyn native Pico Alexander.
Directed and written by former child actress Hallie Meyers-Shyer (incidentally, she played a character named Lindsey in Lindsay Lohan's version of The Parent Trap), the film finds Witherspoon as a single mother of two trying to re-establish herself in Los Angeles after separating from her longtime husband.
While celebrating her 40th birthday, she meets a trio of three young filmmakers. For some reason, Candy Bergen's character, presumably Witherspoon's mom, decides it would be a good idea if the three millennials moved into the guest house.
Michael Sheen pops up as the estranged husband, while Nat Wolff and Saturday Night Live cast-off Jon Rudnitsky fill out the youthful filmmaker trio.
Where the film goes from there, we're not entirely sure. The sexual tension between Witherspoon and Alexander's characters seems to linger, though all three filmmakers seem to end up fitting right into the family. We won't know for sure how things play out until the film premieres in September.
Related: Big Little Lies' Madeline is Peak Reese Witherspoon
Reese Witherspoon Loves Miles Teller Back: