Actress Naomi Scott Is the New Princess Jasmine in Disney's Aladdin Remake
From pink Power Ranger to Disney princess.
---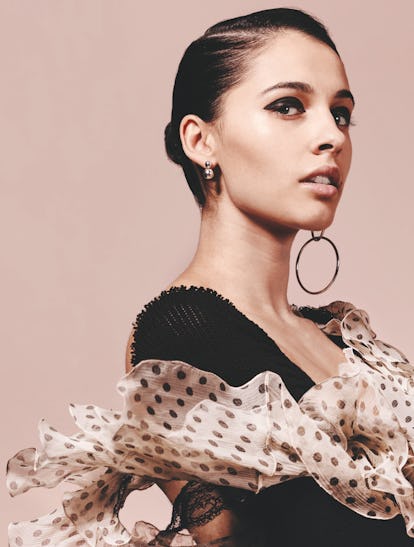 Photograph by Simon Eeles, Styled by Jack Borkett; Hair by David Harborow for Bumble and bumble at Streeters; Makeup by Laura Dominique for MAC at Streeters; photography assistant: Mehran Pakgohar; fashion assistant: Caio Reis
Though Naomi Scott is now best-known for her recent turn as Kimberly Hart, the pink Power Ranger in director Dean Israelite's reboot of the beloved '90s television series, the actress was, in fact, first scouted as a teenager for her vocal, rather than acting, chops. After releasing a couple EPs and contributing to the soundtrack for a movie-musical, Lemonade Mouth, she slowed her music career while her screen work only accelerated.
"As an artist, I would like to be around for a long time," she told W late last year. "You have to be very purposeful and very strategic with decisions that you make in the music industry."
Now, it seems, Scott will have the chance to combine both: Over the weekend, Disney revealed Scott will play Princess Jasmine in its new Aladdin, starring alongside actor Mena Massoud in the title role. The Guy Ritchie-directed picture is the latest in a string of live-action remakes of classic animated musicals—there was the Mia Wasikowska-fronted Alice in Wonderland series and a whole spate of attempts at The Jungle Book; Lily James starred as Cinderella in 2015; last year, Harry Potter actress Emma Watson played Belle in the new Beauty and the Beast; and Disney is still casting its upcoming Mulan and Little Mermaid reboots.
Production was expected to begin on Aladdin this month, but the studio confronted some trouble casting its leads. "Finding a male lead in his 20s who can act and sing has proven difficult," the Hollywood Reporter wrote last week, "especially since the studio wants someone of Middle-Eastern or Indian descent." (This prompted collective eye-rolls on social media considering the wealth of Indian actors emerging from Bollywood's movie-musicals.) Scott, an English actress of Gujarati Indian descent, had been a rumored frontrunner, alongside Indian actress Tara Suharia, when THR reported on the delay; names like Dev Patel and Riz Ahmed had been floated for the male lead, though the studio ultimately went with the younger, relative newcomer Mena Massoud, a Canadian-Egyptian actor whose credits include a handful of television roles including, most recently, an adaptation of Tom Clancy's Jack Ryan starring John Krasinski. Tapped to play the genie, Will Smith steps into the daunting void left by Robin Williams, who voiced the character in the original animated film.
Scott is, by her own admission, something of a tomboy—but now, after playing the pink Power Ranger, she's tackling another quite traditionally feminine role: the Disney princess. With the release of Power Rangers, the fashion world has also started to embrace Scott—she wore Chanel to the film's Los Angeles premiere and attended the label's launch of the Gabrielle bag in Santa Monica earlier this year, and she's also been spotted in the likes of Burberry, Preen by Thornton Bregazzi, and Giorgio Armani throughout the film's press tour. Throughout the cycle, she proved she could effortlessly move between ultra-feminine and slightly androgynous looks, mastering both lacy dresses and oversized pantsuits in equal measure. And, as Emma Watson proved while promoting Beauty and the Beast around the world, a princess-worthy wardrobe is an essential element of playing the part. In addition to countless sustainable looks documented on her Instagram, @the_press_tour, Watson took several cues from her on-screen role on the red carpet: For the film's London premiere, she wore a powder-blue Emilia Wickstead gown; for a reading of Beauty and the Beast, she wore a canary yellow Dior haute couture gown that bore a definitely-not-accidental resemblance to the dress Belle wears in the famous ballroom sequence.
Aladdin has countless such looks to draw from—most notably, Princess Jasmine's quintessential periwinkle two-piece ensemble, which she wears for much of the film—and Scott, with her nascent fashion cred, is perfectly positioned to pull them off. The high-profile role also presents an opportunity to highlight lesser-known designers with Middle Eastern and Indian roots—considering Disney can't seem to decide exactly where Aladdin's hometown Agrabah is actually located—rather than selecting looks that are European and American designers' interpretations of looks that might be found in Aladdin.
With any remake of a film as beloved as Aladdin—and especially one so susceptible to critiques of whitewashing—there's bound to be some pushback against a casting announcement, and Scott and Massoud haven't been immune to this. But Scott sings, she acts, and she's definitely got the style. Ladies and gentlemen, your new Princess Jasmine.
Charlize Theron on Atomic Blonde and James Bond: