Pink Power Ranger Naomi Scott Packs a Serious Punch
The British actress and singer opens up about her role in the Power Rangers reboot—and the intense training regimen that got her there.
---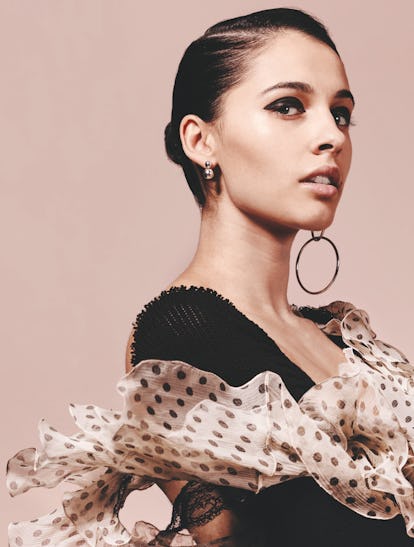 Photograph by Simon Eeles, Styled by Jack Borkett; Hair by David Harborow for Bumble and bumble at Streeters; Makeup by Laura Dominique for MAC at Streeters; photography assistant: Mehran Pakgohar; fashion assistant: Caio Reis
Naomi Scott had never filmed a fight scene before she signed on to play Kimberly Hart, the pink Power Ranger, in the upcoming reboot of the beloved '90s action series. Facing off against a stunt double during a screen test, she underestimated her strength—and whacked him in the face.
"They say that's quite normal the first time. Your adrenaline just goes," said the 23-year-old musician and actress, who stars in director Dean Israelite's character-driven reimagining of Power Rangers. "I'd never punched anyone in the face in my life."
Scott had, however, acted out fight scenes, tussling with her brother as a child. In fact, they pretended to be Power Rangers; Scott was always the red one. Still, the details of the TV series had grown fuzzy by the time she got the part, which may have been to her benefit when it came to reinterpreting such well-trod material with a more critical eye. In the original series, Hart is something of your stereotypical Valley Girl—popular, into gymnastics, a bit of a mean girl.
"I have an opportunity here to maybe delve a little bit deeper," Scott said, recalling her reaction upon seeing the script. "I love her because I think she's real. I think she's really smart. And I think she's got a maturity as well." She trailed off, pausing for a moment. "If they wanted a flipping gymnast, they shouldn't have cast me," she added.
Gymnast she might not be, but Scott trained intensely for the role, working out three times a day: running in the morning, strength training with a trainer in the afternoon, and doing a "15-minute blast" just before bed. Then, upon arriving in Vancouver for filming, she and her costars endured three weeks of intensive fight training. First fight scene or not, Scott likely packed quite a punch.
A self-professed Tomboy, Scott grew up in London with her father, a minister, and a Gujarati Indian mother who emigrated to the U.K. from Uganda at age 11. She was an avid singer surrounded by church choirs and gospel music—and, like any good Brit, a bit of S Club 7. She got ample stage time in both church and school, performing such varied repertoire as Joseph and the Technicolor Dreamcoat, The House of Bernarda Alba, and even a few works of her own devising. In Year 9 (the English analogue of eight grade) Scott's drama class broke into groups to write small plays based on Bible stories, staging them right down to the costumes and set design.
"I literally did everything," Scott said. "I was such a control freak. I directed it, I wrote the script." This fastidious nature has served her well professionally; when Scott and Israelite connected to discuss Power Rangers, she pushed to look past her character's clichés and into her motivations.
But it wasn't for her acting that Scott initially broke out; she was scouted by a London-based music manager as a teenager while performing a cover of Alicia Keys's "If I Ain't Got You" at a church function. Around that time, she also met her now-husband, footballer Jordan Spence, again, at church.
"Oh, my gosh, church," Scott said, bursting into laughter. "Everything comes down to church. That's the moral of the story."
Scott still sings—she put out out a couple of EPs and contributed to the soundtrack for Lemonade Mouth, a 2011 film musical in which she also stars—but she's taking her time as a musician. She built a small home studio out back of her parents' place.
"As an artist, I would like to be around for a long time," she said. "You have to be very purposeful and very strategic with decisions that you make in the music industry."
Film, on the other hand, has come quickly to Scott. She starred in the second season of British teen drama Life Bites before going on to earn roles in Terra Nova, the short-lived but intensely loved sci-fi series, and in Ridley Scott's blockbuster The Martian. Then came Power Rangers.
"I don't have a thing for sci-fi. Sci-fi has a thing for me," she said, laughing. She added, "I always want to play a character that is saying something," she said, citing Helena Bonham Carter and Melissa McCarthy among the actors who excite her most. "Why is this female here? Is she just here to be female, to look pretty, or there to make the guy funny?"
Post-Power Rangers, Scott is continuing to seek out character-driven narratives, but as for her dream project?
"Tell you when I read it," she said.
Watch W's most popular videos here: