Naomi Watts Is the Worst Therapist of All Time in the Gypsy Trailer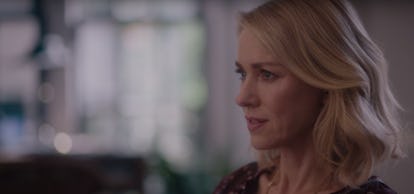 Courtesy of Netflix
Naomi Watts is shaping up to be the reigning television queen of summer 2017.
After getting the briefest of teases from Netflix last month, the streaming service has finally released the full-length trailer for Watts' sexy new psychiatrist drama Gypsy. By sexy, we're not being conservative when we mean sexy, people. For starters: It's from the director of Fifty Shades of Grey.
The 10-part psychological drama is led by Watts as Jean Holloway, a Manhattan therapist, whose "seemingly picturesque life" with her husband Michael Holloway (Billy Crudup) begins to unravel as she develops "intimate and illicit relationships with the people in her patients' lives." As Jean realizes that she can no longer separate her professional life and her personal fantasies, and hide this inability from her husband, she "descends into a world where the forces of desire and reality are disastrously at odds." Judging from the trailer, that seems to include club-hopping and making out with several beautiful strangers—oh, and downing pills, too.
"I used to believe that peopled determined their own lives, but there's one force more powerful than free will," she narrates in the trailer. "Our desires." The series also stars Sophie Cookson and Lucy Boynton, and will be released, in full, on June 30.
In addition to Gypsy, the normally television-shy Watts is starring in David Lynch's Twin Peaks revival, where she's playing the delightfully overbearing wife of one of Kyle MacLachlan's Agent Cooper doppelgängers. (Yes, we know, it's complicated.)
"David will look at three or four, or maybe five, different pictures and say, 'OK, I'll see those girls,' " she recently told W about working with Lynch for the first time on Mulholland Drive. "If you're the third person on the list and he's had a great meeting, he doesn't meet girl No. 4 or 5. So my getting the part felt like fate."
Related: Naomi Watts and Laura Dern Open Up About Working With David Lynch
Naomi Watts Takes W's Screet Test:
David Lynch's Heroines Like You've Never Seen Them Before
From left: Chrysta Bell wears Tiffany & Co. necklace. Hailey Gates wears Bulgari necklace. Laura Dern. Naomi Watts wears Robert Lee Morris SoHo earrings; Lagos necklace. Patricia Arquette wears Tiffany & Co. necklace.

Photographs by Alex Prager, Styled by Patrick Mackie. Hair by Giannandrea; makeup design by Fiona Connon; makeup by Levi Vieira for MAC Cosmetics. Set design by Thomas Thurnauer. Lighting Designer: Matthew Libatique; Key Gaffer: Jeffrey Ferrero; Key Grip: Tina Dubbe; Production: Josie Heiman; On-Set Production: Linsday Heimer; Retouching: Contact Photo Lab; Photography Assistants: Tyler Parker, Blake Brent; Fashion Assistant: Diana Choi; Hair Assistants: Jessica Mishler, Nancilee Santos; Makeup Assistant: Emily Jade Elliott; Set-Design Assistants: Aaron Wiley, Cliff Collins; Special thanks to Siren Studios
Blue Velvet, Wild At Heart, Inland Empire, and Twin Peaks (2017) "I hadn't read the script, but I knew the film was Blue Velvet. I was sitting on the floor, waiting to audition, and David walked out. I was startled by every aspect of him. He looked at me, and I was waiting for some magical words. He said, 'I have to pee,' and disappeared. When he came back, we talked about life and high school and meditation, and I was ready to audition—but that never happened. He said, 'Thank you very much,' and I left. Soon after, I got a call saying he wanted to meet me at Bob's Big Boy to see if Kyle MacLachlan and I could get along. We ordered malts and french fries, and David was doodling on napkins while Kyle was doodling with a knife in his ketchup. A girl either thinks, These are bizarre men, or, I am in love with both these people and want to spend the rest of my life with them. Needless to say, I fell in love."

Dern wears a Cartier necklace.

Photographs by Alex Prager, Styled by Patrick Mackie
Naomi Watts wears Bottega Veneta dress; Robert Lee Morris SoHo earrings; Lagos necklace.

Photographs by Alex Prager, Styled by Patrick Mackie
Mulholland Drive and Twin Peaks (2017) "I was in New York and my agent called and said, 'You have a meeting with David Lynch.' I didn't believe in traveling or breaking plans for auditions, but this was David Lynch, and it's not every day that you get that call. So I flew to Los Angeles and went straight from the plane to meet him. David had that intense ear-to-ear grin, and he was smoking up a storm. He said, 'How's your day? Tell me everything!' I was at a point where I'd been auditioning for 10 years and people would barely make eye contact, but David was genuinely interested in me. I was there for 40 minutes. When I left that room, I thought, No matter what happens, I had a great meeting with a legend."

Watts wears a Bottega Veneta dress; Robert Lee Morris SoHo earrings; Lagos necklace.

Photographs by Alex Prager, Styled by Patrick Mackie
Lost Highway "During Lost Highway, I would ask David, 'Am I playing two different people? Is one of them a ghost? A hallucination? Are they both real? What am I playing here?' And he'd reply, 'I don't know, Patricia. What do you think?' So I had to come up with a whole concept of what I thought Lost Highway was about. I decided to model these two characters after Salome and Jezebel, in the Bible. At some point, I told David that one should have dark hair and blunt-cut bangs like Bettie Page. David said, 'Who is that?' I turned him on to the famous nude pinup. David was like, 'Wow. Bettie Page. She's the bee's knees.' "

Arquette wears a Tiffany & Co. necklace.

Photographs by Alex Prager, Styled by Patrick Mackie
Twin Peaks (2017) "When he works, David Lynch uses a megaphone. Even if there are only three people in the room. I really like that kind of commitment. He'll have a cigarette hanging out of his mouth, and he'll say, through the megaphone, something like, 'I need a little more danger in her face.' At one point, he felt the table in front of me wasn't quite dirty enough. He was on the megaphone: 'Can I get some Bisquick?' Someone came right over with the Bisquick, and David started rubbing a paste of gunk over the table. The cig was still hanging out of his mouth. That was one of my favorite moments."

Gates wears Theodora Warre earrings; Bulgari necklace.

Photographs by Alex Prager, Styled by Patrick Mackie
Twin Peaks (2017) "For a long time, I felt like I was swimming in a different lake than everybody else. I would look around me and think, Hmm, maybe I'm not from this land; maybe I should try and venture into some other dimension. I think that is one of the reasons that David and I get along. He functions in all these juicy, mystical, esoteric dimensions. When David asks me to be a part of things, it's always a bit mysterious. Twin Peaks was no exception: He approached it with a little twinkle in his eye. I couldn't do anything but say yes excitedly."

Bell wears a Balmain dress.

Photographs by Alex Prager, Styled by Patrick Mackie
From left: Patricia Arquette wears an Akris jacket and skirt; Tiffany & Co. necklace. Hailey Gates wears a Norma Kamali swim dress and skirt; Theodora Warre earrings; Bulgari necklace; Michael Kors Collection belt; Manolo Blahnik shoes. Chrysta Bell wears a Balmain dress; Tiffany & Co. necklace; Rochas shoes. Laura Dern wears a Monse dress; Cartier necklace; Manolo Blahnik shoes; her own ring. Naomi Watts wears a Bottega Veneta dress; Lagos necklace; Paul Andrew shoes.

Photographs by Alex Prager, Styled by Patrick Mackie