Natalia Vodianova and Antoine Arnault's Wedding Was Surprisingly Laissez-Faire
The match made in fashion heaven kept things surprisingly down to Earth.
---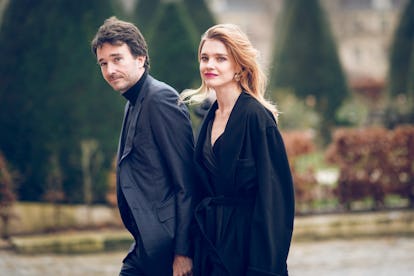 Edward Berthelot/Getty Images
The wedding of Natalia Vodianova, a philanthropist and supermodel, and Antoine Arnault, a core member of the family that control premier luxury conglomerate LVMH, was always going to be a major event. And at some point, it will be. But for now, the couple has contented themselves with simply making things official. On Thursday, Vodianova shared a video of herself and Arnault leaving a registry office in Paris's 16th arrondissement, having just tied the knot. She wore a belted, high-necked Ulyana Sergeenko couture gown, while Arnault opted for a pale blue tie and navy suit. A group of mostly masked onlookers were there to shower them with rose petals, though the real "religious wedding," as Vodianova put it, will still take place at a later date.
Designers like Jonathan Anderson and Tory Burch were quick to congratulate Vodianova, as were fellow supers Mariacarla Boscono and Naomi Campbell. The latter was actually there when the couple first met, on the set of a Louis Vuitton campaign in 2008. "I remember ­seeing her and my jaw sort of dropping internally," Arnault, who was then the house's head of communications, told W in 2017. "Natalia doesn't even remember it."
Arnault and Vodianova occasionally bumped into each other in the years that followed. But it wasn't until 2011, when he read of Vodianova's divorce from her first husband, Justin Portman, that Arnault asked her out. Over text, they agreed to meet at his apartment, so as to avoid speculation in the press. "It was completely ridiculous. We were both super shy," Vodianova later recalled. "He didn't even try to kiss me!"
Their next reunion was thanks in part to a coincidence: They both rented summer houses in Ibiza, which turned out to be just 10 minutes apart. Soon enough, Arnault asked Vodianova to live with him—and to have his kids. "I mean, I already had three gorgeous children," Vodianova recalled of her initial hesitation. "Maybe initially I was doing it more for him than myself, but, at the same time, when you're in love with a man, you want to reproduce him as many times as possible." So, she had two more children. The family of seven now lives together in Paris.
Related: Take a Tour of Natalia Vodianova and Antoine Arnault's Duplex Apartment in Paris