Why Natalia Vodianova, Sofia Coppola and Diane von Furstenberg Are the Role Models We Need Today
"A woman called to dedicate her life to something larger than herself," in von Furstenberg's words, is the sort of role model we need for inspiration today.
---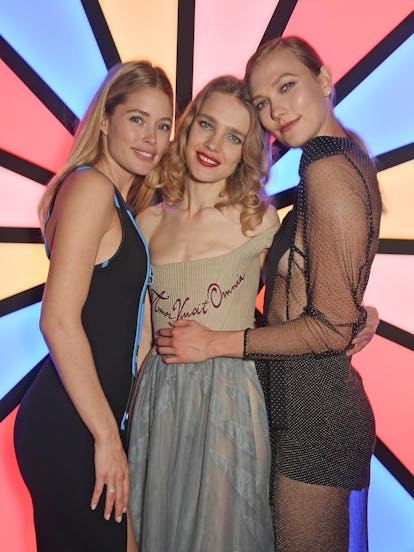 Getty Images
I have always been astonished by the discrepancy between the level of influence that fashion has on pop culture and the level of social and political engagement that designers and influencers actually exert. I am a strong believer that with success comes the responsibility to set an example for future generations.
I must admit that when Natalia Vodianova first came to me to discuss her charity, the Naked Heart Foundation, and the philanthropic work of many of her friends in the fashion community, I felt a reflexive twitch of cynicism. We are so used to on-demand activism and public displays of emotion for the sake of good publicity that it is hard to accept at face value a genuine act of generosity. Natalia quickly changed my mind. Her commitment to making the world a better place was contagious, and made me realize that, especially at this moment in time, we should all make a point of celebrating those who are actively giving back, rather than look for ulterior motives.
Natalia is one of the most beautiful women in the world, a supermodel with a long career behind and in front of her, the mother of five children, the partner of Antoine Arnault—a scion of the LVMH empire—and, last but not least, a major philanthropist. In her work, she has always been known for giving everything she's got, as any of the great photographers who collaborated with her in this issue will tell you. Steven Meisel, Bruce Weber, Paolo Roversi, and Patrick Demarchelier highlighted Natalia's different roles—style icon, mother, muse—in a series of intricately produced shoots.
And yet, in the midst of all this, Natalia was constantly on the phone, arranging more shoots and interviews with the likes of Stella McCartney, Ashton Kutcher, and Tory Burch, to put together a portfolio of ultracommitted—and ultracool—philanthropists. As if this weren't enough, she also introduced us to a group of young and unconventional do-gooders from all over the world, who are challenging conventions and looking at activism through a millennial lens. In a nutshell, Natalia's life is a constant, high-flying juggling act, as the writer Alexandra Marshall discovered when she visited the Vodianova-Arnault clan in Paris.
Multitasking is a trait that Natalia shares with Sofia Coppola, who shared with us some of the images and inspirations that have populated her mind in the past months. Sofia has impeccable taste and pays exacting attention to everything she does—whether it's her new film, The Beguiled, which recently premiered at the Cannes Film Festival, an underwear campaign for Calvin Klein, or a project for Cartier.
As I contemplated all the women in this issue, I was reminded of the eloquent way in which Diane von Furstenberg described Jane Goodall, the most recent recipient of the DVF Lifetime Leadership Award. She is "adventurous, educated, compassionate, curious, determined, and stunningly beautiful…a woman called to dedicate her life to something larger than herself," von Furstenberg said. We hope you will be as inspired by these powerful role models as we are.
Watch W's most popular videos here: