Natalia Vodianova, Supermodel Supermom, Can Do It All
"I have enough on my plate!" says the model, philanthropist, and mother of five.
---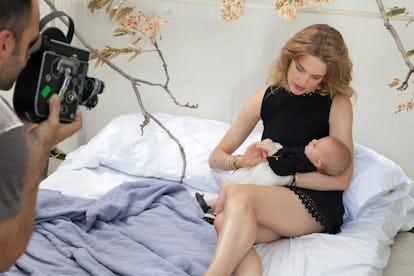 34-year-old Natalia Vodianova is not only one of the world's top supermodels, she's also a businesswoman, a fierce philanthropist, activist, a proud wife and the mother of five children. In her latest role, she's the David Yurman spokeswoman, starring in the iconic jewelry brand's new ad campaign, lensed by photographer Bruce Weber with creative direction by Shahid & Company, alongside the likes of Jean Campbell, Dilone, and Mitchell Slaggert. "I love that I got to play a role that's a lot like me in real life," said the Russian model of the campaign and short film, titled "It Had To Be You", which was shot in Southampton and styled by Carlyne Cerf de Dudzeele. Here, she talks to W about collaborating with Weber, her work-life balance, and the upcoming election.
You have worked with Bruce Weber for quite a long time. What is your first memory of working with him? Bruce! Oh my goodness, it was a long time ago. I think the first time we did a special Balenciaga shoot, I must have been 20 or 21. Working with Bruce has always been very special.
You are quite selective when it comes to fashion shoots and campaigns these days. What is about David Yurman that made you want to be involved? I worked with David and Sybil [Yurman] before and I absolutely love their brand. I love the project and my perspective of the brand is the idea of a lucky charm and putting it on a bracelet. They took this idea and expanded it to a whole universe of jewelry. To me, everything they have is something about lucky and something about charms. They can mark an occasion in your life but live together and just and signify so much more than beautiful jewelry.
Do you have lucky charms? I love jewelry and there's jewelry I put on for special occasions when I need extra support. It's different things. Diane von Furstenberg, for example, gave me a gold coin that her father wore during the war. He carried this gold coin around with him in case of emergency. He never used it but it was so significant to him because in the end it became his lucky charm. Diane gave me one and I made it into a necklace. This is my lucky charm, and, of course, my ring that my husband Antoine gave me. I never take it off. My grandfather's ring was something he always wore and I wear it everyday hidden.
Diane's necklace, of course, I can't just replicate that to give it to other people, but David Yurman and I are collaborating with my platform Elbi on something to go in the Love Shop. The Love Shop is a place where our users are rewarded for doing good things. David Yurman gave us a very similar sort of charm necklace for the Love Shop that looked a little like my DVF coin and hopefully some young kid will have the spirit of that charm, but by David Yurman from the Love Shop.
David Yurman is a brand that's really about women who are empowered and strong. What women inspire you and your work? Stella McCartney, Diane [von Furstenberg], lots of others. It is all about empowerment right now. I was just a luncheon for UN week and I was sitting there before I received my award and I was listening to other women like Livia Firth. These women had me shaking. I was so impressed by them. I was going, "Now I have to follow up this?" It is so nerve-wracking. They were so inspiring and I wanted to go up there and inspire them. I found this audience of 200 women, rather than audience of thousands of people, more intimidating. Women are such incredible powerhouses. Their voice is so strong and they are so beautiful when they are strong and it's incredibly inspiring.
My most important woman in my life and my biggest inspiration has always been my grandmother. She is just incredible. She really showed me how to be an incredible wife, an incredible leader, incredible mother, role model, self-healer and self-lover. She is spiritual and at the same time pragmatic.
You are such an impressive woman with your modeling career, your app, your charity. What's next for you? I have enough on my plate! I just want to develop further the projects I already have in place. Elbi is a very, very big ambition and I think it's going to take a lot of my time for years to come. At the moment, I am not looking for anything else. What it is a an app where we invite our users, which are young people in general, to do something good on their mobile device. For example, let's say there is a little girl in a hospital and she loves giraffes. We draw her one and then she can color it in while she is in the hospital. That is very sweet because it really will make a difference for this little girl. Then the way make a difference for this charity is for example, you have done a drawing and I really love your drawing and your giraffe is so cool, I will love your giraffe and that will be a microdonation of $1. You can love other peoples' content or the campaign you like and the causes you care about. You have raised a dollar for the charity. With Elbi, if you have nothing you can become a fundraiser, and if you have a dollar you can donate it. You are rewarding other people for doing good. Then why it's important is because right now the 'like' button is pressed 5 billion times a day just on Facebook. That is a lot of action! Our aim at Elbi is to turn at last one percent of those likes into love and to create real impact that our users care about.
How do you deal with the stress in your life? Go jewelry shopping! No, a few different ways. For me, everything is in balance. I do modeling, I am a crazy philanthropist, I dedicate a lot of hours into something that is a real fight. The balance of those things is what helps me to stay sane. When I am focused on being a mother I really disconnect from everything else. I really love being with my children, but when I am modeling, that allows me to be a princess and everyone is running around putting me in a beautiful dress and doing my hair and nails. It's a fairytale, unique experience that is also very restful from being a mother, which is so hands on. Suddenly, you are not a princess. You have little princes and princesses that you are the slave of and wanting to make happy. Then as a philanthropist it's just kind of giving meaning to my happy, fabulous life as a mother and a model. It also gives sense and meaning to my roots and my past and where I came from. I had a very tough childhood and it's not something you can easily shake off and forget. There were millions of people in the same situation and I have not forgotten them.
I am curious, what do you think about the U.S. presidential race right now? I am definitely not only on Hillary's side but completely against Trump. Double support for her. I am on Hillary's side because she is a woman and it would be a historic moment for the equality of women out there, but also because I also don't see where the world would be going if Donald Trump became our president. It is quite a scary thought.
Behind the Scenes Natalia Vodianova and Bruce Weber