Natalie Portman and Lily-Rose Depp Share a Cigarette in a Bathtub in the Planetarium Trailer
Portman and Johnny Depp's daughter as sisters who think they can talk to ghosts? We're in.
---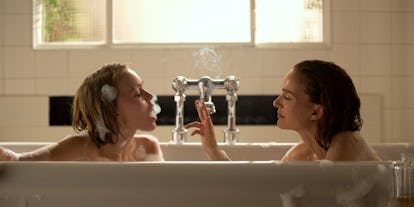 Image via Ad Vitam
A movie queen and an up-and-coming young scion as sisters who can supposedly talk to ghosts in an atmospheric, period drama? No, it's not the upcoming season of American Horror Story. It's actually a French horror film, and it might be better.
Set in the 30's, Rebecca Zlotowski's upcoming film Planetarium features Natalie Portman and Lily Rose Depp as sisters who may or may not actually be able to contact the afterlife, but who have toured the world successfully creating that impression. The duo ends their tour in Paris where they manage to catch the attention of a film producer played by Emmanuel Salinger. Naturally, the producer wants the sisters to star in an ambitious experimental film.
Today, mediums get reality TV shows, but back then they could be movie stars. It's not actually clear how committed the sisters are to movie stardom, though. When Depp's character asks Portman's why they've moved in with the producer, she replies, "He's an opportunity. Enjoy it while it lasts."
The film looks, of course, absolutely stunning. Smoking in bathtubs, neon-colored birds, drinking champagne in a sudden rain of feathers!
Of course, the film isn't all about pretty sets and spooky powers. It is, after all, set in late 1930's France, and the producer character is said to be based on Bernard Natan — one of the most powerful French film producers in France of the time, but who was eventually killed during the Holocaust.
Variety also reports that the film is meant to mirror our current spike in extremism (France's has their own Donald Trump in Marine Le Pen).
Zlotowski, one of France's hottest young directors, wrote the film with Robin Campillo, a man who previously directed Les Revenants, a French horror movie about 70 million people who suddenly return from the dead unharmed (A&E's since-cancelled series The Returned was based on the movie).
So it's got supernatural horror, strong political undertones, and Natalie Portman and Lily-Rose Depp sharing a cigarette in a bathtub? If that sounds like it all quite doesn't go together, don't worry. Zlotowski's last film, Grand Central, somehow managed to merge romance with radiation poisoning.
The film is set to premiere at the Venice Film Festival early next month.
Watch W's most popular videos here: