Natalie Portman and Jessica Simpson's Feud Is Really Just a Big Misunderstanding
But is it all a misunderstanding?
---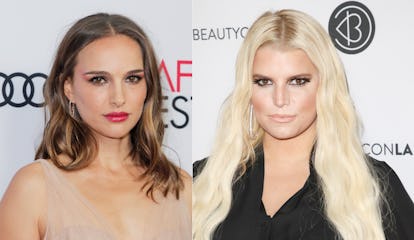 GETTY
Natalie Portman and Jessica Simpson's names aren't usually uttered within the same sentence, but that all changed this week during a stop on the actress' Vox Lux press tour. When reminiscing about the pop music she grew up with, Portman took a detour to talk about how women's sexuality is represented in the industry, using Simpson as an example. It didn't take long for the former pop star to respond, calling Portman out for slut-shaming her. But, really, this is all a misunderstanding.
To backtrack, Portman was questioning how pop stars are often sexualized at a young age, telling USA Today, "I remember being a teenager, and there was Jessica Simpson on the cover of a magazine saying 'I'm a virgin' while wearing a bikini, and I was confused. Like, I don't know what this is trying to tell me as a woman, as a girl." While she didn't expand on those comments—and, therefore, it's impossible to know how she as an adult would have perceived it—Portman didn't exactly cast judgment. She simply pointed out that as a young woman she had trouble processing Simpson's abstinence as the pop star's image was being packaged in a sexual way. What Portman didn't say is that in a patriarchal world—especially before the "woke" shift of the post-aughts—many of us are geared to assume that there is an implied sexuality in the way that women dress and present themselves. The fact is, we should all be entitled to wear whatever we feel our most comfortable and confident in without anyone making assumptions based on that. Portman, however, didn't articulate that—at least not in the published quotes—and Simpson took the opportunity to do so.
In a note posted to Twitter, Simpson called out Portman for her comments, writing, "I was disappointed this morning when I read that I 'confused' you by wearing a bikini in a published photo taken of me when I was still a virgin in 1999."
She then alluded to the fact that decisions around her appearance were being made for her, due to the pop machinery. "As public figures, we both know our image is not totally in our control at all times, and that the industry we work in often tries to define us and box us in," she said. "However, I was taught to be myself and honor the different ways all women express themselves, which is why I believed then—and I believe now—that being sexy in a bikini and being proud of my body are not synonymous with having sex."
Simpson then imparted Portman with the important message that "I have always embraced being a role model to all women to let them know that they can look however they want, wear whatever they want and have sex or not have sex with whomever they want. The power lies within us as individuals. I have made it my practice to not shame other women for their choices. In this era of Time's Up and all the great work you have done for women, I encourage you to do the same."