Natalie Portman Says She Didn't Have Other Actress Friends Before the Time's Up Initiative
Portman spoke at the 2018 Makers Conference about the danger and isolation of being the only woman in the workplace.
---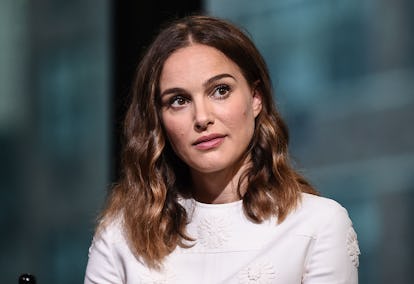 Daniel Zuchnik/WireImage/Getty Images
At the Time's Up panel during the 2018 Makers Conference, Natalie Portman spoke about the dangers of sexual assault in Hollywood and other industries. Natalie Portman was joined by Maha Dakhil, Rashida Jones, Melina Matsoukas, Nina Shaw, Jill Soloway and Tina Tchen, the powerhouse lawyer behind the Time's Up initiative's legal defense fund, and moderator Ava DuVernay. This year, the Makers Conference, which is a three-day convention that serves as a platform for female story-telling, features programming that "amplifies the dialogue around harassment, equal pay, and other urgent issues surrounding women's rights."
"You are real, true leaders and architects of this," DuVernay told the panel of performers and artists at the conference. While each panelist was given the opportunity to speak to their experience with the Time's Up initiative—whether that be Tchen discussing how crucial it is to secure defense attorneys for the legal fund, or Shaw reminding that the initiative does not only focus on women in Hollywood and extends to other workplaces—Portman spoke about her personal experience of forging new relationships with the other actresses involved, revealing that until very recently, she had only ever had one close actress friend in the industry. "It's been really incredible to gather actresses because I think something that we realized was that we're usually the only woman at work," she said. "So, like many other industries, we walk onto a nearly all male set and we're usually alone and we rarely get to interact with each other. I've never had—I think Rashida was my only close actress friend until now," Portman went on.
Of course there have been films in which Portman has starred alongside other women, but the actress took the moment to remind the audience of the disappointing fact that many film sets tend to have at most a handful of women around at one time. "The power of just all being in a room together and sharing our experiences and realizing how much we'd been endangered by being isolated, by being the only woman in a work environment, how that extends to other industries too, where, if you're the only woman in the room, that endangers you, it isolates you, it prevents you from sharing stories, so if there are predators you don't talk to each other," Portman said. In a year where the Golden Globes' Best Director nominees did not include one woman (which Portman famously called out during this year's award ceremony), it is crucial to remember that the isolation of women in the workplace is not only a major blow to morale, but is severely dangerous when it comes to harassment on set. When there are no other women around to listen to one's experience, it becomes increasingly difficult to reckon with the plague of sexism in the workplace. At the 2018 Makers Conference, Portman was able to find solidarity in her panel companions, telling the audience, "There's this kind of secondary thing about, you know, being the only woman at the table or whatever that is very isolating and endangering, and how empowering it is to be in a room, to be on the same team."
Related: What's Next for Time's Up According to Tina Tchen, the Powerhouse Lawyer Behind the Famous Faces
See W's most popular videos: