See Natalie Portman Completely Transformed Into a Pop Superstar in Vox Lux
Having conquered the dance world with Black Swan, Portman sets her sights on music.
---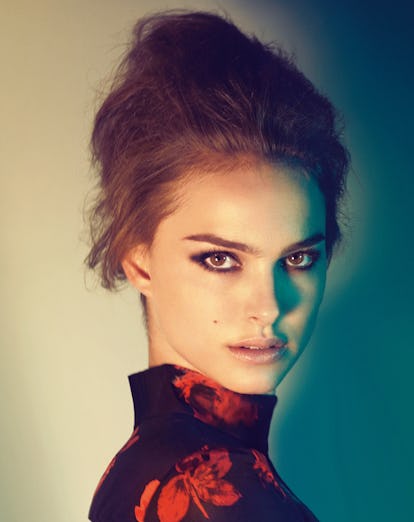 Mert Alas and Marcus Piggott
Natalie Portman, Hollywood's foremost avatar of women undergoing psychological hell, is coming soon to a theater near you as an über-pop star named Celeste in Brady Corbet's upcoming sophomore feature Vox Lux. The film is slated to premiere at the Venice Film Festival at the end of the month, and in anticipation of its debut, the festival just posted a first look at Portman in full Velvet Goldmine–esque stage regalia for the part.
Though it's just a close-up of Portman's face, it offers some pretty good insight into the general vibe of the film. In the image, she's looking out, presumably at an audience, her mouth wide as if mid-song. Her eyes are smeared with shimmering gunmetal shadow—not dissimilar to her Odette/Odile makeup for Black Swan—while rhinestones dot her brow. Her hair is sculpted in silver, her lips magenta, and she wears a high-necked top with silver glitter striped across it.
For all that, the part actually fits perfectly in Portman's filmography—having conquered the dance world, naturally she'd turn to pop music—she was actually not Corbet's first choice for the role. Back in 2016, Rooney Mara had initially been cast as Celeste, who, per an early summary of the film, rises "from the ashes of a major national tragedy to pop superstardom," but she bowed out due to delays in the production, clearing the way for Portman. It's just the director's second feature film: Corbet dispensed with acting four years ago—after appearing in films like The Clouds of Sils Maria, Melancholia, Force Majeure, and Martha Marcy May Marlene, indie favorites all of them—in favor of directing; he released his debut, The Childhood of a Leader, which starred Robert Pattinson, in 2015. (Stacy Martin, who also appears in Vox Lux, had a part in that film.)
Vox Lux, which was reportedly shot on 65-millimeter film, also stars Jude Law, Jennifer Ehle (most recently seen as the gay conversion therapy camp director Lydia in The Miseducation of Cameron Post), and Raffey Cassidy, one of the breakout stars of Yorgos Lanthimos's The Killing of a Sacred Deer. Sia, who has cornered the market on pop anthems that are actually low-key giant downers (ahem, "Chandelier"), wrote the music for the film and also got a coproducing credit. It looks kind of bonkers! But also, with Natalie Portman headlining, maybe also good?