Despite Matt Lauer's Lawsuit Against NBC, the Network Reportedly Has No Plans to Grant Him a Payout
A CNN source says he "will not be paid past his last day of work."
---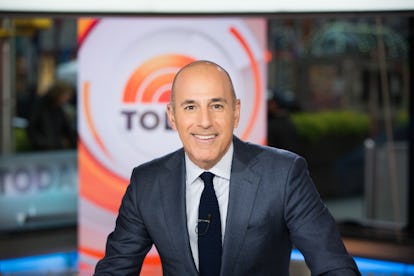 Nathan Congleton/NBC/NBCU Photo Bank via Getty Images
This past year has brought a sweep of sexual assault allegations in Hollywood — and brought down some of the accused men with them — including Matt Lauer, the Today show co-host accused of sexual misconduct. Lauer's departure, however, was more sudden than some of the other men who faced consequences this year for their inappropriate behavior and, in some cases, sexual assault like Harvey Weinstein, Russell Simmons, James Toback, and Kevin Spacey, to name a handful. Perhaps because of that, Lauer has suited up with a team of lawyers who are fighting for a $30 million payout from the network, which previously entered into a contract with Lauer lasting until 2019, as Page Six reported. However, NBC apparently has no plans to grant him the money he's seeking.
According to a senior NBC source, Lauer "will not be paid past his last day of work," as CNN reports. The source also speculates that it's unlikely the television personality who allegedly had a button under his desk he used to lock victims inside of his office during unwanted advances according to Variety will continue to pursue an aggressive case against NBC. Aside from potentially not wanting to burn bridges, Lauer has also earned over $100 million from NBC, as CNN notes.
After the allegations surfaced against Lauer from multiple women, the co-host issued a formal apology to CNN, saying, "There are no words to express my sorrow and regret for the pain I have caused others by words and actions. To the people I have hurt, I am truly sorry. As I am writing this I realize the depth of the damage and disappointment I have left behind at home and at NBC. Some of what is being said about me is untrue or mischaracterized, but there is enough truth in these stories to make me feel embarrassed and ashamed. I regret that my shame is now shared by the people I cherish dearly."
However, the repercussions of Lauer's actions might not be over. Because of New Zealand laws which take into account "good character" of foreign landowners, where Lauer recently purchased a $13 million farm, he could be forced to vacate it, as The Guardian reports. It wouldn't be the worst thing if he had to though, for New Zealand and for Matt Lauer, especially now that he is indefinitely out of work.