Inside Neil Strauss's New Book: A Chat With Madonna
He has been held hostage by Courtney Love, made Lady Gaga cry, gone to church with Tom Cruise, hot tubbing with Marilyn Manson, bought diapers with Snoop Dogg, and he's a world-renowned PUA to boot...
---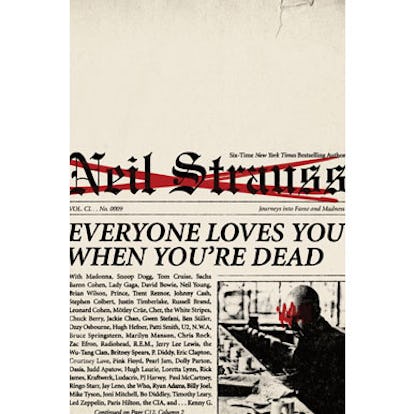 He has been held hostage by Courtney Love, made Lady Gaga cry, gone to church with Tom Cruise, hot tubbing with Marilyn Manson, bought diapers with Snoop Dogg, and he's a world-renowned PUA to boot (Pickup Artist for the uninitiated). Neil Strauss, rock journalist extraordinaire and author of titles like The Dirt: Confessions of the World's Most Notorious Rock Band (Motley Crue), How to Make Love Like A Porn Star: A Cautionary Tale (with Jenna Jameson) and The Game: Penetrating the Secret Society of Pickup Artists, is releasing his newest title on March 15: Everyone Loves You When You're Dead: Journeys Into Fame and Madness. Strauss extracts the most wild, revealing, unbelievable, and previously unpublished moments from the "three-thousand-something" articles he has written over the past two decades. "You can tell a lot about a person or a situation in a minute," he writes. "But only if you choose the right minute. Here are 277 of them."
We know her as Madonna. But her staff refers to her simply as M. And M was sitting in a private plane, which had just taken off from a Royal Air Force base south of London. She was en route to Frankfurt, Germany, where a helicopter was waiting to fly her to a television performance in Mannheim. For sustenance, M, her manager Angela, and her stylist Shavawn were all carrying bags of popcorn.
When's the last time you were in a helicopter? Madonna: I went in a cheap helicopter the day after I fell off my horse. I was on morphine, so I couldn't tell what kind of danger I was in. But because it was my birthday, I was like, "I'm going to Paris. I don't care if I'm injured." It wasn't until the morphine wore off the next day—I only did it for twenty-four hours, don't get excited—that I realized how scary the helicopter was.
How was the morphine? Madonna: It was pretty good. I'm a lot of fun on morphine. At least, I think I am. But I'm not fun on Vicodin. Angela: Okay, do you know the story of Dr. Jekyll and Mr. Hyde? I've never seen a transformation like that in my entire life. Madonna: I only tried Vicodin once. I was in a lot of pain, and nothing killed the pain. Not even morphine, to tell you the truth. And everyone kept telling me to try Vicodin, but they kept saying, "Be careful. It's so amazing. But if you take it for more than ten days, you're going to get addicted to it." So I called five people to get advice before I took it, and they all told me I was going to love it. Whatever. So I took it. Shavawn: She went on a walk with me, and it was really scary. Madonna: Drugs have a weird effect on me. They do the opposite with me. I just chewed the entire inside of my mouth. I bitched at everybody. And I was in more pain. It was terrible: the worst experience of my life.
At least you didn't get addicted. Madonna: I'm happy to say that none of my pharmaceuticals—and I've had a plethora of them given to me—have influenced me.
I don't like pills anyway. It's a control thing. Madonna: I just like the idea of pills. I like to collect them but not actually take them—just in case. Then I fell off my horse, I got tons of stuff: Demerol and Vicodin and Xanax and Valium and OxyContin, which is supposed to be like heroin. And I'm really quite scared to take them. I'm a control freak too. And any time I've taken anything in my life, as soon as I take it, I'm like, "Okay, I want it out of my body." I just start guzzling water. I want to flush it out, fast.
Do you ever think about— Madonna: Do I think about dying? Is that what you were thinking about asking?
No, but that's a better question than what I was going to ask. Madonna: Real death is disconnecting, but the death where your physical body is no longer functioning, that's not real death.
What is it then? Madonna: Death is when you disconnect from God—or when you disconnect from the universe, because God is the universe. I think anyone who's disconnected is living in a serious hell. They can medicate themselves or live in serious denial to convince themselves they're not in hell, but sooner or later it's going to catch up to you.
[Continued . . .]
Everyone Loves You When You're Dead: Journeys Into Fame and Madness, available at amazon.com