Hong Kong and Zurich, Sisters At Art
In cities 5,000 miles apart, artists Tracey Emin and and Sylvie Fleury are both turning Instagram neon.
---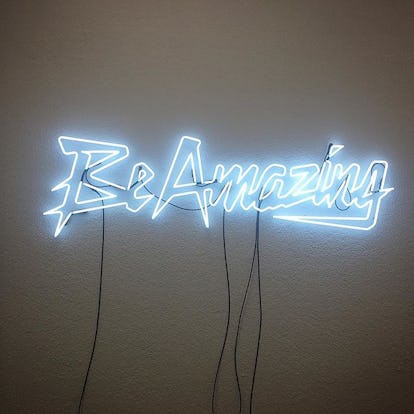 Zurich and Hong Kong may be over 5,000 miles apart, but both cities have been lighting up Instagram feeds this week with their neon installations by artists Tracey Emin and Sylvie Fleury. For Emin in particular, it's been an especially illuminating time: Since arriving at Art Basel Hong Kong, the British artist has revealed that, as of last summer, she's been married to a rock—a metaphorical message that puts her trademark love-themed texts on the walls of the White Cube and Lehmann Maupin galleries in a whole new light.
Meanwhile, over at Karma International in Zurich, Swiss artist Sylvie Fleury went a more straightforward—and Vetements-esque—route with her neon empowerment.