Inside the Geotag-less Lounge Where Instagram Stars Go to Hide
A visit to NeverNever, the secretive space next door to Up&Down.
---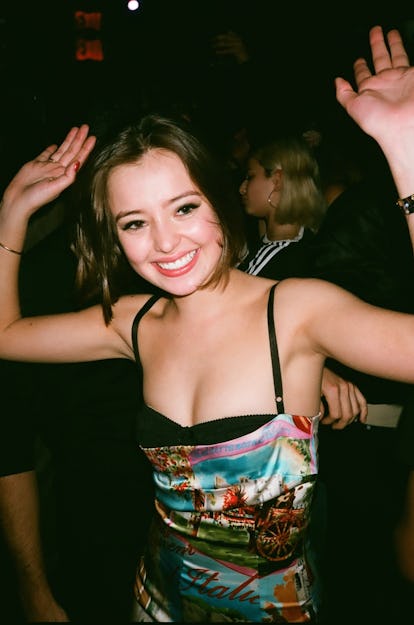 NeverNever is the most anti-Internet lounge in New York. You can't find it on Yelp. There's no official geotag. You can't even search the address on Google. And yet it's attracted a crowd of Instagram stars like Luka Sabbat and Eileen Kelly plus celebrities like Drake, The Weeknd, Miley Cyrus, Bella Hadid, Stella Maxwell, and Virgil Abloh. Located next-door and connected to Up&Down, NeverNever is the mega-club's younger sibling, used most often for exclusive birthday parties, launch parties, and after parties.
At Eileen Kelly's "Killer and a Sweet Thang" website launch party at NeverNever this past March, the 21-year-old with 339,000 followers could be found in Christian Louboutin heels welcoming friends and followers into the club like it was her living room. One New York University student who referred to himself as a stylist said that this is where he came when he, "Couldn't handle Up&Down," as though partying at one of New York's most exclusive clubs was somehow a struggle. One boy wore a fur stole, while another wore a bomber jacket that said "Model-Eating Death Eagles," on the back, despite the model-heavy crowd.
"People are curious about the unknown," said a NeverNever representative. "We don't have a logo; we don't have a website; no social media; no e-vites. This is not necessarily a strategy but something that happened. It worked, and we kept it." Needless to say, neither Getty Images nor Billy Farrell Agency are allowed inside.
As a result of NeverNever's secretive facade, those who enter are not there to be seen…on social media, at least. When I took out my iPhone to Instagram the experience, I realized that no one else was doing the same. It was a selfie-free zone where the biggest faux pas was using flash. Everyone was off-duty for the night, it seemed. There was, however, one girl with a Polaroid camera. How retro.
Calling Card The purple door.
The Door You have to know someone to get in.
Tribes Instagram stars, models, musicians, New York It kids with creative parents, NYU kids who call themselves "stylists."
VIPs Drake, The Weeknd, Miley Cyrus, and Stella Maxwell.
Music Hip-hop, rap, '90s hits, top 40.
Drinks Start at $12.
The Basics NeverNever, 246 W 14th St, New York, NY, 10011. No phone. Open Weds. – Sat., 11 p.m. – 4 a.m..
Watch W's most popular videos here:
Photos: Inside the Geotag-less Lounge Where Instagram Stars Go to Hide
The purple door at NeverNever is the only marker of its location. Photo courtesy Butter Group.
The bathroom at Never Never. Photo by @anishka_
Photo by LIFEINADIARY, @alifeinadiary.