Absolue Fabulous
A new collection of fragrances celebrates—and updates—the classic eau de cologne.
---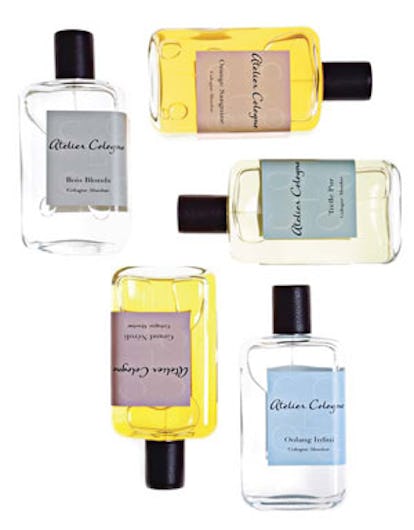 Raines Law Room is the kind of New York nightclub that prides itself on providing the comfort and familiarity of an old-school speakeasy. Chesterfield sofas make intimate conversation easy; the walls are decorated with funky Belgian wallpaper; and special attention is paid to cocktails, from the machine that freezes the glasses to the fresh ingredients used to mix the drinks. The club, a restful alternative to a crowded, noisy bar, was opened by a cosmopolitan group of friends, among them Sylvie Ganter, whose latest project is also anchored by recipes made with the finest ingredients. But her new blends are for wearing, not swilling.
In March Ganter and her former boss–turned–boyfriend, Christophe Cervasel, will launch Atelier Cologne, a collection of fragrances dedicated to their favorite type of scent, the eau de cologne. "My first fragrance ever was Eau de Cologne Hermès," Ganter, 37, recalls on a late fall morning, sitting next to Cervasel, 36, in her club in the Flatiron District. "I couldn't have been older than seven or eight. The salesperson gave me my own sample. The scent felt fresh, clean, simple—and that's always been what a 'Sylvie' scent smelled like."
Straight out of business school, she began working at Hermès, in the fragrance sales division. "You're just breathing and living the products all the time," says Ganter, a lively brunette. "You learn how to use the best raw materials, and how something that doesn't really show on the outside makes all the difference on the inside."
In 2002 Ganter moved on to product development and marketing at beauty brand Fresh; four and a half years later she left to run the U.S. division of Paris-based Selective Beauty, a distribution and licensing company, where Cervasel was CEO. During her job interview with him, Ganter announced that she wanted to launch her own brand of eaux de cologne. "I told Sylvie that we needed to make the company profitable first, then we'd see if this was something she felt comfortable doing with us," says the boyish-looking Cervasel, recalling how impressed he was by her gumption. "The worst thing you can do is kill the spirit."
The pair grew the company, but left after two years. Soon they'd developed a romance and a plan to start Ganter's brand, a line of eaux de cologne that would be made with the kind of personalized attention she had witnessed at Hermès. They took the fundamentals of a classic eau de cologne—a citrus scent that's usually lemon- or orange-based—and then packed in a slew of intense ingredients. "We challenged our perfumers to go heavy with a lot of citrus, but to prolong the effect through innovative heart and base notes to help it last," explains Ganter. She and Cervasel call their new blends "colognes absolues." "It's a category we created," he says. "Like eau de cologne, colognes absolues are fresh, but [these are] long lasting and they've got personality."
Each cologne absolue is peppered with warm, woody or spicy notes. Grand Néroli is warmed up by vanilla, while Trèfle Pur has clover and patchouli moss mixed with its dominant bitter orange note. Each also contains significantly higher concentrations of essential oils than standard eaux de cologne, which have between 2 and 5 percent. "Ours range from 12 to 20 percent," says Cervasel, noting that just as a chef has to taste as he cooks, a perfumer can't adopt a one-formula-fits-all approach.
"We always went with our instincts," adds Ganter. And their instincts proved to be quite pricey. When she and Cervasel were testing the various concentrations of their Bois Blonds blend, "the one that contained 20 percent of neroli oil was hands down our favorite. We were like, Oh, my God! Neroli is so expensive! And we love it at 20 percent!" says Ganter, adding with a sigh, "So 20 percent it is."
The entire collection is the work of boutique suppliers. The scents themselves were created by two family-owned fragrance houses that specialize in natural raw materials; the bottles were designed by Pochet; and the caps, which are made of a handsome aubergine leather, were handcrafted by French leather watchband makers. To encourage customers to sample more than one scent, Cervasel and Ganter plan to offer a half-ounce bottle with every cologne absolue purchase (200-milliliter bottles range in price from $145 to $175, based on ingredient costs) when they debut their collection at Neiman Marcus. "One thing we've learned about our brand," says Ganter, "is that it's very rare for people to like just one." Or so they hope.