In New mother! Trailer, It's Jennifer Lawrence vs. Michelle Pfeiffer
Jennifer Lawrence lives her HGTV dream, until Michelle Pfeiffer shows up.
---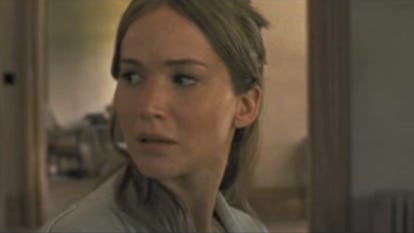 A creepy teaser trailer, those cryptic posters and some amateur sleuthing has left us with a lot of idea about Darren Aronofsky's new film mother!, but the first trailer finally gives us some more concrete clues. We are very, very happy to report, yes, this is the movie where Michelle Pfeiffer terrorizes the hell out of Jennifer Lawrence that we all secretly wanted.
The trailer opens with Lawrence and Javier Bardem as a couple in love and in the middle of a shabby chic renovation of their dream house, which is in the secluded countryside. "I wanna make a paradise," says Lawrence. "She redid all of it," says Bardem. "Every last detail." Frankly, it's all very HGTV until Lawrence spots a little bit of blood on a rug. Some club soda should get that out, but that turns out to be the least of her problems once Ed Harris shows up. Bardem's character decided to let him stay over, despite Lawrence's objection, and then the next morning his wife, played by Michelle Pfeiffer, shows up, and things start to get really creepy, as evidenced by an unsettling stare down between the two actresses. It is the first of many menacing glances Pfeiffer gives Lawrence over the course of the relatively brief trailer.
Meanwhile, Bardem seems to let Harris and Pfeiffer's characters invite more and more people into their house. It's like he joined a cult, but instead of running away he's just decided to let them stay in the extra bedrooms.
Poor Jennifer Lawrence's character. All she wanted to do was redesign a home in the country, make her husband happy, and (we assume) maybe get photos of the home published on some interior design website.
Instead, her husband has turned her beautiful home into some sort of bed and breakfast for the Heaven's Gate and Children of the Corn set, and she's got Michelle Pfeiffer, giving one of her most chilling performances since Catwoman, giving her the evil eye every second.
Kristen Wiig and Brendan and Domhnall Gleeson also appear in the film, but not the trailer. So no word on how they fit into all of this.
Though, today's trailer also came with this, another creepy poster:
mother! will premier on September 15th.
Related: Jennifer Lawrence's Mother! Posters Are Full of Creepy Secrets and Easter Eggs
Jennifer Lawrence Reveals Her Cinematic Crush: