Must Have: Get Weird Playbutton
Next February, the New Museum's Get Weird series will celebrate its fifth anniversary and to celebrate, the museum has released a limited edition, wearable mp3 Playbutton stuffed with selections from series's audio archive.
---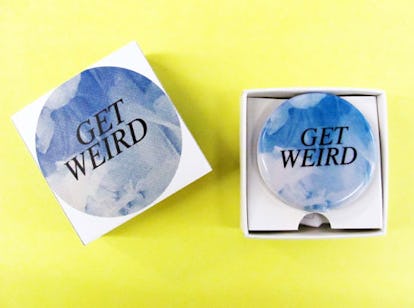 During the planning stages of George Condo's 2011 mid-career survey at the New Museum of Contemporary Art, curator Ethan Swan's job was to find a tie-in to the institution's monthly music series, Get Weird. The Australian band Naked on the Vague turned out to be huge fans of the artist, and created a musical homage that included a dress-up-as-your-favorite-Condo-painting contest.
Next February, the series will celebrate its fifth anniversary, and to celebrate, the New Museum has released a limited edition, wearable mp3 Playbutton stuffed with selections from Get Weird's audio archive. Designed by artist-musician Brendan Fowler, and proudly bearing the series's title with little else, the object evokes the one-inch punk pins popularized by English artist and documentarian Joly MacFie during the late 1970s. The music inside is very much as its surface suggests, highlighting the mainstay of bands in Brooklyn's ever-art-rocky atmosphere. Black Dice's Eric Copeland, High Places, Kría Brekkan and Deakin of Animal Collective deliver delay-drenched songs that develop into eerie soundworlds. The Playbutton enforces a headphones-only experience, which helps to maintain the feeling of listening in the museum's unadorned, white cube theater. Swan describes the compilation as "15 very different responses to the challenges and promises of that room."
A highlight of the compilation stems from the challenge Swan faced when the New Museum mounted its Brion Gysin retrospective in 2010. An installation of Gysin's Dreamachine, a spinning lightbox that became the artist's raison d'être, clearly invited musical interpretation. But Gysin's strictly-stated preference for the Master Musicians of Jajouka and seminal electronic band Throbbing Gristle set the bar unusually high for contenders. At Get Weird's concert, guitarist Nick Zinner of the Yeah Yeah Yeahs built a sonic bed of shimmering drones overlaid with Rockabilly-tinged melodies to evoke the flickering visual patterns one experiences seated eyes-closed in front of the work. Zinner's composition forms a contemporary response to an often ignored piece of art history, and—thanks to the new Playbutton compilation—may now be revisited (customers must build their own Dreamachines). "The museum's legacy has really encouraged me to have faith in artists and their vision," Swan concludes. "And I think this compilation is a powerful emblem of the wisdom in that faith."
Photo: courtesy of the New Museum